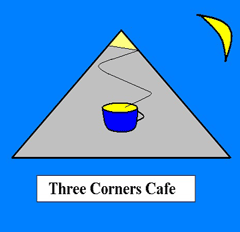 WESTERN EUROPE - THE "HISTORIC MINDSET" TOUR
AMSTERDAM
"WINDMILLS IN THE MIST"
It was late January and the middle of an English winter. But perhaps the worse of the damp, cold depression was coming to a close. It was for me anyway. I was escaping the confines of London to feel the fresh breath of freedom wash upon my soul.
I was coming to the end of a bad, droopy nosed cold which had lasted, on and off, for four weeks. I couldn't get rid of it. At some stages I was going through two bed sheet sized handkerchiefs a day. It was playing havoc with my sinuses, my nose like a tap which continuously dripped. I could not turn it off.
I received the cold after consuming too much alcohol at the pub just before Christmas. The next day, with a resultant hangover, I left the flat to buy a burger in my t-shirt and shorts. The take away was just 15 metres up the road. I thought if I raced to the take-away I could outrun the possibility of catching a cold. But no, my foolishness was teaching me a harsh lesson, over and over again.
Cold or not I now had a bus to catch, taking me away to Amsterdam. This was the start of a new journey.
The bus departed from the centre of London, making its way through the conglomerate of people, buildings and traffic. Travelling south, still in London, I watched the cumulative urban sprawl slowly recede. I felt a weight start to lift off my shoulders; a sense of relief. There was no crowding or fight for space; just green fields refreshed within my memory.
Onwards the bus travelled towards the white cliffs of Dover and then onto a ferry for a crossing of the English Channel. It was night time and dark but still the white cliffs shown bright. They were a lighthouse, a warning that this was solid ground, not to be underestimated for her strength.
Overnight travel and then the bus arrived in Amsterdam at Centraal Station in the early morning. People were already going about their daily business while leaving their bicycles stationed in the nearby stands. The stands were near fill, pedal power was in progress.
Of course, I remember now. Been a flat country, the people of the Netherlands were renowned for using bicycles as a main mode of transportation.
I remembered back to my time as a child at school where I read a story about a young boy who stuck his finger in a dyke. Dykes were also a phenomenon of the Netherlands. The dyke in the story was cracked and faced the prospect of crumbling with the incoming tide. The young boy's initiative saved the nearby town from flooding and he subsequently became a hero.
Definition - Dyke: a wall or embankment to prevent flooding; a drainage ditch.
I dropped my backpack at the hostel and went for a walk around the nearby streets.
Pastry shops sold stomach rumbling delights and commuters casually peddled their bicycles between leaning buildings competing for space like commuters on an early morning train. A maze, with bridges hunched over the underlying canals, led the lost towards a Royal Palace and the town's centre, Dam Square.
But alas I could find no dyke.
Instead I found a surplus of pornographic and marijuana paraphernalia shops. They were worth a perusal in the interests of satisfying tourist curiosity. Then back outside, around a corner and a quick glance at the glass window doors where risqué women showed their wares. Photos were not permitted. But as I had my photo album to consider a compromise was necessary. A photo of these small, wardrobe sized rooms while one of the women was away on other business was the solution. Problem solved.
Then next on my list was experiencing Amsterdam's café scene. That night I went inside a bar, ordered a non alcoholic drink and settled down to watch two beautiful, stereotypical Nordic women playing a game of pool. My attention was avid, I was starting to drool. Then the bar manager, sensing something was amiss, walked over to present me with a menu of the marijuana which was on offer. I thought it would be in my best interests to make a purchase; the cheapest 'cabbage' filled cigarette which money could buy.
Feeling little effect from the cigarette and not wanting to buy another I decided it was low time I left the pub. I went for another walk around the paths which hugged the tree lined canals. Amsterdam was in the midst of the true meaning of the dead of winter with not a leaf left on any of the trees.
******
If I could not find a dyke in the Netherlands then I decided I definitely needed to view a windmill. The next day I took a local train to Zaanse Schaanz, a small town with country houses on the outskirts of Amsterdam. To get to the windmills from the train station I needed to cross a series of paddocks and climb over a few fences in the ever prevalent mist. The mist hung there like the fear of death.
The windmills were authentic and I was the only tourist around. It was a great photographic opportunity. If I had the choice of a windmill, dyke or a set of clogs as my national symbol I decided I would definitely choose a windmill. It defines man's ability to harness nature's resources without the polluting after effects that are ever present in the modern age.
Given their propensity to build windmills you would therefore expect the Dutch to be earthly type people. They are a people surrounded by different nationalities on all but their northern border. Here they are faced by the North Sea which necessitates the use of dykes to protect the low level plains from flooding. Once again they were showing their ability to harness and shape nature in a manner which was intended to do her no harm.
******
That night was my last in Amsterdam before I caught the morning bus to Bruges. I went for another walk around the confined, labyrinth of streets. After the disappointment of the previous night's marijuana I spent my thoughts contemplating whether to spend a bit more money on this experience or simply forgo it to spend no money at all.
While walking too and fro I caught a glimpse of what looked like Goldie Hawn and Kurt Russell of Hollywood fame. It was a sign; if not then it was definitely an excuse. They were from the imagination capital of the world. Isn't good 'pot' supposed to help the imagination?
I walked into a cafe and picked up the menu. The lady at the counter gave me a run down on the various types of products she had on offer. I chose 'Caribbean weed' and sat down at a table to smoke half the joint. That was enough. Satisfied I was losing my senses I stubbed out the remaining half and walked outside.
Having entered the café close to dusk it was now getting dark. In fact it was feeling quite dark. Everything had taken a darker, sinister tinge. Strangers looked even stranger. People with coats with the collar pulled up around their ears looked threatening. These people, from what appeared all corners of the globe, had travelled long distances in the pursuit of endangering my safety.
I was reminded of one of The Doors lyrics:
People are strange when you're a stranger
Faces look ugly when you're alone
Women seem wicked when you're unwanted
Streets are uneven when you're down
It was time for me to make a stranger of myself and go to bed. Unfortunately some stray off the street was staying at the hostel and making a raucous noise. I pulled the pillow over my ears and tried my best to find some sleep amid the mist of a Caribbean night.