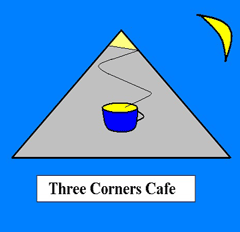 WESTERN EUROPE - THE "HISTORIC MINDSET" TOUR
LONDON - PART I
"SHE GOT THE JOB!!"
Arriving in London
I flew from New York towards London's Heathrow Airport on a Saturday in July 1994. As the plane descended from the clouds and began its approach into London I noticed the lush, manicured, green fields below. The plane circled like an eagle upon the outskirts of a city that would be the beginnings of a world renowned business career. London was the financial capital of Europe and I had just completed my first trans-Atlantic flight. My time had arrived.
I made my way quickly through Heathrow's customs on my own. It would still be a few years before I carried an entourage complete with a UK$500 million cheque book. For now the only thing I carried was my backpack. This I lumbered on the underground till I reached an exorbitantly priced hostel in London's Holland Park. I could not afford to stay there more than a couple of days. My travel funds were at crisis level.
I had enough cash to pay for five weeks accommodation in a cheap flat and food. Beyond that I could call upon a loan from my brother to tide me over till I became a billionaire. But to access these funds I still needed my brother's permission and sibling pride meant that would be a last case scenario. I had found myself in London, reputably one of the most expensive cities in the world, close to destitute. I needed to find a cheap flat with the utmost haste.
Luck was on my side and that afternoon I found a cheap three bedroom flat, housing six tenants in nearby Shepherd's Bush. Unfortunately two weeks bond and two weeks rent in advance was required. Well it doesn't take an accountant long to realise my bottom line was looking shaky and leaking like a well worn ship.
Finding a Job
Monday was shaping up as an incredibly important day as far as immediate career prospects were concerned. After the weekend spent catching up on sleep and watching the 1994 World Cup final between Brazil and Italy the start of the working week arrived. At first dawn I awoke with high expectations of launching a career that would follow a steep upward path.
A couple of hour's later reality raised her ugly head. By this time I had rung all the accounting agencies and received the harsh reply that accounting experience was a prerequisite to even be granted the courtesy of an interview.
By early afternoon I was ringing up an agency that specialized in hiring cleaning staff with an immediate start. The pay rate was £2.50 an hour, significantly less than the £20.00 an hour I had expected as an accountant working in high finance London.
My first job with the agency involved a 24 hour stretch of work cleaning refurbished office units for which we received only 16 hours of pay. Who was to complain aloud at this treatment as all the cleaners appeared to have one thing in common, that been a desperation to be paid at all. Besides there was the incentive that if we became very good at our cleaning job we could ourselves become a supervisor, rip off our staff and receive £3.50 for each actual hour worked.
I felt like shit. I felt like the immigrant straight off the ship. I felt like someone with no prospects who spends his life slaving away so he can send his children to a better school. I had no children but I felt I was learning my fair share of lessons in my own school of hard knocks.
The reality of life at the lower end of London was stark. I knew cleaning was not my forte. I realised I could not delude myself and chase the cleaning supervisory role. So I got a job at a bar near Shepherds Bush to subsidise my meagre income. This job lasted two shifts until I was told they wanted someone who smiled more. I wasn't eating very well at that stage so in my defence it was very hard to smile when it seems you have the weight of the world on your shoulders.
Carrying this weight around, I went door knocking at a couple of accounting firms in central London. Once again I was dragged down by my lack of experience. In the meantime my monetary position was still shaky and I was just managing to make my rental payments.
I decided I needed to give up the hope of acquiring an accounting role and get rid of the cleaning job. I used my entrepreneurial skills and found more steady employment through another agency. The resultant job offered £3.50 an hour with no supervisory responsibilities.
Career Job
Have you heard of the lyric 'New York, London, Paris, Munich; everyone is playing pop music'.
You move to these big cities for the opportunities they provide in various phases of your life. The opportunity London provided to me was that I worked in a warehouse counting returned stock comprising compact disks and videos. I was at the bottom of the entertainment chain, a clog, holding small value in the push to sell the big bands of the time Blur, Oasis and Wet, Wet, Wet.
Five days a week my routine was to wake at 6:30 am, have breakfast and then walk for half an hour from my flat at Shepherds Bush to the agency at Earls Court. The agency workers then piled into a van which subsequently dropped us off at warehouse near Heathrow.
Counting return stock was accounting of a sort, if at the lower end of the pay scale. The warehouse provided free coffee and soup. Life was improving. I was able to pay my rent and I even managed to save a budgeted amount of £50 a week. These savings I accumulated in a shirt pocket hanging in my flat wardrobe. This was the alternative when I became too frustrated attempting to complete the rigmarole of opening a British bank account.
During my warehouse lunch break I read the autobiographies of famous British businessmen. This was still my dream, to escape from the mundane and live the life of the successful. Sipping my warm soup during the oncoming depths of a British winter, I made the promise to myself that when I am a rich businessman in Britain one of the first things I will do is to get one of my servants to open a British bank account in my name. Then all obstacles to my success shall have been surpassed.
Living in London
In the meantime I had to satisfy myself with drinking supermarket branded bitter at my flat in the weekend. That was until I felt financially secure, with enough savings to enable me to venture into a local pub that supplied 99 pence pints of bitter. Life in London just kept getting better and better.
Talking about the social side of London, once I felt comfortable about settling into a normal routine, I got in contact with John, a friend from Dunedin who was also struggling in London. It was a Sunday and my flatmates were away on a drinking binge. They were all earning more than me and could afford to waste their money on such frivolous antipodeans activities. John and I were more cultured and spent the Sunday afternoon talking about old times over a convivial cup of tea.
That was until my flatmates arrived back from their drinking binge inebriated with a couple of stragglers attached. One of these strangers was Sarah, a friend of one of my female flatmates and the other was a South African guy Sarah had just picked up. The South African proceeded to strut around the lounge with his top off. I tried to remind him it was the middle of winter and he was currently in a lounge not a beach. But apparently showing off one's upper torso was a South African male cultural trait that was firmly imbedded in their psyche.
I thought I would be culturally sensitive, be polite to the guest and if he needed to express himself by showing his upper body off then so be it. Personally I was more impressed by males with a body that included a big beer gut, like John for example. Now there was a guy who had laboured many long and difficult years on his figure. Through the good and bad times he never wavered from his dedication to that good, old fashioned body building liquid, beer. None of those fancy, fast fix, quick shakes for him. I can tell you the South African did not impress him at all.
To calm John down I said he could help himself to one of my supermarket branded cans of bitter in the kitchen fridge. Who knows, after a consuming enough of that cheap, tasteless beer, John might gather enough courage to take off his shirt, unleash his pastel coloured beer gut and show the South African what a real New Zealand working man's body looked like.
On the way to the fridge John stopped dead in his tracks. Sarah was on her knees beside the fridge and the South African was standing in front of her with his pants down. If you are not as shocked as John was, let me remind you this was occurring at 4 pm on a Sunday afternoon, in the kitchen, in a flat in which the participants did not even live.
Well as expected things quickly got out of hand. No, John did not take his shirt off, but there were tears, arguments and people been asked to leave. I just sat in the lounge, mindful of keeping away from the kitchen and the whirlwind of tempers that were flaring around me.
However within a week things had settled down and thankfully I never saw the South African in the flat again. Unfortunately I did see him at a local pub and once again he was wandering around with no top on as if he was at the beach.
His sordid accomplice in the kitchen incident was subsequently invited to a small party we held at the flat a couple of months later. This time she arrived with two South African males whom she had just picked up.
However I digress. A week after the kitchen incident I was once again sitting in the lounge when the woman with the shaky knees arrived to visit my flat-mate. I tried hard, but could not suppress my cynical smile when I saw she had herpes all around her mouth. What is worse, she had an interview the next day for a job as a nanny for some upper crust children.
When a few years later I was telling this story during some after work drinks, one of the guys remarked "Your stories are so depressing. Why can't you have a positive aspect to any of your stories?"
I dwelled on this statement for a few seconds, had a swig of my beer and replied "Well, she got the job!!"