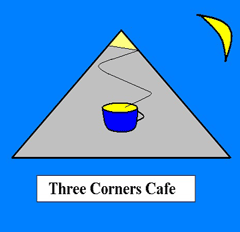 WESTERN EUROPE - THE "HISTORIC MINDSET" TOUR
VENICE
"CAUGHT IN THE MISTS OF TIME"
The train wound down to a stop. There was no going forward. We had reached the end of the line. Beyond was a mist that clouded our thoughts, hiding the truth we feared to touch. Someone must stand up. We could not sit on our hands and wait for the outside world to suffocate and smother our freedom. We must explore this earth where our forbearers have cut the trail to make way for our arrival. We stand at the threshold of our destiny. Grab my hand and let me show you the way!
I put my backpack in storage and then disappeared into an eerie sea of fog. I planned to be gone for only a few hours. I told those who would listen above the fearful scream of the train engines that I would be back before the fall of the night. I would give myself half a day to walk around Venice's canals. A maze made all the more confusing by the damp, low hanging cloud cover.
I casually made my way to the Piazza San Marco making a right turn here and a wrong turn there. To those whom I had left behind they had nothing to worry about. The only fear for my safety was still been in the city when it eventually submerged under the encroaching sea. As I was here for only a few more hours the chances of this chaotic incident impeding my travel plans were slim.
It was a great time to spend an afternoon in Venice. The sun did not shine, it was cold and I was the only tourist walking along the narrow, unkempt alleys towards the Piazza San Marco. A gondola carried local workers laden down in their heavy overcoats from one side of a canal to the other. A pile of empty gondolas parked up against the canal banks waited patiently for more prosperous times. A tourist operator wearing his distinctive straw hat leant lazily against a nearby pole reading the newspaper.
Dim lights shone brightly at regular intervals along a thick fog filled canal. The fog hung over the canal like a blanket ready to cover its adored child before a short kiss goodnight. Realism replaced romanticism; routine and the every day life of the locals was the order of the day. Thin back alleys and canals had a sense of darkness and secrets that only whispering neighbours could sense.
When I reached the Piazza San Marco it was close to full tide. The place was becoming flooded with water lapping against the sides of the tourist sites. I noticed my constant companion, the crowd of tourists. They were following my every move. There was no escaping them.
The only course of action left for me was to return, via the darkening dim alleys and a momentary feeling of isolation, to the train station.
May good fortune light my path!