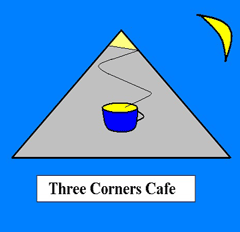 WESTERN EUROPE - THE "HISTORIC MINDSET" TOUR
MADRID
"CIVILISATION"
From Tangiers I caught the ferry back to the small Spanish port town of Algeciras. It was a relief to plant my feet back on the familiar soil of western wealth and civilisation. My African experience was behind me. I could now look forward secure in the knowledge there would be no Moroccan rugs waiting for my collection in London. This was no small feat and required celebration. I subsequently gorged myself on western style trash food and instantly felt sick. But at least it was a familiar sickness and at least I wasn't carrying any Moroccan rugs with me as I lumbered northward.
Northward bound, I caught the night bus from Algeciras, arriving early the next morning in Madrid. It was back to winter. Commuters wrapped in their thick over-coats trudged their way to another day of gainful employment.
I was endeavouring to trudge my way to a decent day's sleep. Unfortunately the hostel didn't open until 10 am. It was 7am and too cold to be idle. I was in the tourist centre of the city. To pass the time and keep warm I walked around the nearby tourist sights.
An impressive 18th century palace with manicured lawns, a stately square, majestic cream coloured buildings…
It is close to freezing and I'm out in the cold like a maniac!
It has to be 10 am by now?
What time do the museums open so I can view the tourist sights from indoors?
I've spent the last two nights on a bus and now I'm walking around in the freezing cold!
Insane!
10 o'clock at last!
I banged on the door of the hostel, promptly paid for a night's accommodation and settled into bed to sleep. But alas no! Restless, tossing and turning, I got up and showered. What was I to do? It was too cold to sight see Madrid. I decided to head to the bus station, check the timetable and plan my itinerary for the next few days.
The draft plan was to head north towards the coast away from the cold. The city of Nice in southern France seemed a good option. However the next bus towards that destination left that afternoon and there wouldn't be another bus travelling on that route for another three days.
I had already paid that night's non-refundable accommodation. I therefore didn't want to leave on the afternoon bus. But I also didn't want to spend the next three days walking around in the cold of Madrid.
What to do?
I hurried back to the centre of town and had a quick look around the Parque del Ritiro, a large park close to all the other tourist sights I had visited that morning. I then raced back to the hostel, repacked, collected my belongings and returned via the metro back to the bus station. Finally, panting and sweaty, I boarded the afternoon bus headed to Nice.
But what about the non-refundable money I had handed over for that night's accommodation?
That was history. I should make up for that unfortunate event through spending my third night in a row on a night bus bound towards my next destination.
That is what those with a small knowledge of the history of their Scottish ancestry call smart thinking. Others may call it dumb but I was too worn out to care.