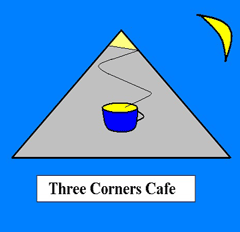 SOUTH AMERICA - THE "WAITIN' FOR THE BUS" TOUR
EL CHALTEN
"PHONE AHEAD FOR CLEAR SKIES"
The schedule said the bus left Bariloche at 3:15 pm, which gave me three hours to view the glorious surrounding mountain and lake scenery before it became dark. In the morning I awoke and the landscape had descended into flat, arid, infertile scrub. It stayed this way until I reached the bus station of Rio Gallegos. It was 6:40 pm.
Brain dead, numbed, I had to decide my next modus operandi. My research told me a bus, destined for my target destination of El Calafate, left in a couple of hours. It would arrive at such destino by 1:30 am. In the meantime I attempted to use the public telephone and check on the availability of accommodation. I could not get the phone to work. I asked a guy standing nearby three questions - if he spoke English, if he knew how to use a telephone and if he could book the accommodation for me. He obliged on all three counts, and then two hours later made me change buses when I had inadvertently boarded a bus heading back north towards Bariloche.
Pategonia - I was clocking up close to 34 hours on a bus. Numb and cold, when the bus arrived at El Calafate I was greeted by a number of touts from the different hostels in town. Seemingly accommodation was plentiful. I had not needed the services of my Argentine, English speaking friend in Rio Gallegos after all. That was a relief. He had been a bit rude when he had got me off the wrong bus earlier in the night, inferring I was stupido or something. But here I was in El Chalten, 1:30 in the morning, freezing cold, permanently brain damaged.
Beat that!
******
The air was fresh and clean and the nearby supermarket sold battered wiener-schnitzel bread rolls - my new Completo; a nearly adequate substitute; tasty, fulfilling, easy on the eye, maybe better for my health. But unfortunately not the one – not the one I had lost my South American virginity to.
I spent the rest of the day regaining the feelings in my legs and then walked to a local wetlands bird sanctuary, which lacked only one important thing, any birds. Besides visiting the supermarket there was not much else to do. I consoled myself with a battered wiener-schnitzel bread roll and spent the latter part of the day planning my itinerary.
El Calafate was situated by the Moreno Glacier, a glacier described with superlatives such as ice tingling, hair-raising and life changing. My life definitely needed to change. But that would have to wait. Moreno Glacier was only 80 kilometres away, which only made a 160 kilometre return day trip.
El Chalten was 200 kilometres away and offered the chance to travel for no purpose at all. As I had no plan to visit the Torres del Paine National Park, with its distinctive granite peaks, El Chalten offered the opportunity to sit around in a derelict hostel looking at low hanging cloud waiting for the return bus ride back to El Calafate. I asked the receptionist at the hostel, who sold me my van ticket to El Chalten, what the weather forecast was for – she said it was for snow.
So, the next day, I eagerly caught the van to El Chaten, and once again the scenery for a start was spectacular, until the forecast snow and cloud arrived.
I was really rolling the dice.
Arriving at the hostel in El Chalten, people had been sitting around for two days with no hint of the cloud rising. Then in the morning, with a fresh snow covering, but clear blue skies, we saw it all, Mt Fitzroy.
She shone into the sky like a beacon.
"Welcome aboard. It is time to explore a winter wonderland" she said.
And we ran into the snow like children.