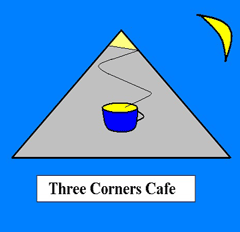 SOUTH AMERICA - THE "WAITIN' FOR THE BUS" TOUR
BAROLOCHE
"A MILLION PESO VIEW"
As I was about to leave, the hostel owner ushered me back inside. She led me into the kitchen where laid out on the table was a spectacularly presented free breakfast. Knitted woollen swans covered the coffee and hot water pots and kept the recently boiled eggs warm.
I sat down, my gratitude palatable. The prodigal son had indeed returned. I planned my day. Today I would be catching a bus into Argentina. It was something to look forward to after the autumn, mist covered scenery of Chile. Another important fact was that once into Argentina, where the laundry prices were cheaper, I would be able to wash my clothes and wear some clean underpants and t-shirts.
Things were definitely on the up.
Later that day the bus approached the scenic Argentine border. Then half an hour later, as the bus continued onwards, that feeling arrived. OK – so this is the Lakes District. A bounty of lakes; we were driving around aqua blue rather than, as in Chile, by-passing, sly-passing, high-passing - anything to miss the best scenery. Fertile, arable land, greenery and the occasional alpaca; South American Lakes District here we are, finally.
Goodbye Chile.
Chile - besides a few cashiers trying to short-change me, the only interesting thing I had encountered was some British backpacker bogeying at breakfast. I'd read or been told Chile was not really South America, as the people were too conservative and sensible. But now here I was in Argentina and it really, after only a few hours, felt like a breath of fresh air; as though I was starting all over again.
The bus arrived in Bariloche, a city famous for its amazingly themed chocolate stores, on time and on schedule. I shared a taxi ride and took a lift to the 10th floor of a high-rise apartment complex. Greeted by a couple of attractive hostel receptionists, I was in love but she did not return my affection. Either would do. A month later, while still on my travels, I was told the hostel was some sort of a cult. My fantasies told me it was sexual. But for now I was unaware and instead set about making plans to take photos of mountains.
It was the life, with views of the surrounding mountains above and a lake below, a million dollar view for the price of US$7.
It can be done…just sign here, she said, holding a hot flickering candle, dressed in white satin that outlined the perky, peachy curves of her breasts.
But photos of mountains and lakes beckoned, so the next day I caught a local bus to the base of one of the local ski fields and caught the autumn operated lift into the mountains for views of the landscape below.
Hype and hyperbole, I was on a high and that night ended up in a packed run-down bar dedicated to the twin rock and reggae icons, The Rolling Stones and Bob Marley.
The backpacker crowd I had entered the premises with, left early and I was now drinking by myself, with some relatively short Argentine male shoving me, trying to impress his mates. It made drinking beer without spillage difficult.
The lights went out…it was an electricity shortage blackout.
Saved, I escaped into the night.
I had been held captive secretly asking for mercy.
"Only if you have been a bad boy" she replied.