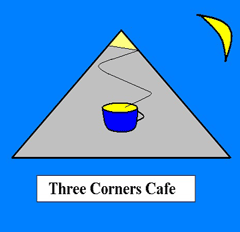 SOUTH AMERICA - THE "WAITIN' FOR THE BUS" TOUR
CASTRO
"I CAN GET THAT AT HOME"
The season was the bright colour of autumn with a shade of fog in the distance.
I was in the Chilean Lake District, described as an area where volcanoes meet lakes covered by fog. I was continuing my way south to spend a night at Puerto Montt, on the southern point of the Lakes District and a gateway to the insular south.
The bus trip to Puerto Montt was a short six hours and I arrived with plenty of time to find suitable accommodation without having to wake up the neighbours. I also had time to discover a new Chile word, precio.
After paying a relatively cheap precio for that night's accommodation, proud of myself now that I knew three Chilean words, I dumped my bags, went for a walk to the nearby craft markets and ordered a steak for dinner. Unfortunately for me the service in these out-of-the-way places is not the best and I was inconveniently served what suspiciously looked like chicken.
The next morning I took a bus and an open air ferry to the island of Chiloe. I was headed to the island's centrally located town Castro and passed through what was described as a patchwork of pastureland, but in reality was low hanging clouds that were following me from Pucon.
The adventurer, with some sort of a plan that did not encompass a timeframe or schedule, would be winging it south on some coastal ferry from Puerto Montt to Puerto Natales, or some other Puerto in the south. I had read and been told that was the way to reach outwards towards the southern point of the South American continent.
But here I was in Castro, which could be described as a long way to travel to view some houses on stilts, backed up against the bank, with a photo taken in low tide. Low rolling green hills on either side of the harbour reminded me of home.
There was nothing much else to do but order a Completo. This Completo was filled with a saveloy rather than the usual sausage. I was fascinated but also at the same time beginning to realise I was in trouble. Like an addict I needed a plan for withdrawal. I prayed the delicacy was a Chilean speciality. To make my feeling tangible I walked to the local lavender coloured Castro church "Please Lord I am weak. Please save me from the Completo."
Two days of travel to visit the dull and the boring; things I can easily do at home. In the morning I climbed down the steps of the two storied hostel to perk myself up with the free hostel breakfast. With one thing in focus, I was confronted by a British female backpacker who set about telling me how to travel.
"You must stay more than one night at a place to get a better feel for it."
I growled; a low guttural rumbling.
"You must learn the local language."
"You must speak to the locals."
I was still on my first cup of coffee and since it was free I hoped to squeeze in at least another two or three cups before I stepped into the outside cold world with a grimace.
I grumbled but she kept on and on.
"You shouldn't spend all your time in a bus."
"You should smile more."
She would not relent, sensing my weakness and insecurity. Proud of her world she started boogying to her iPod, attached to small speakers, playing Spanish tunes.
Shit, it is not even nine o'clock in the morning. Why you are doing this to me?
"So you have been to the Rio de Janeiro carnival, learned Portuguese and partied with the locals. But no! When you have finished this trip that will be it! You will not be back, as you say. You will become chained to your career and your children and your other material possessions. This is it! This is the highlight of your life, so enjoy. As for me, I have many more bus rides to look forward to."
Tears welled up in her eyes.
If it t was a case of free breakfast, in relative peace, versus bogeying in the kitchen there was no way I was going to let the free breakfast down; free breakfast you are a gift from god and must be observed with due respect and diligence.
Stunned she left to listen to her music elsewhere.
I looked at the kitchen clock. I had been awake less than three-quarters of an hour and already my day was a bombsite.
Bitch.
Feeling like a prick I took another walk around the Castro harbour and then booked the next available bus back to Puerto Montt. I had basically travelled a day here and a day there and felt crap for the experience. However the cloud cover had disappeared to reveal a landscape of infertile soil cast upon a lowland of feelings.
Arriving in Puerto Montt I walked back to the hostel I had stayed in a couple of nights earlier. The hostel owner was away and while waiting I noticed other accommodation advertised for half the precio.
I rang the door bell at the advertised abode before the dream faded but was told all beds were taken. Despondent I walked further up the road to another cheap looking hostel. I knocked on the door and was greeted by an old lady.
She greeted me as though she had not talked to anyone for 10 days. Proudly I kept asking precio but she did not want to hear and kept talking and talking while showing me the room.
She was too pleasant and too desperate to refuse. Like a stressed mother, desperate to care for company under her roof, I was the prodigal son returned from the scars of Castro.