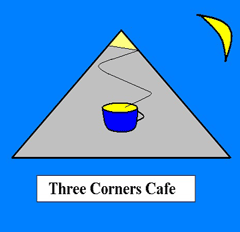 SOUTH AMERICA - THE "WAITIN' FOR THE BUS" TOUR
PUCON
"SMOULDERING VOLCANO"
Day 10.
A long bus ride.
I left Valparaiso at 9:30 am and late that afternoon arrived in some town that apparently deserved a stop-over, supposedly because its history comprised being destroyed by a couple of earthquakes. It was a tale of strength and renewal, urban planning and mayhem.
But I was on a schedule and only halfway towards that day's destination, Pucon. At the stop-over I had the option of waiting around for five hours and taking the night bus or taking the next available bus, arriving in Pucon at 11:30pm that night, having booked no accommodation.
I arrived in Pucon around mid-night. It was time to check out the Chilean customer service and sleeping patterns. The first hostel was full; except for a costly double bed. Around the corner, the next hostel's dormitory beds were also full, but looking upon a stranger that looked like a lost, stray dog, the owner reduced the price of a single room bed to a more financially manageable level.
******
Pucon was a tourist town, within the Chile Lake District.
Things to do: rafting, mountain biking, kayaking, climb a volcano…
I slept.
Yes, I originally planned to climb up that volcano but … lets be a little bit realistic.
When I eventually awoke I walked around the tourist town, with exotic street names such as O'Higgins, and then walked down to the lake. An active volcano, Volcán Villarrica (the one that can be climbed) looked down upon the town and over the lake. Apparently the volcano had recently erupted with smoke still billowing into the light blue sky.
"Like a small seed that had been planted. The hatred had grown. No one would be spared. No survivor. Burned and tarred, their screaming features preserved for a millennia in burning rock and lava. They want something to remember them by. I will remember them in hell, for I have been here since the dawn of time, waiting to unleash my hatred and fury."
"Thank you for your audience the show is about to begin."