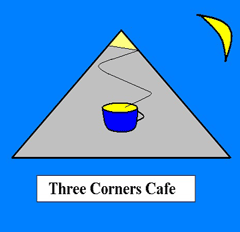 SOUTH AMERICA - THE "WAITIN' FOR THE BUS" TOUR
SANTIAGO
"SMOG, STRAY DOGS AND STATUES"
The plane descended on the windswept, rugged, isolated Easter Island. One of the most isolated islands on earth. Nonetheless the island languished distantly behind Skull Island and therefore was not on the must-see isolated island list.
However there were some archaeological sites to see. How long that would take I had no idea, but I assumed it would take longer than the one hour stop-over and shorter than the three days until the next stop-over flight mysteriously appeared from the wild blue sky yonder.
Besides I was on a schedule - a schedule that was going to be the preverbal rock in my backpack. I was carrying a needless, senseless, wasteful load the length and breadth of South America. Within 90 days. Japanese tourist – hell man, I was in a class of my own.
So good luck Easter Island – I missed you more than you missed me – the schedule beckons.
First stop within South America was going to be Santiago, Chile.
Approaching the city, as the plane decreased its altitude, clouds covered the view below like snow on a winter's ground. It was a clear blue sky above and the flat white clouds below, punctuated by the Andes striking for the sun.
The Andes. Here I was arriving in South America and already I was sighting one of the continent's iconic images. Nonetheless the Andes languished distantly behind another of the continent's iconic image, South American women. So there was as yet no need to become excited.
The plane landed safely on the ground and by the time I made my way safely through customs it was 7 pm – still light outside but quickly approaching dark. I needed to get to any hostel in town. I referenced my guidebook. It stated it was a 20 minute bus ride from the airport into town. A taxi driver approached and offered to take me the 60 minute scenic journey, with the metre running at double the pace of a jaguar in heat.
"I think I will take the bus."
"The day's last bus left at 6:30pm."
"On a Monday?"
"Yes today is a Monday but it is also a public holiday."
Just my luck. First day in South America and I found an honest taxi driver.
Next day, after a 15 hour jet-lagged sleep, I took to the city. Low level buildings in slight decay and young couples showing public signs of affection, I primarily spent my time visiting some of the city's parks and gardens, described as a respite from chaos and the constant noise of cars. Smog filled clouds obscured any view of the Andes. Later that day I spoke to a guy at the hostel and stated that the women in Santiago appear quite attractive.
"Funny how you think that when you are new to a city" he replied.
That night I went for a cheap beer at a nearby cosy pub, filled with what appeared to be heavy metal music-loving university chicks. Is that an oxymoron – like a New Zealand comedian? They were head banging to Iron Maiden which was playing on the video juke box and I assume they went to university. To be honest, having lived back in my home town for the last year, I'd assume a sheep had a high level of intelligence.
Well that for me was Santiago.
All going to plan I would return in 90 days time, for the return flight back to my sheep loving paradise.
But for now it was on to Valparaiso.