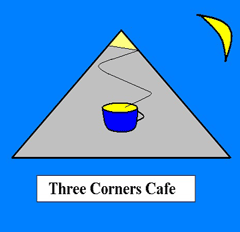 SOUTH AMERICA - THE "WAITIN' FOR THE BUS" TOUR
SANTUARIO DE LAS LAJAS
"BRIDGE TO THE OTHER SIDE"
I got lucky.
As soon as I arrived at the Cuenca bus station I was told a bus was leaving for Quito, "Pronto".
"Great, no waiting around bus stations on this fine day."
Then…along the way the bus visited every town with a chicken and a pig. The bus was an open, living food market; people clambering aboard with the mission of selling their merchandise. It was the perfect marketing plan - captive customers. I switched off, placating myself with films of unmitigated violence shown on the small screen television at the front of the bus.
Arriving in Quito, it was late and I felt uneasy. Earlier that morning I had witnessed, while seated securely in the bus, someone getting beaten up on the side of the road. Blood trickling down his face, stumbling, swaying, tumbling over as four large males climbed into him with their fists and feet.
The Quito terminal was in the centre of town and I quickly found nearby accommodation in a cheap hotel. Early the next day I awoke. It was time to take photos of the city's tourist centre before it was onto another bus, towards another destination.
I had to keep moving.
Up and around hills, we were high in the Andes, lush green, climbing for the sake of this destination, a goal, the high of attainment reached.
I was headed to Ipiales, a short distance across the Columbian border. I had seen photos of a church, called Santuario de las Lajas, in a valley, with a bridge to nowhere. I was following in the path of the Asian-American Ninja Warrior.
Arriving late into Ipiales, I dumped my backpack in the hotel room (which later that night I inadvertently locked myself into – second time this had occurred within two weeks) and walked to a nearby rusty, dusty restaurant. Just as I sat down some guy, covered in dust and dirt, came up to me with a child in hand, holding out his other hand out for money.
"No espanol", I replied to the hand.
"Estúpido gringo."
I looked down at the menu trying to give the impression there was something on there that I actually recognised.
The Menu
If you don't understand anything on the menu the best policy is to choose the top item.
Finally, I relented and looked up "Look man, I have had a long day and it is still is not over as I have yet to inadvertently lock myself into my hotel room."
"Estúpido gringo" he repeated and then shuffled away, child still in hand.
******
Santuario de las Lajas was a 14 km return trip from Ipiales. It would take a morning.
I tried to board a local bus but had not reckoned on the local taxi cartel. I was pointed towards the hoard of expectant, eagerly awaiting taxi cabs.
Here we go again.
Negotiating a fare, finding myself locked in the cab until I had paid an inflated price, taking photos and then having to do it all over again for the return trip back to Ipiales
It was like a South American menu.
No matter what you ordered you always found yourself eating chicken.