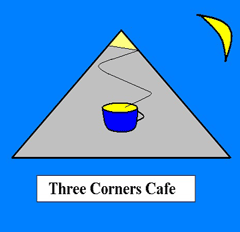 SOUTH AMERICA - THE "WAITIN' FOR THE BUS" TOUR
CUSCO
"FINDING THE WORLD'S BEST CORN ON THE COB"
With the bus due to leave Copacabana at 1:30pm, I sat in a restaurant in town watching World Cup Football to pass the time. The young guy from Isla de la Luna, his thick-set mate and another local walked past the restaurant, saw me and walked in to say "Hello".
To them, I was still a novelty.
To me, yesterday was just another day, something to repeated many times in the future; like breakfast. Sometimes the eggs are hard boiled, sometimes they are soft in the centre and sometimes they are just scrambled.
Yesterday was definitely scrambled.
I confirmed our friendship and they wished me luck. Then it was off to the shore for my final meal of Copacabana trout and chips. It was a Sunday and the trade was brisk. I wondered if the lady who served me my meal was going to offer me luck as it appeared to be a common occurrence in Bolivia when people told me "Goodbye".
But she probably didn't know that this would be our last meal together, the habitual customer never to return.
It meant a lot to me you know.
Ciao.
******
The bus travelled on to Puno, on the Peruvian side of Lake Titicaca. Puno was the launching point for a tour to some man-made islands built upon reeds, but understandably, I was full to the brim with Lake Titicaca and its various islands.
From Puno I was told to board another bus. A luxury bus filled with tourists aged 60 years of age and above. I asked the stewardess if the bus offered a free meal for dinner. The answer was in the affirmative, and with a full belly, I was in relatively fine fettle by the time the bus reached the Cusco bus terminal at 10pm.
Past nightfall, with the tourist district some way off, it was a bad scenario. Then as I stepped off the bus the touts swarmed and surrounded. Suffocating, I could not think. I escaped and hid around a corner.
Or so I thought. Followed by a guy, aged about 18, he showed me his accredited 'tourist operator' badge, politely proffered a brochure and then offered a free ride to his accommodation located near Plaza de Armas, the centre of the tourist district.
Sounding good so far but…the other touts had sensed our trail and I was surrounded, once again.
If only to clear the senses, I followed the young guy outside. His older brother, in a small, unmarked vehicle pulled up beside us. As I was about to get into the back seat a taxi driver approached. He told me his taxi was nearby, marked (i.e. taxi signage) and that he had an accredited badge to boot.
Yeah. But you are coming across as an arsehole.
I got into the small car and we were off, eventually cruising down some cobblestone alleys that I found out next morning were indeed just a short distance from the tourist centre of Cusco.
Everything had worked out as the young guy had said it would.
Scenario overcome and the nice guy winning.
******
Next day I got up early and caught a local bus to somewhere. Aboard the local bus, the driver and the locals asked if I was going to Pisac. I must say I don't really know. But if you say I should....
I was travelling to the Sacred Valley, which sounded suspiciously like Birthplace of the Sun or Island of the Moon. I was wary.
The plan was to climb a hill. Before I even started I was hassled by a taxi driver telling me it was "imparcial" and a warden demanding a large entrance fee. But I was determined.
Onwards and upwards, towards the ruins at the top I climbed. From on-high, it was the view of the valley and not the ruins that were the reward. Sacred or not, I felt blessed. I had dogged the suffocating taxi drivers from the night before and now I was isolated, alone.
Except for the lady at the top who sold me some corn on the cob, a local speciality, the best in the world; as where we currently stood was high above the local corn fields. I tried to pay her at Bolivian prices and such was her shock she nearly fell off the cliff. Me - I had to walk back down; downwards, downwards, down towards the next task - catching a local bus back to Cusco.
Three buses coming and going later, I realised adults had a separate queue and got priority onto the bus over school children. I told the bus driver I wanted to be dropped off at the first set of ruins above the city. I had more ruins to visit. The fee I had paid at Pisac was valid for more ruins.
Three ruins past the intended drop off point I disambarked. A detour, a detour towards some group of people gathered under a statue of Christ.
In South America Christ was everywhere.
But I had to leave. It was getting dark and praying can only get you so far.
I found some cobblestone streets that lead down to Plaza de Armas.
Thank Christ and good luck.