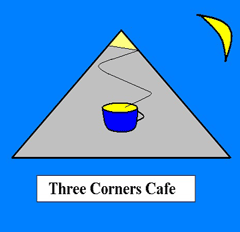 SOUTH AMERICA - THE "WAITIN' FOR THE BUS" TOUR
LA PAZ
"MARKET CITY"
Veronica perused the early evening markets looking for a cheap rug to keep us warm for the freezing cold night bus to La Paz. No heating and no toilet, she had heard the stories and came well prepared.
At nightfall we situated ourselves at the back of the bus and covered ourselves in darkness.
Frozen.
Veronica wrapped herself in her blanket and left me to freeze.
After a while, having had a few beers before I boarded the bus, I predictably needed to go to the toilet. Climbing over multiple people sleeping in the aisle I knocked on the bus driver's back window.
"Explodeo" I said, pointing to my pecker.
"Momento" replied the happy, cherry bus driver, pointing in the dark toward some distant imaginary object.
We stopped, and clambering out of the bus, I gratuitously turned to thank him, stepping into an icy puddle.
Wet shoes and wet socks, I was unable to rest that night for the real fear of frostbite. Watching icicles developing on the inside of the bus window, I imagined a La Paz hospital full of tourists, their toes cut off with a bloody butcher's knife.
This would be an impediment to my schedule. I would have to pay for more taxis.
The thought steeled me…until in the early morning, after a couple of hours sleep, the sun began to rise and the bus slowly purred its way into La Paz.
Veronica was still alive. She hadn't spoken. I hadn't killed her in her sleep.
Waiting for our bags, standing outside the bus, I was expecting something to happen.
What hostel should we check into?
Where should we go to eat?
I am so looking forward to a shower.
But once her bags we collected, Veronica was off.
I ended up checking into a decrepit hostel by myself; sharing a room with eight other people.
******
La Paz was a hive of activity; traffic and tourists, locals and legends, there was a market for us all.
I had my camera ready.
"Hey, you there!"
"Yeah you with the funny looking clothes."
"Act natural."
"Yeah, Yeah, Yeah."
"Hot!"
"Like melted chocolate."
I tried to take a photo of some old fat lady asleep at her market stall. She awoke; not impressed.
I stalked the ice-cream man, walking around some central city park, in a chasm, high above the sea.
The shoe-shine boys; attired in balaclavas, clad in black.
The fat lady dreamt of the day when she was once beautiful and men had fallen into her arms. It had taken so little work.
The ice cream man tried to talk to me even though he must have comprehended I knew not a word of his language.
The shoe-shine boys wanted others to have that which they would never own.
Respect.
******
I entered an English-style pub catering to tourists and backpackers. Sitting down at the bar, consuming two pints of lager, I was immersed in the hype around the 2006 Football World Cup. A Scottish woman approached.
"You looked tired and should go to bed" she stated.
Was it a hint? Was it a come-on?
Now was not the time to be indecisive.
I told her to "Piss-off. No one tells me when to go to bed."
Taken aback, the pitch of her voice rose "How rude! What country are you from?"
"Australia."
You are the rudest Australian I have ever met."
"Yeah well, I guess you haven't met many Australians."
And then she was gone, back to her seat in the bar.
Day destroyed?
No.