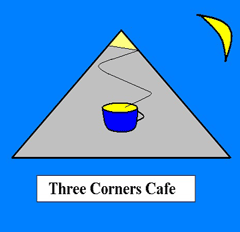 SOUTH AMERICA - THE "WAITIN' FOR THE BUS" TOUR
TUPIZA
"GETTING A HAIRCUT IS MUCH LIKE SEX"
The bus was due to leave Salta at 2:30am. Walking to the bus terminal before dark and sitting around for five hours, I realised I should have been more productive and spent some time during the last two days researching my next destination, Bolivia.
I knew I was heading to the Argentine border town La Quiaca and its distance from Ushuia was a whopping 5,121 kilometres. I knew, given La Quiaca was a border town, that it was likely to be a shit-hole filled with arsehole sharks.
So I woke the next day with a slight headache and looked out the bus window upon some shit-hole infertile landscape that barely improved as eventually the bus trundled its way into run-down La Quiaca.
With the help of an Australian backpacking couple, I found the border and was quickly processed out of Argentina into Bolivia. It was here I found my shark.
A young Bolivian boy helped me fill out my forms, I gave him some spare Argentine peso and then he took off.
????
Something is odd here.
Why I am not standing at his cousin's foreign currency dealership about to sign my life away.
I made my way into the centre of the Bolivian border town, Villazon. Foreign currency exchanges littered the road. But still there was no hard sell, no exchange your currency with us and we will give a supplementary roast chicken sandwich with complimentary chips. Instead clerks sat in their offices preoccupied with their daily slumber.
I booked my bus ticket for the journey further north, and with time to fill, walked to the local plaza to slumber. Standing at the centre of the plaza was a water fountain, painted bright red and yellow, with no water. Old ladies walked pass, dressed in the traditional clothes I secretly thought never really existed. Then the greatest hits of Boney-M started to blast out of the speakers from a nearby school yard.
It was too much for the senses; my headache started to intensify. I had been drugged and was about to be held ransom. The boy shark at the border was a Machiavellian dwarf; head of a South American mafia network…
I stumbled back to the Villazon bus station and boarded the bus for the two hour bumpy bus ride to Tupiza. The landscape had been a dust bowl, but as the bus approached the small tourist town, around which Butch Cassidy and the Sundance Kid had been killed, the scenery turned from an arid flat landscape into that where red rock formations rose strikingly into the air.
They rose for the heavens, fiery red, like the dawn of the last day of the planet. I talked my last words to Butch and wished him luck, for we shall not meet again, in this life or the next.
I am sure he will go to hell for sleeping with my girlfriend. I hope the Bolivian bastards shoot him up good. As for me, I am already in heaven, surrounded by these rock formations, which I have to say simply look amazing. I wonder what created this red, crumbling rock. It looks so brittle; like life itself.
You know, I was always the deep thinker and Butch, well, he was just Butch. I was way too classy for him. I was the intellect; the thinker.
What Sandra saw in him I will never know. Perhaps it was that rough, rugged look attached to that sly smile.
"Hey Butch…."
BANG. POP. BLAM. POP. BANG. BLAM. POP. POP. BANG. BLAM. POP. BLAM. BLAM. BLAM.
"Arrrrrrrrgh."
Back at the hostel I am thinking why are the Bolivian waitresses laughing at me. All I did was order two dishes, one of an omelette and another of a burger, and when one of the waitresses served me my dinner, she did so with an uncontrollable giggle. OK. So each dish came with complimentary chips and therefore there was a slight over-order but…is there something wrong with my hair?
I went for a walk around town and passed a barber shop along the way. A small queue sat inside; they all still had their two ears attached, so I joined the back. When it was my turn I told the barber to use uno razor, which he sterilized with a liquid and then lit a match to cause a small flame.
Cool!
Half an hour to cut my hair, using a manual operated razor. A job that back home took about 10 minutes. It was so beautiful and peaceful, living on the razor's edge, that I nearly fell asleep. It reminded me of my sex life.
Perhaps it was not the sly smile after-all?