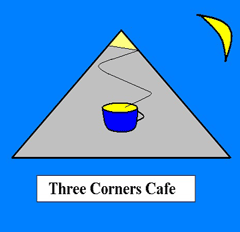 SOUTH AMERICA - THE "WAITIN' FOR THE BUS" TOUR
CORDOBA
"CITY CHURCHES"
A university city with many catholic churches preserved from Spanish colonial rule. I knew what was the more enticing, university city versus catholic churches, from a backpacker's perspective. But I was aged, tired and bald so … the plan was to at least have a few beers and …
It was 10pm on a Saturday night and I still had not found accommodation. Walking around the centre of the city carrying my backpack, I felt safe enough not to get too stressed, while I knocked on the door of the fourth hostel I had tried that night. The hostel rooms were a bit cramped but there was a vacancy, if I paid for two night's accommodation, and then…that was it for the night.
I was exhausted.
So that just left the churches. Sunday morning and the place was dead, except for those who were scared of dying and those who had killed themselves the night before. As for me I was still planning to kill myself, probably using the exhaust fumes of a slow moving bus. The slower the better; it was high time I enjoyed myself.
Cordoba - I cannot stay here forever. I must catch that bus, the one with the leaking exhaust fumes that seep into the back of the bus, where I am lying prostrate beside some moustached fat man who mumbles tall tales in his sleep. I cannot let that magical mystery bus get away.
Convince one-self…
I have paid for that night's non-refundable accommodation but I can partly recoup the cost if I travel north to Salta on an overnight bus. I might get a better sleep in the cramped, smelly hostel bed but there was no guarantee.
Cordoba had not suffered any recent natural disasters such as earthquake, flooding, killer bees … so there was a better chance of dying while travelling on a South American overnight bus.
Convinced.
I must catch the next bus to Salta.
I am bus travel addict.