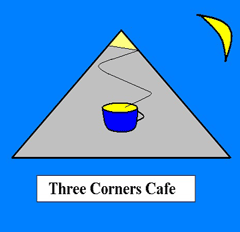 SOUTH AMERICA - THE "WAITIN' FOR THE BUS" TOUR
BUENOS AIRES
"THE DAY THE REVOLUTION CAME TO TOWN"
Enough about buses and bus rides. Staying in Buenos Aires would give me a chance to get my digital camera, which had finally broken down at Moreno Glacier, repaired; in Japan. It would take two months.
I referred to my schedule – no, it does not have the spare space for a two month wait while the manufacturers fulfil their warranty obligations. It looked like it was back to my emergency camera, my original tourist camera first used eleven years ago – before digital was invented.
Depressed, despondent I walked to one of Buenos Aires prime tourist attractions, Cemeterio de la Recoleta. For those who don't speak Spanish, it is a cemetery. Notice how you basically just add an O to the end of words – as in Completo.
"Fixo digitalo camerao" – I had asked the receptionist at Digital Camera HQ, while holding up my damaged camera.
Later I asked the receptionist where I could go to "Enjoyo myselfo" and she had pointed in the direction of this cemetery.
Well here I was. Ornate statues looked down upon me, judgemental, casting a shadow. Here in this cemeteryo it should be either depressing or invigorating to be alive, but I felt neither.
Shadow; get out of the shadow and into the shade. They are coming; coming in numbers. Their wings will turn this brisk autumn day into winter and then that will be the end, you will be lost.
Yes, it is one of the many mysteries of life how I continually end up being lost. Buenos Aires has some pretty tall monuments, such as the Obelisco, a granite stone commemorating one of the many victories by a small village in Gaul over the Romans. Yet how do I walk from the Obelisco to say, for example, the Palacio del Congreso (notice the O at the end of words), turn a corner and end up finding I am heading back to the Obelisco.
It can only be magic.
The next day in Buenos Aires was June 25 - Revolution Day. The previous night I had gone out on the town in a hostel sponsored sniper attack, loaded with alcohol, abused some Swedish backpackers when they did not allow me to share a taxi ride back to the hostel, accusing them of been baldisto (ie against mid-30s bald men), and now, here today, I was going to a revolution.
Bring your camera!
Ah no. The receptionist from the hostel advised me to stay indoors. Or at least avoid becoming lost within a crowd of hyped-up, protesting, propoganding South Americans who, supposedly, dine on 10lbs of beef for breakfast.
Better to stay indoors and hopefully watch the Peter Crouch robot on TV as teams finished their final preparations for the 2006 Football World Cup.