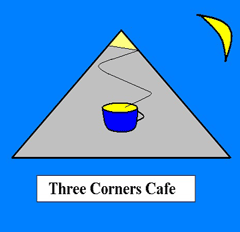 NORTH AMERICA - THE "BRIGHT LIGHTS, BIG CITIES" TOUR
DENVER
"HIGH ABOVE THE SEA I COULD NOT HEAR THE WINDS OF SECURITY"
Organisation of my journey from the West Coast to Denver was paramount. To catch the best scenery, during the train's descent from the heights of the Rocky Mountains, it obviously needed to be daylight. However it was not to be and this part of my journey was covered in darkness. Travel, organisation and I belonged to the age old maxim of "three is a crowd."
At least I arrived in Denver an hour before dusk and succeeded in finding a hostel before the fall of night. It was not wise to be walking around with a backpack in any city within the United States once the onset of darkness could hide the fear of the unknown behind its shadows. The unknown was sensitised to smell the scent of a foreigner. For me this scent was a backpack filled with two weeks of unwashed clothes.
Denver involved the usual proceedings for a tight fisted tourist. I had to adhere to a budget of a miniscule amount of spending money per day; split between accommodation, food and miscellaneous items. Fortunately for me the budget excluded the cost of my Amtrak rail pass. In fact train travel was the unsung hero in assuring I could stick to my budget.
Any night excursions saved me the expense of accommodation as I could sleep on the train for free. After an uncomfortable nights sleep no one could take away from me the thrill of been able to spread a little more jam on my breakfast bread the next morning. No one could take away from me the thrill of beating my budget senseless.
However these highs were often short lived. Overall, the strict adherence to my budget was affecting the enjoyment factor of my tour. But I was not in North America for enjoyment. I was there to learn about money and I was getting plenty of experience; especially in not having any, budgeting and the bottom line.
I had been in North America for six weeks and the only tourist excursions I had paid for were Six Flags Magic Mountain and two baseball games. I spent most of my time walking around central business districts or local parks. These two tourist attractions had one thing in common, they were both free.
In Denver I did the usual walk around the central business district. As it was close by I then walked to the State Capitol Building, whose 15thstep was exactly one mile above sea level. When I now tell people, including strangers, I belong to the Mile High Club they just look at me with a strange expression. I can't figure it out. Is there something strange about Denver; something I don't know about?
There was another reason I was visiting Denver besides learning about money. I wanted to discover if the city had erected any monuments in honour of its namesake, the country singer John Denver. What better way to pass the time, singing to oneself his most renowned song, Rocky Mountains High, all the while searching for his monuments within sleeping distance of those famous mountain ranges.
I am not going to lie to you. Sometimes the truth is hard to take. You just have to stare reality in the face and accept, like me, there were no John Denver monuments in the city of Denver. There were none that I could find anyway.
What could I do now?
I told myself the same old story of when in doubt think beer. I caught a local bus to the nearby town of Golden, which offered a free tour of the Coors Brewery. Unfortunately Coors did not offer any free samples of their produce.
As beer was not within my budget, even as a miscellaneous item, I would have to give the prospect of buying myself a beer after the tour a miss. I had not had a beer since I had first arrived in the United States. I had replaced my university diet of a huge intake of yeast due to the consumption of beer to an even larger intake through my daily travelling diet of bread.
But the travelling must continue and there still was not a beer in sight.
Denver was the last stop on my 30 day Amtrak Western USA pass. I reached into my wallet and bought a 15 day Amtrak Mid-West USA pass.
I was heading further eastward.