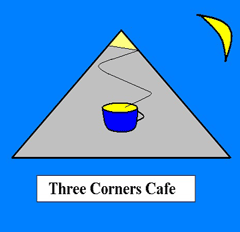 NORTH AMERICA - THE "BRIGHT LIGHTS, BIG CITIES" TOUR
PORTLAND
"ONE LAST REFUGE BEFORE THE INNER NEW WORLD"
Why would I visit Portland?
Don't rush with an answer!
I have been asking myself the same question for over a decade and I still haven't come up with a valid response.
Let's just move on with the story, which begins with me standing at a bus stop after my arrival in the town mid-morning. I was waiting for a bus to take me to a hostel, beyond walking distance, away from the nearby train station.
It was going to be a sunny day and my general air of despondency was slowly receding.
There were things to look forward to on my tour of the United States such as visiting cities like Portland. After all, the locals I was talking with at the bus stop seemed friendly enough. They were a bit rough around the edges but were doing their best to engender my trust in them. They even seemed to know the police officer who approached, mounted upon a sturdy horse, on a first name basis.
He told them to move on unless they wanted to keep him company at the police station again. What a friendly community; strangers off the street spending their spare time visiting the local police officer. Perhaps that is why I visited Portland?
He then told me the bus stop I should be standing at was located around the corner; that my current locality was not ideal. I must admit, given the time of day, there were not many people around; just the local criminal fraternity and a foreign backpacker.
Why on earth would I think that strange?
In Portland I chose a hostel which offered free pancakes for breakfast. Early tomorrow morning I will be able to cross this off my list of things to do when in the United States.
In the meantime I discovered virtually all of the hostel's lodgers were from New Zealand.
I asked them all why they were visiting Portland but none of them knew.
I have found the best place to find the answer is the pub. It doesn't matter what the question is. In fact you might conveniently forget there was any question at all.
To the local pub I disappeared that night to watch an NBA play-off game. I sipped my coke thinking of the bizarre experience of been surrounded by New Zealanders in a hostel on the other side of the world.
Been from an isolated, small country it is imperative New Zealanders travel. Personally, it is even more important for my business future that I discover the wider world. If I am going to pick worldwide trends, such as exchange rates and commodity prices, I need to understand the drivers of different country's economies. If I am going to be a leader I need to understand the motivators of men and the inspirers of legends. If I am going to be listened to then I will need to talk with knowledge and authority.
Sipping on my coke, by myself, not talking to anyone I thought about what it would take for the average United States citizen to take notice of an isolated, small country such as New Zealand? To say something like "Gee, those New Zealanders sure are talented people."
I arrived at my answer the next morning. I had just finished eating my pancakes, feeling half sick on sweet syrup. I needed to sit down and let my meal of the day digest. I turned on the television to be greeted by an American talk show host. I was entrapped.
Time passes quickly when you are engrossed in the quirky. I therefore could not tell you how much time passed before the one United States lodger in the hostel took note of what I was watching on the television before making his statement. I quote direct from his lips "Gee that talk show host sure is a talented person."
There was my answer. My research for the day was complete.
But I still had to see Portland and walk off my pancake breakfast. I took a bus into town and looked around some of the city's interesting architecture. There were two buildings I found of particular interest. The Oregon History Centre, which was painted with a picture of some of the region's early settlers and the Portland Building. This building had a sculpture of some god like figure reaching down to me from above. I wanted to grasp its hand and let it carry me away. However my pancake laden stomach might have needed something more like a crane, rather than a helping hand, if there was going to be any chance of making me airborne.
I gave up on this idea and instead I spent the afternoon walking around Washington Park. This park had a renowned Rose Garden, a Japanese Garden and a Vietnam Veterans Memorial. Washington Park was my little taste of the natural beauty of Oregon. A pretty pathetic little taste on my part, considering roses and Japanese gardens were not a natural phenomenon of Oregon. But as the talk show host told me this morning, we make the most of what we can, whether that is with one wife or five.
After a couple of nights at the hostel and its associated free breakfasts I felt I had eaten enough pancakes. It was time for me to leave Portland and return to the local train station. The vicinity around this station was been redeveloped with not much construction work currently in progress. This explained why the only people around were vagrants and myself.
It was early afternoon. As I approached the train station a threatening mob of youths were loitering in the distance. Heeding the police officers warnings I approached the station from the safest direction possible, having to make a few detours along the way. I eventually arrived safe and sound with time to spare before I boarded my next appointed train, this time headed for Denver.