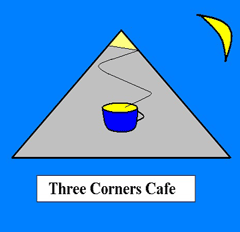 NORTH AMERICA - THE "BRIGHT LIGHTS, BIG CITIES" TOUR
VANCOUVER B.C.
"FOUR WALLS, ESCAPE TO THE MOUNTAINS"
It was early afternoon. The train rolled slowly forward, crawling through the suburbs on the approach to another inner city metropolis. Suburban back yard swimming pools signalled middle class wealth as well as the onset of warmer weather. I thought this far north the weather would be too temperate, on the sunny side, for a decent summer.
But then again one should never be surprised at what money can buy.
My arrival at the Vancouver B.C. train station signalled the start of an increasingly familiar routine.
"Hitch your back-pack to your shoulders young lad. Set off on the adventure of a lifetime discovering the safest, cheapest accommodation the major cities of the western world have to offer."
It was still early afternoon. I therefore had plenty of time should I discover myself lost while searching for this cheap accommodation. I had marked one particular hostel with an X upon my map. But it turned into a big O as I walked in a huge circle, converting a half hour walk into two hours.
I had lost my bearings. I was busy dreaming of swimming pools, bikinis, belly flops and clubman cocktails. What was I doing here?
Perseverance and perspiration paid off and eventually I found my dark, dingy backpackers. It wasn't a backpacker's lodgings as such but a cheap residence for some of the vagrants of the inner city. These residents had character and personality. They were a different breed from the usual backpacker crowd. They were locals. They were older, with more of life's mistakes behind them. They were strugglers whom you would never trust with your last dollar. They were down to their last dollar.
The owner of the backpackers sat at the front desk. He was in a full and frank discussion with one of his lodgers. They were talking about the onset of political correctness within North America. The owner blamed the corporate human resource departments for this sickness which was filtering down, spreading and inflicting its will upon society. In his opinion these departments were nothing but a breeding ground for rules which wiped personality from the work environment and society as a whole.
His theory was these departments usually comprised nothing but women and gays who had no conception of how the Neanderthal man thought. The needs of this Man were been hidden behind the subversive ploys of the human resource departments, spreading their control through their politically correct agendas.
It is a subjective judgement but in my personal view men are more logical thinkers than women. Men are more able to think through problems in a less sequential order and come to a solution based upon an unclear and in-concise thought process.
The reason for the superior logical thinking of males, and it is an inbred skill, is that we start with a thought and then think outside its boundary until we come back to our original thinking process with a new perspective.
I give an example:
Male Thoughts:
That was brilliant love Pam and I had on that hotel Persian rug three years ago.
What city was that in? That's right; it was during our stay in Wellington when we visited Bob and Sue.
They're a nice couple and they have a nice house.
Isn't great that house prices are still relatively cheap in Dunedin.
I can't believe how expensive the broccoli was when I went to the supermarket the other day.
However the cost was a small price to pay for the roast with broccoli sauce Pam cooked us that night.
A warm, freshly cooked meal straight after a muddy rugby practice and a shower invigorates one's soul.
Oh. I nearly forgot! Pam wants me to buy a new shower curtain before I arrive home from work today.
That was great sex Pam and I had in the shower last month.
I put my backpack in my shared room and settled down to watch the second half of an ice hockey playoff game with my fellow vagrants. Ice hockey wasn't really my sport so I went back to my room to relax. I had a creative wave and ended up writing Four Walls. It really reflects the mood and setting I was in. The hostel room was bland and cramped with no view. I was also getting a bit tired of travelling.
However I look at the positive side of the poem which is about trying to reach our potential rather than choosing to live within our own four walls. The poem is also about how we apparently use only a minute part of our brain; how our past hurts and our own mortal body stop our brain reaching its potential. If we maximize the use of our brain are we capable of out-of-body experiences?
The next day I set off early and headed straight for Stanley Park. Immediately my spirits soared. Stanley Park was a beautiful park on the edge of town. With the mountains that surround Vancouver B.C. to the north there was no better form of cure for a weary traveller. I saw my first Indian tam-pole, my first swan and even saw my first rugby goal posts since leaving New Zealand. Stanley Park had beaches, a small lake and green fields just like a miniature New Zealand.
I spent the morning walking around Stanley Park and then walked through town. Vancouver B.C. had the most construction cranes in a concentrated area that I saw during my time in North America. Apparently this was due to the Asian influx from Hong Kong as that city changed from British to Chinese stewardship in the 1990s. Close to town and the harbour was Canada Place which was a building shaped like a pair of sails.
Late in the afternoon I arrived in Gastown, which had a steam powered clock and some historic architecture. Quant is how I would describe the district. I could cross it off my list.
Gastown was the last of what I wanted to see in Vancouver B.C. I was therefore able to finally complete my day by walking through the mandatory big city Chinatown. This was where the hostel was located. It must be noted my lodgings were easier to find, second time around.