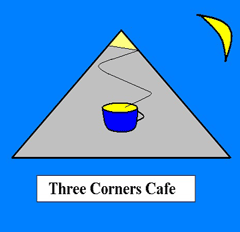 NORTH AMERICA - THE "BRIGHT LIGHTS, BIG CITIES" TOUR
SALT LAKE CITY
"NESTLED BENEATH YOUR MOUNTAINS I SHELTERED FROM MYSELF"
I needed to feel the fresh air of tranquillity. I needed to feel the cleansing of my soul after the searing decadence of Las Vegas. I needed to feel my senses filled with the moral fibre of spiritual renewal. I needed to flee from the dry desert and full my thirst by the lake of human endeavour, the salt of the earth. I needed to find my religion in the city where mountains protect the frontier, the unknown waiting for me in the distance, the lost land tempting me to explore.
I was travelling on an Amtrak 30 day Western USA rail pass I had purchased in Los Angeles. Amtrak was the main provider of passenger train services in the USA.
I originally planned to travel on a Greyhound bus pass. This plan hit a snag in Los Angeles when I was informed the Greyhound pass had to be purchased outside the USA. My next best option was Amtrak, which offered discounts to non-North American citizens and discounts on off-peak travel. Their peak season was mid-June to mid-August so my plans were back on track and everything appeared perfect.
The train from Las Vegas arrived in Salt Lake City at 3 am. Travelling on the train as opposed to the bus had many benefits, most of which related to comfort. Train travel offered more leg space, more sleeping space, a smoother journey which enabled reading and the intangible thrill of hearing the clickity-clack of the train over the rails as I explored the New World.
What train travel did not offer was convenience. The passenger train may pass through a city only once a day and even then it may be at some ungodly hour such as 3 am. The bus service was much more comprehensive and would have made the planning of my finely balanced itinerary less chaotic.
So here I was in the Salt Lake City Rio Grande train station at 3 am. My travel book described the station as 'in a bad area'. No hostel would be open until at least 8 am and even if one was open I would not attempt to find it in the dark. Hiring a taxi to take me to other cheap accommodation was not an option. No taxi, besides your parents, is ever cheap and there would be negative consequences for the bottom line of my budget.
Rumours were circulating there had been a big drugs bust, with a big western style shoot out, at the Rio Grande train station only a few nights previously. Not surprisingly my attempts to get some sleep at the station before daybreak proved unsuccessful. I therefore went for a wander around the inside of the station looking for stray bullet holes. This also proved unsuccessful.
The time passed slowly until the clock eventually struck day break. I then heaved my backpack onto my weary shoulders and set off for the cheapest hostel. This was only a short walk away. Once I checked in, I snatched a few fitful hours of sleep. By noon I was awake and setting out to see the sights of the city.
Salt Lake City, ignoring drug busts and train stations, appeared safe and quiet. A city where you could hop into your four wheel drive and head out into the surrounding mountains on a whim and a prayer.
Famous for been a predominately Mormon residency I walked down to Temple Square. Enclosed by a 10 feet high white wall and spread over a couple of blocks of land, Temple Square was manicured, tidy and orderly. The buildings were white and the statues bronze.
Inside, the high white walls surrounded us all but they were neither imposing nor suffocating. Their purpose was to keep the ambiance within and the daily traffic that ground its way to wherever, out. The Square was like a grey sky that held no hint of rain nor offerings of wind which may upset the orderly balance.
I signed up for a free tour of Temple Square which started at the Mormon Tabernacle. It housed an 11,623 pipe organ and was also home to a local, world famous choir. They were not currently in session so the tour moved on, outside into the gardens.
Here we stopped at a statue depicting the decision of the then Mormon leader, Brigham Young, to set up shop near Salt Lake in 1847. I vaguely remember the decision had something to do with a bird which was floating about the sky at the time.
Brigham Young's group had been travelling for five months looking for a suitable residence to practice their religion. Why people would follow a person whose ultimate decision was based upon the flight of a bird is beyond me. Perhaps Brigham Young was at one with nature or perhaps he had a natural charisma.
I freely admit charisma is not something which is part of my personality core. At a university accounting tutorial I had even been told by my lecturer that if I wanted to become an accountant I would need to become more dynamic.
What kind of insult was that?
I purposely studied accounting because I lacked charisma, lacked dynamism, lacked communication skills and had absolutely no people skills. I was astounded to be told even accountants needed to have some of these basic career attributes.
I became determined to prove my lecturer wrong. I had already decided I would start my career as an accountant on my way to becoming a billionaire. Now I had the extra task of proving to everyone I could still be a successful number cruncher and still hold on to my most dull personality traits.
So what if all the other dynamic accountants subsequently think of me as a boring outcast?
I will still survive.
******
I freely admit I also lack confidence. A few years later when applying for a graduate accounting role the job description asked 'Are you a winner?' So needing a job I wrote all about how I was the biggest winner there was going, all the while thinking I was not actually a winner but a survivor.
A winner does not spend a night in the Grand Canyon in a phone box. Not unless he is Superman and falls asleep on the job. Through boredom and over work I later fell into the habit of falling asleep in the corporate lunch room but I still don't think that showed hints of been a winner.
At the same time as I applied for the 'winner' role I applied for another graduate accounting job. The job was at a major Australasian beer company and I was subsequently granted an interview due to the fact I drank plenty of beer. However I missed out on the role because I was deemed 'not a team player'. I gathered this was because I had travelled overseas by myself.
In a sporting contest I deem myself to be the ultimate team player who 90% of the time will put his body on the line. However, as it so happens, in the working environment I am 'not a team player'.
If I have finished my task at work while others are still busy and may need a hand, I enjoy nothing more than bringing out my old 'I am a capitalist not a socialist' line. Interpretatively this means if I am more efficient, effective and selfish than you then I should justifiably be rewarded by having an extra ten minutes for my lunch time nap.
I believe the term 'team' should never be used in a corporate context. There is no such thing as a 'team' in the corporate environment if the word 'team' is to be the same as it relates to sport.
In one corporate firm I worked for they had a poster on the wall with a picture of a flock of geese in flight and a description of how their flight formation was all about team work. The poster was as clever as it was sinister. The purpose of the poster was motivating us to work harder so the shareholders would receive more financial rewards. In sport it is the sportspeople who receive the rewards of victory; the money, the parties, the groupies. Shareholders for the most part come a distant second.
TEAM = Together Everybody Achieves More; There is no I in TEAM.
A corporate should not be allowed to bastardize the word 'team' for its bottom line purposes. A team in sport is totally different from a group of people who work together in a corporate environment.
If the corporate citizenry want to come up with a term for 'groups of people working together in a conductive work environment' then can I suggest the new word 'edizope.' Just think how much fun they will have brain storming a new acronym for 'edizope.'
Personally I have a headache just thinking about it.
At Salt Lake City it was getting near tea time so I returned to the hostel. The 50 year old lady who ran the place had a crush on the owner of the Wendy burger chain who appeared in his own advertisements. As another Wendy burger advertisement appeared on the small screen to another delighted squeal I could take no more.
Anything should be better than surfing the channels looking for Wendy advertisements. My better choice was going to the launderette to wash my clothes.
I told you Salt Lake City was a quiet place!
The launderette was like that famous Levi's advertisement where the guy gets undressed and chucks his jeans into the washing machine. The similarity was based around the fact I only had one pair of jeans and one pair of shorts and they both needed to be washed. But don't blush. My dusty jeans would survive another two weeks without been washed.
I assure you this will be longer than my survival rate if I ever have to go through the experience of watching 20 Wendy burger advertisements in one two hour sitting ever again.