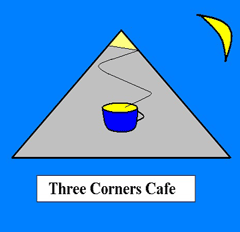 NORTH AMERICA - THE "BRIGHT LIGHTS, BIG CITIES" TOUR
SAN FRANCISCO
"BUILD ME A BRIDGE TO THE FRONTIER OF YOUR HEART"
I travelled to San Francisco by train, along a scenic route that followed the Californian coast. Some of the scenery reminded me of New Zealand which was strange since I'd only been away two weeks and I was already looking for reminders of home.
It looked like I would be staying in Los Angeles for a few weeks rather than the originally planned few months. I had put my name down for a hotel cleaning job in Santa Monica but they required a 'green card' so I withdrew my application. My view on working in the United States was that it wasn't worth the risk of getting caught and deported for not having a working visa.
I therefore decided to visit San Francisco while I finalised my plans. The trip would also serve as a trial run before I set out permanently and determinately from Los Angeles towards New York; away from the security my brother's presence offered.
The train arrived at San Francisco in the early evening and a fellow backpacker organized a taxi for a few of us to the nearest hostel. It was only a short ride away but there was enough time for one of the other passengers to marvel at the steep streets of the city. That was my cue.
"Dunedin, the place I come from, has the steepest street in the world. It is named Baldwin Street."
They were not listening or it was not deemed a relevant conversation topic, my first lesson in backpacker culture.
The hostel I stayed in was situated just above Market Street, San Francisco's main drag. The hostel's close to town location had it's conveniences but also the major inconvenience of been close to the city's "bums".
In 1994 San Francisco in my opinion was the 'bum' capital of the western world. I could not leave the hostel without been accosted for spare cash. I found this a major deterrent from going out for a quick walk around the block to stretch my legs. One of the bums even had the nerve to solicit money from me with the quip "I've never killed anybody."
Well how do you reply a statement like that?
I suppose you don't and just move on to be accosted by the next bum with the next sad story around the next corner.
San Francisco was the financial capital of the Western Coast of the United States. Financial capital meant money. I made it my priority to discover the tourist side of the city now rather than leave it to the future when a minute wasted meant a thousand dollars forgone. In fifteen years time when I jet into the city to crack the whip over my American subsidiaries I don't want to waste time been a tourist. I would have already been there and done that. Talk is cheap but not when you're responsible for squeezing the sweat out of 20,000 subordinates located in all parts of the globe.
San Francisco, along with been a regional financial capital, was also as a tourist destination. It was famous for many things including its trams, Alcatraz, Haight-Ashbury and the Golden Gate Bridge. For the start of my first day in the city I had a walk around the central business district, stopping off at the tourist information centre to plan my visit.
Trams departed close to the tourist information centre on Market Street, climbed Nob Hill and Russian Hill before descending into the gaudy tourist district of Fisherman's Wharf. Apparently Nob Hill was one of the United States most prestigious districts and Russian Hill had the snaking curves of Lombard Street, memorable in many a car chase movie.
When in San Francisco riding on the trams was regarded as a must. However, as I had spent money on a taxi the night before I figured I would get my money back by walking the route the tram followed. I would still get to see the same scenery and as an added bonus I would get some good old fashioned exercise.
The walk took me up and over a steep hill, past wooden houses perilously perched and down to a dank coloured ocean. Reaching Fisherman's Wharf I felt like I was in a time trap. I was back on Venice Beach surrounded by t-shirt stands and cheap souvenirs.
It is from Fisherman's Wharf that tourist boats left for Alcatraz. As I had already seen the Alcatraz movie I satisfied myself with taking a photo of the island from the shore and moved on. Besides I was in America to learn about business and the last place I should be visiting was a prison. It would set a bad precedent and may bode ill tidings for the later part of my business career.
I headed back towards Market Street by an alternative route aiming for Coit Tower, a famous local landmark. From the base of this tower I relaxed and took some photos of the Golden Gate Bridge, far, far away into the distance. That was as close as I came to this world renowned marvel of engineering, a photo not touched.
Refreshed, below the descending cloud cover, I proceeded to Chinatown, the largest Chinese community outside of Asia. It looked like there was going to be a Chinatown in every major city; I had already visited a Chinatown in Los Angeles. I assumed they must all look alike but it was on my way so it must at least be worth passing through. In San Francisco's Chinatown I ended up having the good fortune to witness their renowned propensity to gamble as they bet on the number of photos the short, red haired guy with the cheap camera took over the following 300 metres.
Luckily for me for I did not bet on this outcome as these were wise, worldly, old men involved. I left with the roll of my camera film completed and the contents of my wallet intact. From Chinatown it was a short walk back to the hostel and the end of my sight seeing day.
A new day dawned in the city. As I had not visited the Golden Gate Bridge I decided I would visit Golden Gate Park instead. The park was a natural escape of greenery after the short time spent in the metropolises of Los Angeles and San Francisco.
On the way to and from the park I walked through the 1960s hippie neighbourhood of Haight-Ashbury. I thought, given I was in the United States, it might have been commercialised, turned into a cheap theme park offering rides such as The Grateful Dead. Surely some corporate would have cashed in on the neighbourhoods' notoriety. But no; the people and the place were standard. The hippies had generally disappeared.
The iconic citizens of the city were now the gays. I went for another walk to another part of the city, Castro Street. This street was the gay centre of the city with leather appearing to be the main fashion accessory of the locals.
A decade later while living in Melbourne, pink not leather, was the fashionable colour of the time. This was for men mind you, not women. Back in 1994 I thought the only men wearing pink would be those I would likely see strolling around Castro Street. How times change.
When I moved from Melbourne back to my staunch, home town of Dunedin I discovered the men's fashion for pink had infiltrated even there, albeit a year late. My boss at the time thought he had a fashion sense. I was stunned, given he was born and bred in Dunedin, that even he would come into work attired in a pink business shirt.
I found this act insensitive, taking no account of my engrained belief systems. When the boundaries between men and women become blurred, confusion shall reign within our fragile world; no one shall know where they stand. My belief is the wearing of the colour pink by men is a crossing of this boundary. This has the potential to spin our world out of control.
I believe in the colours black and white; there is no grey substituted by pink. At the first available opportunity I found an excuse to go to a nearby women's lingerie store. With no expense spared I bought my boss some frilly pink underwear to wear with his pink shirt. This lingerie was the type with the see through bum; the type to showcase his firm buttocks.
The purpose of this act was to stop the reign of confusion. If you wear a pink shirt then you must also have the tendency to wear frilly pink women's underwear. If you have a fashion sense then I can only guess your favourite type of panties would be those with a see through behind to view your buttocks.
Order within my world was been restored. Black was black and white was white. In my opinion men wearing the colour pink should be confined to Castro Street. But sometimes we can't have everything we wish for. Sometimes we must settle for second best. For me, second best was men at least having the fashion sense to wear matching pink attire when they deemed it necessary to wear their flashy pink shirts and ties in public.