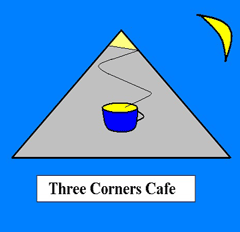 NORTH AMERICA - THE "BRIGHT LIGHTS, BIG CITIES" TOUR
NEW YORK
"THE HAND IS QUICKER THAN THE EYE"
It has been one of my lifetime habits to leave the best things to last. For example, I am currently 24 years old and I am not married nor have I even had a girlfriend. Given my luck with women some might say that for me the prospect of a girlfriend sounds so good I should leave it till the day I die.
But that still does not stop me trying.
On the train trip from Boston to New York I was fortunate enough to have an attractive, tall, blond, long legged American woman sitting beside me. That was enough incentive for me to eventually strike up a conversation.
I told her that after I had spent five days in New York on a working holiday I was crossing the Atlantic and flying to London to begin my career as a billionaire.
She appeared genuinely impressed.
She asked if I was planning to go out for dinner that evening and where I was planning to spend my first night in New York.
"Meg's Diner for a Few Dimes Restaurant and the Banana Bungalow" I answered.
"?????" she replied with a quizzical look upon her face.
Just then the train shunted its way into New York's Grand Central Station and we said our goodbyes. I shifted my attention to figuring out how to find the Banana Bungalow in a city which appeared colossal. New York was the last city on my tour of the United States and I expected it to be a highlight. But for now I felt slightly intimidated.
Eventually I figured out the subway system and found the hostel which was located a few streets away from Central Park. I was to spend much of my time in New York chilling out in Central Park's huge expanse of greenery in a sea of grey. Central Park was an oasis, a sea of tranquillity in a storm. There were Americans playing softball; Europeans and South Americans, in the USA supporting the world cup, playing football. There were groovy, good looking women on roller blades and then there was me; jaded and thankful I had made it to my final United States destination safe and sound.
It was time to relax.
Sites of the City
But there were still some city sites to see.
A day after arriving in New York I went for a walk around lower Manhattan Island. If you know anything about the geography of New York then you should now be able to guess the first place I visited. Yes, you guessed right, Wall Street. It was a pilgrimage to the Mecca of my destiny. While walking around the narrow corridors of the street, cast in shadow from the imposing overhead structures, I thought about Gordon Gekko, the central character in a Hollywood movie about a corporate raider in the 1980s. The movie was dedicated to and named after Wall Street.
Quotes from Gordon Gekko, fictional Wall Street corporate raider:
"Lunch is for wimps."
"Give me guys who are poor, smart and hungry; and no feelings."
"If you need a friend get a dog."
I thought these quotes could well be applied to my personal experiences of touring the United States. It appeared my time in the United States without much money was but a test. It appeared I had the potential to be a model corporate raider after all. The world had better watch out.
But still I thought it best if I quickly left the shadows of New York's lower Manhattan sky scrappers and found some open space. A short distance away was Battery Park, which opened onto the harbour. From here you could watch the ferries make their way to Ellis Island and the Statue of Liberty.
Well, you guessed right again. I didn't go on any of the ferry cruises. These things cost money, although I found out later there was a cheaper alternative to get close to these iconic symbols of the free land. That alternative was a passenger ferry across the harbour to nearby Staten Island. But all was not lost and I still managed to take a photo of the Statue of Liberty and Ellis Island sitting far, far away in the distance from Battery Park. My trusty, inexpensive camera with no zoom lens had served me well the whole trip and this photo is one of my favourites. It symbolised something intangible, something untouchable, barely recognisable, cheap.
After Battery Island I caught a subway train towards some of New York's more famous architectural buildings. New York City was the Gotham City of Batman fame. I had a look up at the Rockefeller Center, rested outside Madison Square Garden, had a greasy meal in the theatre district and started to walk past Trump Tower.
Here there was a crowd, three deep, gathered. Marie Presley had just married Michael Jackson and a rumour was circulating they were staying on the penthouse floor. Money maketh money and fame marries fame. It was the opportune time to glimpse the effect money and fame can have on oneseonality but after two hours of waiting I gave up and returned to the hostel via Central Park.
Back at the hostel I needed a good night's sleep. The next day was an important one for me. It was a day on which I had to get the over view. I had to look down upon this world and visualise what been a billionaire was all about. I hoped I would feel grand, like the master of my own destiny.
New York was an incredible city; a fast paced frenzy of activity. Its citizens were loud and obnoxious in an attempt to be heard above the crowd. Travelling the United States I had come to understand the term 'attitude' and in New York it was at its most robust. They were more than just numbers; individuals who wanted to be different; people prepared to defend their space.
It was near the end of my tour and standing upon the Empire State Building was a great way to top it off. I was feeling grand.
I had been to what seemed like nearly every city in North America and all of them appeared to have a viewing tower of various shapes and sizes. I could have spent well over my budget if I had viewed every city I had been to from one of these towers. It was a constant attack on the tourist senses. If you did not see the city from the height of the local tower you could feel like you had missed out on something important, like you had not been to the city at all.
At each city I fended off this attack by promising myself I would go to a tower in New York. What better city to choose than Gotham City itself? The problem in New York was there were two towers to choose from; The Empire State Building and The World Trade Center.
Unless I visited both the tourist in me would never be totally satisfied. However I had to choose. I decided on the retro Empire State Building which had a more central Manhattan location.
The Empire State Building provided a great overview of New York, the business capital of the world. Skyscrapers, Central Park and the surrounding harbour were all laid out before me. The master plan was within reach but still not quite touchable. I knew that upon reaching London I would have much work to do but the motivation was sky high; visualisation.
Jeans Ripped off
Well that was that then.
In a few more days I would be flying into London, leaving my experiences in the United States to memory. I decided it would be a good idea to leave my faded, worn, ripped pair of jeans behind also and buy a new pair while I was in New York.
I went to a Levis speciality store, found a pair I liked and then walked to the American Express office to cash some of my traveller's cheques. I had the unique feeling of spare cash in my wallet. I was feeling good, relaxed. On my way back to the Levis store I stopped to watch a game of hide the pebble under the peanut shell which was taking place along one of the busy streets.
I was offered to try my hand at the game for free. I was feeling confident so why not? I tell you my confidence was not misplaced either. Straight up I discovered I was very good at picking the correct peanut shell under which the pebble was placed.
I was so good at it, getting so many pats on the back from the small gathered crowd that I decided to take their advice and place the money in my pocket on the game. That was all the money I had on me and just to make sure someone in the crowd offered to lend me US$20 to increase the stakes.
Well what do you know, after placing my money I subsequently found out I wasn't so good at the game after all. I quickly lost all my money plus the US$20 I had been lent. Fortunately for me the guy who lent me the US$20 told me not to worry about repaying him.
What very nice people these New Yorkers are.
However I still went away from the game fuming. I was very unhappy with myself. I still needed to buy my pair of jeans so I walked back towards the American Express office to cash some more cheques. On the way there I was hit by a lightning bolt and realised I had been duped. It was all a con-job. I guess you have figured out that already. Well I am a bit slow in these matters.
There wasn't much I could do about it now. After I had cashed my travellers cheques and returned to the scene of my stupidity the game had long packed up and gone. There was no way I could get my money back. The smartest thing to do was spend the money I had in my pocket on the pair of jeans as quickly as possible least I do something even more stupid.
Quotes from Gordon Gekko, fictional Wall Street corporate raider:
"Sheep get slaughtered."
"If this guy owned a funeral parlour no one would die."
"The only job you're gonna have on this street is sweeping it."
Conclusion
Well that was my tour of the United States over. I had travelled to most of the major cities of the United States to learn about money. What had I learned? Nothing! I had learned to do without it and been ripped off in New York proved how much I still had to learn.
But I do not think of myself as a lost cause. When I land a high paid accounting job in London I will prove this.
For now though I don't even want to think about money. Instead I will leave that to Gordon Gekko.
Quote from Gordon Gekko, fictional Wall Street corporate raider:
"It's not a question of enough, pal. It's a zero sum game. Somebody wins, somebody loses. Money itself isn't lost or made. It is simply transferred from one perception to another. Like magic."