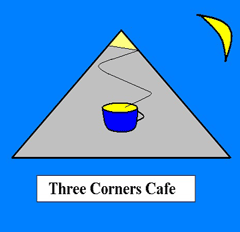 NORTH AMERICA - THE "BRIGHT LIGHTS, BIG CITIES" TOUR
BOSTON
"WE ALL SEARCH FOR FREEDOM"
I took the train from Atlanta back up to Boston. Once again there was a stop over at Washington D.C. where, with my spare time, I managed to tick off a couple more tourist sights. The memorials of the nation's capital city were now becoming crowded with tourists as the summer heat began to soar. I tried to stick to the shade, thankful I had not arranged my itinerary to be in Washington D.C. on Independence Day, 4 July. By then the sun would have been sizzling, the crowds suffocating and the United States patriotism at its most intense.
But to be fair I had not encountered any over the top patriotism during my time in the United States. Sure, everywhere I turned I saw the nation's flag, fluttering proudly, attached to residential houses, apartments, corporate head offices, cars, casinos, flag poles. But the renowned United States patriotism was still something I did not want to actively seek.
Instead of been an intrepid investigator into the patriotism of the United States of America I thought it was a better idea, towards the end of my tour, if I hide as a tourist. I was therefore headed to another tourist city, Boston.
After a long trip making my way up the east coast I eventually arrived at the Boston hostel where I had booked my accommodation a couple of weeks before. After a quick refreshing shower it suddenly occurred to me I had not seen a space shuttle launch in Florida.
Was it too late to turn back and take the next train back to Florida?
As I was flying out of the United States in a little over a week I suppose it was.
But that brings me to my next question: "Is it rocket science?"
In a couple of weeks I will be working in a high finance corporate environment in London. I suppose I will have to straighten out and learn the host of corporate mantra this environment will provide:
'Work smarter not harder'
'Don't reinvent the wheel'
'Together Everybody Achieves More'
If I am ever lucky enough to write a board report I will have to curb the use of words such as 'manoeuvre', 'redeploy' and 'smash the opposition to a pulp'.
Instead I shall have to write about…Shit. What will I have to write about?
Perhaps it is best if I just stick to the tourist trail.
The next day I walked around the major tourist attractions of Boston following a route called the Freedom Trail. This walk encompassed much of the history of the region, particularly the fight for the country's independence from Britain. You must by now know how it goes - a State House, a church, a few burial grounds.
As I attached myself to the end of a tourist group, halfway through their tour, standing at the back, I must admit much of the specifics of the history, such as the Boston Tea Party and the Boston Massacre, escaped me.
But I can tell you the Freedom Trail finished at the Bunker Hill Monument. Sorry I can't tell you what this monument is for but I can inform you it did offer a free view of the city. Fancy that, a view for free over the city. The word 'free' was subsequently repeated 294 times as I pushed myself to climb that number of steps to the top.
View noted, photo taken, breath gathered, I made my way back down the 294 steps and then walked back to the start of the trail to rest in the Boston Common, a famous Boston park.
Close to the Common was the pub which created the idea for the 'Cheers' television programme which hit its heights in the 1980s. The pub was packed, with a queue standing outside waiting to get in.
What a queue?
They must be giving out free beer or something?
I want you to know it is below me to stand in a queue waiting to get into a low class tourist attraction; but if they are giving out free beer...
The queue moved fast and I made it inside without too much of a wait.
Inside, I sniffed around but to my disappointment it didn't appear as if any of the beer served was free. Well, since I was there, I might as well take a couple of photos. It will help pass the time.
When I developed these photographs a couple of months later I was surprised to see a group of annoyed American's in the frame. What were they annoyed about? They were in my photo after all? And what were they doing in my photo? Did I ask them to be there?
Look, I'm not a camera happy foreign tourist but an intrepid investigator on a day off. I only came into this pub because I thought the beer was free. I only took a multitude of photos because I needed to test whether or not my camera was still working as I had not used it in the past 30 minutes. Satisfied? Explained?
Well I certainly hope so!