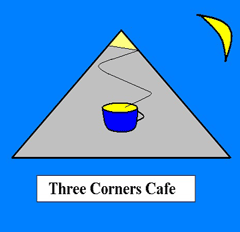 NORTH AMERICA - THE "BRIGHT LIGHTS, BIG CITIES" TOUR
ATLANTA
"HOME OF THE BRAVE"
I deemed Atlanta might make an interesting city to visit at it was due to host the next Olympic Games to be held in 1996. In that year, as in every year the Olympic Games are held, we will be told how it is the world's biggest sporting event and how the Olympic Games pay homage to the spirit of human sporting endeavour.
But remember I was in the United States to learn about money.
So what does money have to do with the Olympic Games?
This is a rhetorical question.
Where large sporting events are involved money is often in gold medal position. I deemed the next Olympic Games to be held in the United States to be no different.
I started my research into money, the Olympic Games and Atlanta at the Olympic Information Centre located in downtown. After looking at a couple of displays I coerced one of the staff to take my photo standing beside the light blue, fuzzy, fur covered, future Atlanta Olympics mascot.
"Hey, what has that got to do with money?"
"You're a tourist and not the intrepid investigator into the means of money that you make yourself out to be."
That is what you are thinking, isn't it?
But is not a mascot, no matter how ridiculous you look standing beside it, similar to a brand?
Are not the Olympic Games sponsored by some of the biggest brands in the world?
In fact, one of the principal sponsors of the 1996 Olympic Games was Coca Cola. Its head office was located in Atlanta and some suggested this was the sole reason Atlanta was awarded the Olympic Games.
After thanking the lady for taking my photo I left the Olympic Information Centre and headed over to the nearby World of Coca Cola Pavilion. Apparently this pavilion detailed the story of Coca Cola's beginnings with artefacts and interactive displays. I say apparently because unlike the Olympic Information Centre it charged an entry fee and like a concierge standing at the door of a prestigious hotel stopped me from entering inside. But all was not lost and I still managed a photo. This one was of the outside of the pavilion, located next to the Georgia Capital building with its familiar domed roof.
Photo secured and as I then referred to my guidebook, I glowed with satisfaction as I read another head office of note was located nearby. This head office was that of Cable Network News (CNN).
I hurried over there and had a look around the inside of the building where all the floors opened onto a central space. It was a building's version of an open floor plan.
Fascinating!
I know what you are thinking. Admit it. I beat you're thinking you would just love to visit some of the major cities of the United States with someone who studied accounting at university.
Well, just let me tell you, there is more to travelling than the highs of taking photos of corporate head offices. You need some balance in your day. The other tourist sites might not provide the same level of anticipation or excitement but one must still take time out and reach a plateau.
It is with this in mind I made my way to the birthplace and grave of Dr. Martin Luther King Junior. These separate sites were located a short walk from downtown.
Somehow on my way from downtown I ended up walking parallel to the main road on which the Martin Luther King Center for Non-Violent Social Exchange was located. Somehow I had taken a wrong turn on a straight piece of road. I continued on the path I was following thinking I could switch back to the main road closer to my destination.
Too late!
I was in a wrong part of the neighbourhood; a zebra in the land of the lions. I had walked one block past the turnoff towards the Martin Luther King Center for Non-Violent Social Exchange; one block too far. I had passed the invisible boundary where the tourist was allowed some latitude and I was now in foreign territory.
The lions, lazy in the afternoon sun, looked up and over their prey. I was hoping they had visited Dr. Martin Luther Junior's grave in the last decade and took the non-violent words in the title seriously.
They smiled the smile of a hyena. I cautiously backed off. Their offspring were not threatened and I had not tripped too far into their territory. I turned the corner and quickly found the grave of Dr. Martin Luther Junior, a monument with a shallow pool of calm water.
May his words of non-violence long continue!