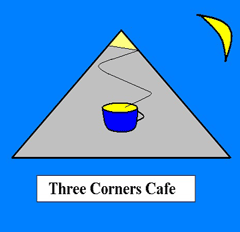 NORTH AMERICA - THE "BRIGHT LIGHTS, BIG CITIES" TOUR
FORT LAUDERDALE
"SMOKE GETS IN YOUR MIND"
From Miami I caught a train the short distance up the track to Fort Lauderdale. Fort Lauderdale had a reputation as the spring break college party town of the 1980s. However that was in another decade and times had moved on. But then again who said I had to move with the times. I had yet to meet any North American party girls and since I was coming to the end of my travels perhaps now was the time to try.
The hostel at Fort Lauderdale had an open air pool and most of the backpackers were relaxing pool side as I arrived. After debunking my backpack, I had a refreshing swim and then joined in the conversation of a small gathered group.
The theme of the conversation was the current football world cup. They talked about a goal here and another penalty there. Well, talking about the world cup, I could tell the story of having to travel all the way from Boston to Miami because the Boston hostel was sold out with soccer supporters. But who really would want to listen.
Besides now that I was in Fort Lauderdale I had other things on my mind.
I needed somehow to steer the conversation towards North American party girls. Specifically where were they? This was going to be a difficult task considering there were some staunch looking women within the group.
I gave up without even trying. I had my safety to consider.
Well if I can't talk about North American party girls then the next best conversational topic is, of course, rugby. I left the group by the pool and headed back to my hostel room which I shared with a few of my fellow New Zealanders.
They were smoking pot so there wasn't much conversation going on there.
I asked if the hostel was going to put on a free keg that night. Alas no. They were going to the pub instead.
I couldn't afford to go to the pub to talk about a penalty here and a goal there. Instead I went for a walk to a nearby cheap restaurant which the New Zealanders had recommended. The restaurant was the classiest establishment I had been to during my travels in North America. The only complaint I had was the floor, which was covered in peanut shells. The peanuts were complimentary. It appeared custom was to casually chuck the shells on the ground once the nut had been eaten. Well, what the heck, if the peanuts are free and I'm not the one who has to vacuum the floor afterwards …
If there was anything to see in Fort Lauderdale besides a restaurant floor covered in peanut shells I didn't want to hear about it. I had spent enough time travelling to various tourist sites. Relaxing and having a swim in a Fort Lauderdale hostel pool under the Florida sun was good enough for me.
I could organise my itinerary to enable me to stay here till I had to be back in Boston. It would be more satisfying than visiting some more southern cities on my way north.
But that fifth voice inside my head got the better of me. With mixed thoughts I chose to leave Fort Lauderdale after only a couple of days stay and head north. It looked like I would not be meeting any North American party girls in Fort Lauderdale after all.
But I still had the possibility of arranging my travel schedule to be in Washington DC on 4 July. Their national day is a party of sorts isn't it? The type with fanatical, patriotic, nationalistic United States citizens walking around, sticking their chest out, been proud, eating chilly sauce hotdogs.
But then again, perhaps it may be better for my sanity to give 4 July in Washington D.C. a miss.