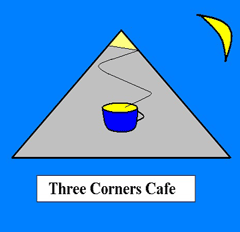 NORTH AMERICA - THE "BRIGHT LIGHTS, BIG CITIES" TOUR
LOS ANGELES
"CITY WITH NO SOUL"
My brother, Alfred, and his future wife, Susan, met me at Los Angeles International Airport (LAX). Alfred was completing his Doctrine of Civil Engineering at the University of Southern California and Susan was studying commerce at UCLA.
Alfred had followed in our mother's footsteps and done his fair share of travelling. I suppose I was following along in the tradition of a younger brother. This sibling sat in the back of his brother's car as we drove from the airport to Alfred's apartment.
My first impressions of Los Angeles revolved around its vastness and how theoretically one could commit any crime in this city with a fair chance of escaping retribution.
The crime of been caught.
So how will the police catch you?
There were a multitude of highways and byways filling the dry concrete sky. My escape route was already planned. I would hop in a car, head straight for the freeways and become lost. If you are lost then we can never be caught and freedom shall show us the path to salvation.
Apologies for getting too heavy too early but she did say she wanted to get to know me better …
Hidden in cars the people of Los Angeles have escaped human contact. The criminals and low life are free to roam the streets unaware they are the fighters for natural justice. Without justice the natural world won't survive the pollution and toxins that our dependence on the car is ravaging upon the world.
Is there justice in business? Is there justice in the making of an entrepreneurial dollar? If you believe in the ideological notion of socialism then business is a crime. Business is a crime because the entrepreneurial dollar is not equally split up and shared. If this was to occur then there would be justice. Justice for all!!!
I believe in the American dream. The dream that categorically states hard labour and entrepreneurialism should be justly rewarded with cold cash.
Greed, in my humble view, is the fundamental pillar of capitalism. The vast majority of humans are greedy. The more we have the more we want. It is essential the economic system is based upon this flawed human trait. The economic system will therefore be flawed. It will not be perfect. But it will take into account basic human characteristics such as greed, unlike socialism.
I am not saying that socialism does not play a part in the economic system. All countries impose taxes and the wealthy usually pay more than their proportionate, if not fair, share. What I am saying is that the economic system must reward human endeavour and risks with appropriate rewards.
Look at Los Angeles, a city with no soul. What are the chances of socialism surviving here? Not much, I would assume. Yet it is a city which the locals deem to love. After all, is not its proper title the 'City of Angels'?
No please don't go.
A few days after my arrival I went for a walk around the central business district and quickly realised Los Angeles was not a city in which I should become lost. As I had no sense of direction and as I was straight from New Zealand I wrote down the names of each street, every time I roamed down a new direction. Satisfied downtown Los Angeles lived up to its bland reputation, I then backtracked to my original starting point and found a bus that was heading to Venice beach.
The driver was not the least impressed he had a white honky straight from Greenville boarding his bus. I took a mental note of my bus fare falling into a secure box whose purpose was to deter desperate armed thieves from robbing the driver. Hopefully this deterrent meant it did not occur too often and definitely not while I was on the bus. I slid quietly into my seat, halfway down the aisle, close to the window and kept a very low profile on the way to my destination.
Venice Beach was where Jim Morrison of the rock band The Doors spent much of his creative time. I was looking for the "LA Woman" whom he "never saw so alone" on The Doors 1971 album. However it was early spring in California so the beaches were not yet in season.
But there were still plenty of interesting looking people around as I walked past the t-shirt and souvenir stalls of Ocean Front Walk. Close by was the small outdoor gym, familiar to me as a child in Saturday afternoon television movies, Muscle Beach. It looked much bigger on the small screen. Venice Beach, well I'd now been there, been seen there, walked around but saw nothing. I therefore took a bus back to Alfred's apartment.
Alfred's apartment was a short bus ride from Santa Monica beach so I spent much of my time in Los Angeles wandering around Santa Monica's up-market shops and up-market beach. I preferred Santa Monica to Venice. Venice had a pretentiousness that shouted "look at me, I'm a weird, wonderful and glorious person" whereas Santa Monica had a sense of pretentiousness that stated "look at me, I'm a sexy babe."
But I did not come to North America to learn about beaches. I came to North America to learn about money.
To give me a lesson in money my brother took me for a drive along Sunset Boulevard to Rodeo Drive. Here money is about taking your poodle for a walk, been a 60 year old husband with a 20 year old wife or been a 50 year old wife with a good plastic surgeon. We are told it is the place of plastic - plastic surgeons, plastic credit cards and plastic personalities. What can I say after only few hours of been in the place.
Perhaps at age 55 when I have made my billions I can concentrate on having a family and marry a Beverly Hills 18 year old. Then I shall write my autobiography entitled "Life Begins at 55" and tell you all about living in Beverly Hills.
My lesson in money proceeded to Hollywood Boulevard. Is this America? The director told me all my dreams will become reality if only I would believe in Hollywood. He did not tell me reality is a multi faceted experience whose enjoyment depends on which side of the Hollywood hills I should live. The rich and famous lived their dreams in the secluded Hollywood hills while below them the low life struggled through their own reality. As we watch the films from Hollywood are we not ourselves dreamers searching for a momentary escape of our own?
I was confused. I didn't think Movie World or Disneyland would be the answer so I spent a day on the roller coasters at Six Flags Magic Mountain. After an enjoyable day on the rides, with impressive names such as Viper, my mind was now cleared from the confusion. I just had the pain of a mild headache from the exhilaration of feeling my stomach rise above my head and then quickly fall to be level with my toes.
Next on the list was baseball. Apparently baseball is the national sport of the United States. Reasoning sport and money were intertwined I needed to watch a game as soon as humanly possible. After extensive research I discovered the Los Angeles Dodgers were due to play at Dodgers Stadium within the next couple of days and planned my itinerary accordingly.
The Dodgers Stadium was an amazing sports complex sitting on the hills just above downtown. I walked to the stadium from the Central Business District in the early afternoon and arranged for my brother to pick me up in the stadium car park at 9 pm.
I was seated behind the outfield for a relatively small amount of money. I discovered the price of admission to the game was low as each team played around 140 times in the regular season. Then there were the post season finals after that. Perhaps that is when the prices of admission increase and …
The game was going into overtime. There are no draws in the majority of American sports. The winner takes all much like their economy. I had to leave and meet my brother in the car park. I walked to the car park at the arranged time but could not find my brother's car anywhere. After 20 minutes of waiting, the ridiculous notion of trying to walk back to my brother's apartment entered my head. It was only about 20 kilometres away, night time and I was just in one of the more dangerous cities in the United States.
I finally decided to check the car park that was on a higher level, closer to the stadium rather than wait at the car park entrance where I currently stood. I saw my brother's car just as he was about to leave. Or was he about to do the brotherly thing and check the lower car park level? Anyway, he was pretty frustrated and thought I had stayed to watch the end of the game. As you can imagine, as you are encouraged to do in the imagine capital of the world, I was extremely glad to see him. I can not begin to imagine what I would have done if I was left at Dodgers Stadium in the middle of the night by myself.