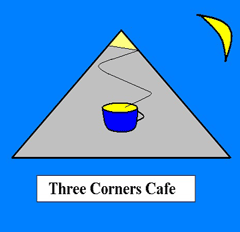 NORTH AMERICA - THE "BRIGHT LIGHTS, BIG CITIES" TOUR
WASHINGTON D.C.
"CITY OF POWER – CRIME, CORRUPTION"
The attendant gave me my wake up call at 3 am. The train had arrived abruptly in Washington D.C. and that was that. I had to get off. In a sleepy haze I enquired when the next train was due to depart south. The attendant shrugged his shoulders and then shuffled me off his train.
I slumbered towards an electronic travel timetable. It told me the next train headed towards Miami departed sometime after lunch. I therefore had quite a few hours in which I had to occupy myself.
Sleep would be a good option. I loosely fastened my backpack strap to my legs and settled into one of the vacant seats which littered the luxurious looking train station.
Everything was in order. Most of the world within Washington D.C. was asleep. Everything had slowed down to be rejuvenated in the night. The security guards on patrol walked with a watchful amble, those buying their train tickets had future business to conduct and families gathered so they would not be separated for the occasion.
The train station had a rich, sparse ambience. High roofs and long corridors spoke of foresight, as this station was in the centre of the capital of the wealthiest nation in the world. Impressions would be costly but couldn't disguise the fact it was close to freezing cold.
I needed some sleep. Slouched in my seat I hoped I would not be taken for a local bum by the security guards. The rich, sparse ambiance would not be welcoming to their social demographic. They were a sight of democracy which the security guards did not want the human traffic through the train station to see.
Left alone, sleep was short but it did arrive, fit fall like a damaged car that never got out of first gear. Then there was daylight.
I needed to put my backpack in storage and leave the train station with the utmost haste. I had till midday. Shortly after this time I had to be back at Union Station boarding the next train headed towards Miami. That was going to be another long journey with the compensation of another free night's accommodation thrown in for good measure.
In the meantime I had just over five hours to view the tourist sites of the capital city of the United States of America. Capital city of the richest country in the world must mean power, corruption, backhanders and sidewinders. This I should immerse myself in. But the reality was Washington D.C. was also renowned as the murder capital of the country at the time.
Perhaps this was just a statistic. Perhaps these acts occurred in the suburbs where I would have no cause to venture. Perhaps this statistic was a rumour created by other cities like Portland, trying to steal the tourist trade. Perhaps there was a local madman who mutilated street bums with the purpose of keeping his view of the city clean from this purported trash. As long as I wasn't mistaken for a city bum my life should be spared.
Was he watching me?
I needed to convince his conscience that I was indeed a tourist and not solely some derelict. Luckily for me most of the capital's tourist sights were within easy walking distance of Union Station. Should he be following I will have enough evidence to suggest he should hunt his prey elsewhere.
Virtually straight out of the door of Union Station was Capitol Hill. The U.S. Capitol was a bigger version of many of the different state capitols I had already visited during my travels. The building was grand without been imperialistic. It was proud of the strength of its own country without showing its inherent power over others. Sitting atop a hill it looked down over a series of the city's monuments and memorials.
Did I mention monuments?
From Capitol Hill I walked down the mall, a long piece of grass immersed in monuments / memorials.
Let me just expand on this subject a little bit.
I walked past the Washington Monument, around the Reflecting Pool, down to the Lincoln Memorial, across to the Vietnam Veterans Memorial and over to the Korean War Memorial.
Hey I haven't finished yet. There is still more to say on this subject.
I then stumbled towards the Jefferson Memorial which overlooked the Tidal Basin.
Monuments / memorials ticked off and finished.
I then walked towards the nearby White House. It could not be called grand, just a house painted white sitting at the back of a big green lawn. It could have been the residence of some mildly wealthy southern cotton merchant if it wasn't located in the centre of the United States political landscape.
The White House was surrounded by a black fence and the odd, aged tourist. I stuck my camera through the fence and took a photo. That should convince any follower that I was indeed a tourist.
But just in case, just be to entirely safe and sure, there was still one tourist trap I could visit.
Ocean Front Walk in Los Angeles, Fisherman's Wharf in San Francisco and numerous other destinations all had their tourist t-shirt stands. In Washington D.C. the t-shirt sellers stood outside Ford's Theatre, the site where the United States President Abraham Lincoln was assassinated.
No derelict would ever buy a tourist t-shirt. This was all the convincing I needed even if it was going to cost me. Besides the option was either buy a couple of cheap t-shirts or visit a museum. These were as numerous as the monuments. But I had a train to catch.