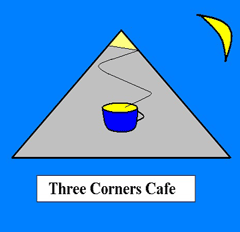 NORTH AMERICA - THE "BRIGHT LIGHTS, BIG CITIES" TOUR
>MONTREAL
"I SHOULD BELIEVE IN MY FUTURE – WHERE THE PAST IS A BINDING LINK"
Montreal comprises a large proportion of the French speaking population of Canada. The people discuss and hold referendums to decide whether French or English should be the official language of the region. Apparently they have an English meal of pie and mashed peas for dinner, watch the English soap Coronation Street in the evening and then during the night make love in French.
So, with an active mind, I was hoping from my reading that Montreal could prove to be a unique North American experience. To become immersed in the city I was even prepared to watch Coronation Street with one of the local French speaking ladies. But would that mean I had to have a meal of mashed peas with her as well?
As is common with cities, Montreal still had most of its buildings built above ground level. However, it also had another world, an underground city, comprised of shops selling merchandise in a series of dimly lit alleys. The purpose of this underground city was to protect the shoppers from the elements during the region's harsh winter clime. But that was still a couple of seasons away. For now the weather was calm and mild in the middle of spring.
So I quickly headed over to another part of the city, called the Vieux Montreal, or Old Montreal. This world comprised architecture which I was told was reminiscent of Europe; stately buildings standing grand in their strength and detail. Churches and statues; even churches with statues lining the roof.
But for some reason I was feeling blasé.
The weather was still calm and mild as I walked around the local neighbourhoods of Chinatown, Little Greece and Little Italy. Cosmopolitan I assume. But where is Little France? Look! I am prepared to have mashed peas with my meal and even watch Coronation Street. What more do you want from me?
After walking to and from Olympic Park, site of the 1976 Olympic Games, I made my way back to the hostel.
It was then I felt sick; sick with a rising empty feeling in my stomach. I needed to vomit and obliged myself in a nearby deserted street.
I wonder what caused that. It couldn't be food poisoning. I seriously doubt a constant diet of bread, jam and soup could be a cause for sickness. I hadn't had the opportunity to have a meal of mashed peas either. Perhaps I was just run down. Perhaps the clean Canadian air was adversely affecting my health. Perhaps I should just get out of Montreal. I was in no fit state to search for Little France after all.
I boarded the next train to Boston. I was back in familiar surroundings and with spare time on my hands I worked out my remaining travelling itinerary. Everything was now planned and I felt slightly depressed. What is the purpose of travelling if life is just as predictable as a nine to five routine? I had a further four weeks of not much more than finding hostels, eating jam sandwiches and taking photos.
With my itinerary sorted I arrived at a Boston hostel early the next morning. I pushed my way through all the South American football supporters who loitered around the lobby. There was to be a World Cup post section game in Boston in a couple of days and the hostel was full as was every other cheap bed in town.
Booking a bed in advance had so far proved unnecessary. This was because I had been travelling in early spring before the height of the tourist season. I was now faced, for the first time, with the "Full - No Beds Available" signage. Well, what to do. I obviously had to get out of Boston. I therefore booked a hostel bed for my return in a couple of week's time and headed back to the train station.
At the train station I looked at the departures board from Boston and decided to head south to Miami. This would provide a couple of extra night's sleep at my favourite motel, saving on accommodation expenses. Just like that I had turned a possible negative experience into a positive one and had come out a winner. I was turning into a true businessman.
Talking of business did you know that companies in Montreal have to display information about their goods in both French and English? Think of all the additional expense this bureaucracy creates. But a small sacrifice for the English to be able to make love in French I suppose.
I wonder what the words are for 'canned mashed peas' in French?