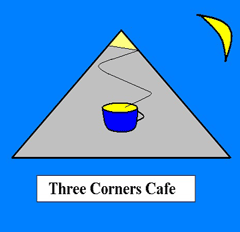 NORTH AMERICA - THE "BRIGHT LIGHTS, BIG CITIES" TOUR
NEW ORLEANS
"TOO DANGEROUS TO SIP YOUR MAGIC POTION"
The train arrived in New Orleans late into the night. It was dark and too dangerous to find accommodation on foot. I therefore put my principals aside and shared a taxi with three other backpackers to the nearest hostel. This abode was roughly an hours walk from the ideal accommodation location, this been in the tourist district, the French Quarter.
The next morning I made the long walk from my hostel to New Orleans' French Quarter. I had slept in and wanted to get to the tourist district as quickly as possible. I therefore skipped breakfast at the hostel and conveniently found a restaurant with a cheap buffet brunch along the way. I filled my stomach to the brim.
I felt like one of God's unique creatures (e.g. a camel) able to fill my stomach beyond breaking point at an oasis of cheap choice. This was the definition of sustenance and satisfaction. Like a camel, this one meal should provide me with strength enough, enabling me to live off my constant diet of bead and jam for the next few weeks to come. I felt reinvigorated, ready to tackle another tourist attraction head on.
Once I arrived at the French Quarter I walked down a few of the famous streets and observed the architecturally stylish buildings with their balconies hanging over the pedestrians below. I wandered down Bourbon Street, headed onto Jackson Square and then into Saint Louis Cathedral, three of the local tourist icons.
It started to rain, and in between torrential showers, I went on a free tour of the French Quarter. This gave a more in depth insight into the history of New Orleans.
However, that night, I got my biggest insight talking to the middle aged American Negro male who was sharing my hostel room. He told me to be careful as there were plenty of mentally disturbed people in the city and its surrounding area. He said this was due to incest been routinely practiced in the swamps of the southern states.
Well, I had been contemplating taking a tour of the swamps around New Orleans. But if all I am going to see are people with three eyes and four ears holding hands then …
I had also been contemplating taking a sober walk at night around the bars in the historical district. But I thought it wiser to stay indoors and get some sleep, even though there was now a good chance I would have the stories of local insights running hand in hand through my dreams.
Talking of bars, you might have thought the dribble on New Orleans would be about drunken escapades and loutish behaviour.
Alas no.
For one thing I was not drinking. For another, as I have already stated, my accommodation was beyond stumbling distance from the French Quarter. For the third reason, I figured it was not safe for a lone tourist to be drunk, alone in the darkness of a hazy, crazy United States city.
So what can we talk about?
Perhaps we can talk about the poem I have included at the end of this New Orleans segment. It is entitled Altar Boy.
Just in case you are worried I think of you as special and have written this poem just for you, let me put you at ease. This is not the first time I have used this poem to impress or otherwise.
While living in London I sent the poem via post to a lady whom I thought was very special. She had crushed my heart so I sent the poem with a crushed late summer rose I had plucked from Holland Park. She was from South Africa, the rainbow nation, and as the poem refers to the colours of the rainbow I thought the message was especially poignant.
I'd actually written the poem a couple of years earlier while living in New Zealand but she wasn't to know that was she?
Well to cut a long story short I never heard from her again.
Well what can one do - one can only move onto the next story I suppose.
Recovered, a couple of years later, I was back living in New Zealand and working in an Auckland corporate office. To inspire my fellow workers I thought I would send the same poem around the office via email. To add a bit of humour to a sad story I attached the message of how the poem had never got me 'laid'.
A bit of a stupid comment really.
Well all I got in return was a phone call from the boss to meet him in his office pronto. In hindsight, I was in the boss's office so often that year I should have been on his salary.
Moving on (once again), in my opinion, it's all a bit of a farce how poetry is meant to attract women. In my opinion what women are attracted to is safety and security; people with jobs like accountants.
I bet you didn't think the profession of accountancy is commonly regarded as one of the sexiest industries to be involved in did you? But my next story proves just how desirable the average accountant can be.
I was working in another corporate office, this time in Wellington, where I was keen on a woman who sat beside me. Alas I eventually found out she was dating another accountant who also worked in the office. I reasoned she must have chosen him over me because he had faster hand eye coordination on the calculator, but I must admit I was still a little bit miffed. Eventually I sent her a poem too. This one was about dammed rivers breaking or something abstract like that.
She must have thought the poem was so good, and I don't blame her, that she sent it to the corporate human resources department to read. Well they had about as much chance of understanding the ways of the Neanderthal man as the Neanderthal man has of getting 'laid' through poetry.
Unfortunately, this time, I was not sent to the boss's office but to a psychiatrist.
Conversational Openers With A Phychiatrist
"So what can we talk about?"
"Do you think it is going to rain this week-end?"
"As I will probably have to look for a new career come Monday can I include you on my resume and use you as a future reference?"