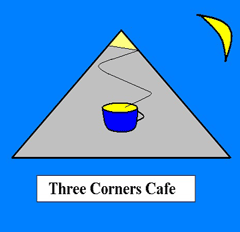 NORTH AMERICA - THE "BRIGHT LIGHTS, BIG CITIES" TOUR
DALLAS
"END OF THE WORLD"
Texas.
Bigger than Texas so the old saying goes.
It is a grand state so I have been told.
From St. Louis it was south-west to Dallas, a city I was due to arrive in on a Saturday morning. On the train I had heard a disturbing rumour that the only hostel in town turned into a hotel in the week-end and charged above my budget prices.
Despite this possible setback I hopped off the train in Dallas. I hoped the rumour was just that, a rumour which held no substance of truth whatsoever. I then waved the train goodbye. The next train was not expected to depart from Dallas until another couple of days.
Well what do you know?
The rumour was a fact and I was in a city where I could not afford accommodation for the night.
What to do?
What would JR Ewing, from the Dallas television programme, do in a situation like this?
Well with his money I doubt he would find himself in such a predicament to start off with. But if he did I am sure JR would have been straight on the phone to his daddy. I have no time for people who follow in their daddy's footsteps and are not self-made.
Look at me!
I was travelling the world on an interest free loan I had obtained from my daddy and look at how self made I was.
Self made or not, so far in life I've found the best way to solve a problem is to do nothing about it until you have to. Pray for the problem to go away or hope someone else will solve it for you.
I decided to occupy myself by having a look around Dallas in the hope my accommodation problem would somehow find itself to be miraculously solved.
I passed a replica of the 1841 log cabin of the city's founder, sitting in the centre of the city. It was quaint but definitely not worth spending a day in Dallas and losing a night's sleep over.
However close by was something of a more historical significance which really gave me a good old fashioned tourist buzz. It was the real life setting of the assignation of John F. Kennedy. There was the street his car drove down before turning the corner into the after life. There was the former Texas School Book Depository building where Lee Harvey Oswald supposedly fired the shot that killed the President of the United States of America.
There it all was, surreal and a surprise. It was real life straight from the pages of history. It was something stumbled upon by a dazed and confused traveller. It was a tourist attraction which could even nearly be classified as worth losing a night's sleep over.
But I wasn't giving up just yet. Somehow I would find some cheap accommodation. There were still many hours of light left in the day. Somehow, someone, somewhere must be able to solve this problem for me.
It was a long holiday weekend in Texas and the Dallas central business district was deserted. It was as if the apocalypse had occurred with no-one but the bums of the city and I surviving. They say the poor shall inherit the earth. One of the bums had survived the apocalypse simply because he was still too comatose to realise the end of the world had arrived with the dawn.
Another of the local citizens' realised money might still have a worth in the new order. Smart, he skilfully reached into the comatose bum's pockets, stealing his liquid brunch, lunch, dinner and tea.
Oh the shame of the new world!
Walking aimlessly, I stumbled upon a convention centre close by. It housed a gun exhibition. It looked like the old order was going to be restored through threat and violence.
I felt the best idea was to avoid the exhibition altogether. After all I was searching for peace, specifically a peaceful night's sleep.
I made my way back towards the deserted town centre. I crossed the street while the walking lights were still red. From behind I heard the siren sound of a police car. It proceeded to pull over beside me.
Order in the new world was been restored.
The police officer questioned my motivation for jay-walking, checked my passport and told me to get out of town. He said it wasn't safe for me to be strolling around unabated.
What do you mean? As long as I avoid the loose cannons from the gun exhibition I should be safe, shouldn't I?
Well I now had the whims of a police officer to consider. I took his advice and left town. I was going to experience my first greyhound bus ride in the United States of America. Greyhound for me was the equivalent of most people visiting Los Angeles and going to Disneyland. If I was to visit the United States I somehow had to get a ride on a Greyhound bus.
About the time when most people have their lunch, but I go without because I only budget for two meals a day, I boarded the Greyhound bus to Fort Worth.
For the tourist Fort Worth had a Stockyard District which held weekly rodeos and cowboy activities. I was hoping it would offer me a shower and a cheap place to sleep. I was to receive half of my wish list.
I also managed to receive a free meal thanks to the hospitality of the local folk. I arrived in Fort Worth at about 5 pm and hid my backpack in the bushes in a small park that was situated by the bus station. In the centre of town there was some sort of fun run activity where the organisers were giving out free cups of ice cream to the participants. Without appearing too conspicuous I lined in various queues and completed about 10 cups. With a full stomach and a cold head I could now concentrate my thoughts to that night's accommodation.
Texas girls were meant to be fairly friendly and apparently loved kiwi accents. So here is an idea. I put it into action and went to the local pub. There was a whole lot of Texas girls and dancing. Unfortunately there were also plenty of cowboys. I therefore kept to my corner in the bar, sipping on my one coke till closing.
The bars were closed, it was dark and my problem with accommodation still had not solved itself. Despondent I headed back to the park, dragged my backpack from behind the bushes and placed it on the nearby park bench. It would be useful as a pillow while I looked up at the Texas stars wondering what had happened to all those prayers.
It was a pleasant night and somehow I managed to catch some sleep without been hassled by bums or police officers. When I woke in the morning, with no outlay on accommodation, the extra amount I had spent on the bus fare from Dallas to Fort Worth would have been recouped.
There are positives in every negative so they say.