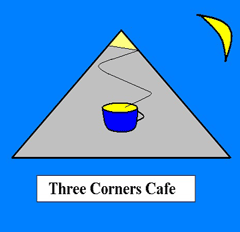 NORTH AMERICA - THE "BRIGHT LIGHTS, BIG CITIES" TOUR
ST. LOUIS
"YOUNG BOY, I HAVE A FUTURE"
I faced a detour on my eastward travel towards St. Louis. The train didn't take a direct route from Denver. I had to travel north to Chicago and then catch the next train south to St. Louis.
Looking at a map St. Louis was almost directly east of Denver. The detour was considerable; by my estimates 15 hours in travel time and a night's accommodation costs not spent.
Originally St. Louis told me the same, familiar, repetitive story of arriving in a city at 3 am and having to pass slow ticking time at the train station till daylight. At first light I gathered my meagre possessions and proceeded to walk to the cheapest hostel. This involved a short walk to the edge of the central business district, crossing over a bridge and then passing through a decidedly dodgy neighbourhood.
Imagine the fifteen floor housing projects you see on the television shows that usually involve the police. Imagine in real life the complex appears even more run down, deserted and has most of its windows broken. I couldn't tell if the housing project was abandoned or if people still lived there and in their wisdom kept a low profile. This was poverty and neglect on a huge scale.
I made it to the hostel, checked in, had breakfast, caught a few hours sleep and then returned to town via a local bus.
St. Louis had the under-rated Gateway Arch, a towering monument that appeared like one side of the McDonalds Big M trademark. The monument celebrated and chronicled the role the mid-west played in the movement towards the western states by the early settlers.
This monument must have been some subliminal ploy financed by McDonalds. Even my guidebook noted the similarities between the Gateway Arch and the ubiquitous fast food company. Let me just inform you the subliminal ploy worked. That evening, despite having bread and jam waiting for me at the hostel, I could not resist having McDonalds for my tea.
In the past I have had people, especially the English and Australians, correcting me for using the words dinner and tea interchangeably. At the time I never had a dictionary close by to defend my choice of language but I refer to it now.
My dictionary defines dinner as 'the chief meal of the day; a formal evening meal' and descries tea as 'an afternoon or evening meal at which tea is drunk'.
Therefore if I have a cup of tea with my evening meal, regardless of it been the chief meal of the day, then I am entitled to call it tea. If I don't have a cup of tea but I eat at McDonalds then I feel that can also be classed as tea as McDonalds doesn't fit the category of been formal.
As to the definition of dinner been the chief meal of the day what if, in order to have the best chance of burning excess categories, you have your main meal at breakfast. Are you going to tell me that it is now described as dinner?
Before I had my tea I perused the Museum of Westward Expansion, which sat below the silver arch. I then walked down to the river front which was close by. I took off my shoes and dipped my toes in the Mississippi River. A historic riverboat that had been converted into a casino stood nearby.
The next morning I went on another brewery tour. This tour was of the Anheuser-Busch Brewery, the largest brewery in the world. I told you everything in America was done on a grand scale. In the afternoon I visited Forest Park and walked around the palatial green fields.
I planned to leave St. Louis at 3 am the next morning. To save on a taxi fare I needed to get to the train station that night before it became dark. Unfortunately I spent a bit too much time at Forest Park and I still did not have my postcard souvenir of St. Louis. On my way back to the hostel I therefore had to stop at a souvenir shop in town. I was quickly falling behind my schedule. At the hostel I heated up some canned vegetables for my tea, packed my possessions, checked out and then quickly departed for the bus station. It was approaching darkness.
Waiting at the nearby stop, the next bus into town was going to be another 15 minutes. The walk into town only took 20 minutes so I thought I would save myself the US$1 bus fare and make the short walk.
It was now dark and as I walked past the residential complex with my backpack strapped to my shoulders a 10 year old, or perhaps he was even 12, came out of the shadows. He threw a water balloon towards my back, letting off a huge roar of laughter. He was accompanied by an older, facially deformed fellow.
I assumed they were anticipating I would drop my backpack and chase after the young rascal. His trainer would then use this opportunity to go through my backpack, looking for valuables.
Please note he would have been out of luck – I did not carry anything remotely valuable in my backpack.
Contemplating my safety I staggered towards another fellow who was standing under a shady, lone lamp-post in the fading light. Looking for support I was disappointed in the hospitality of the average American when he joined in the chorus of verbal abuse and laugher.
I told myself I would have to keep my head down, not panic and make my way as steadily as possible to the bridge. This signalled the start of the bright lights of the city. Under these lights and within the city boundaries I would not be so isolated. Fortunately the walk was a short one and I made it to my target without them following me further.
A few minutes later I safely arrived at the train station. I had my postcard souvenir and I had saved on my US$1 bus fare.
Isn't it funny how everything works out in the end?
As long as the end does not arrive too soon, you might reply.