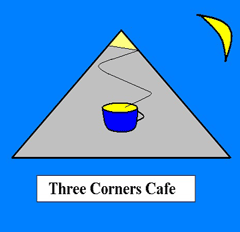 EASTERN EUROPE & ASIA - THE "OVERLAND EXPEDITION" TOUR
ISTANBUL
"CHOOSING BETWEEN TWO WORLDS"
The bus arrived into the Istanbul terminal in the early evening amid darkness.
Here we go again, I thought, as I hitched my backpack to my shoulders and set off to find a hostel. I was weary, unsure about the safety rating of walking the streets of Istanbul at night.
I walked past well lit shops, people still working, conducting their business, searching for a profit. There were no worried glances nor was there any threatening air of silence; the streets of Istanbul appeared safe. I was relieved after arriving at my hostel that the appearances weren't deceiving. I thought back to my experiences of travelling through the United States in similar circumstances. Back then I had always been a target, people always on the edge and not well centred. Here I had just been left alone, to mind my own affairs and find my own way without constriction.
******
The hostel was located near the tourist sites in the Old Istanbul part of the city. The central attraction for me was a huge mosque with domed roofs and six slender minarets pointing up to the sky. It was a religious affair, respecting their god, no crass culture.
Another attraction I was told to visit was the Grand Bazaar, a huge roofed market. I walked down narrow pathways between shop stalls. I tried my best to be an innocuous tourist but I quickly discovered it was a feat that would prove impossible. With each step forward another seller tried their best to entice me towards their wares. There was nothing left for me to do but retreat from the market maze and subsequently avoid it altogether.
Back into the open air a man sitting outside his store asked me where I was from. I stopped to reply that I was from New Zealand.
"New Zealand! You are travelling to Gallipoli to remember your ancestors?" he asked.
"I'm not sure yet".
"It is very impressive you young people travel to the other side of the world to remember your war dead. Do you like Istanbul? Yes, well that is good. It is nice to meet you. If you want to buy a rug my store is always open. Have a good day".
I thought that was a reasonably strange conversation, especially as at the time of Gallipoli New Zealanders had been fighting against the Turkish army; invading their territory, threatening their lives.
But Istanbul was a city with plenty of history, turmoil and forgiveness behind it. For example, it had a harbour where on the one side, in Old Istanbul, sat Asia and on the other side was Europe. I crossed over a bridge to the European side of the city. Bland grey building sat over busy streets. It was a world away from Old Istanbul.
I much prefer the Asian side of the city, I decided. This was just as well as further into the heart of that continent I should shortly be travelling. In no time at all there should be no chance of turning back.