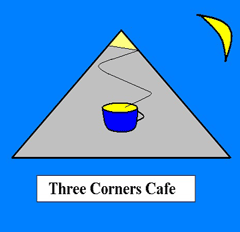 EASTERN EUROPE & ASIA - THE "OVERLAND EXPEDITION" TOUR
MUNICH
"CULTURE LOCKED INTO A BARREL OF BEER"
Travelling
There had been a three month gap between my tour of Western Europe and the start of my travels around Eastern Europe. In this short space of time a backpacker's bus pass had been introduced. For a fixed amount of money the pass offered the opportunity to hop on and off a bus which made its way around the major cities of continental Europe in a circular motion. It was relatively cheap and appeared too good a bargain to miss.
Unfortunately I had already been to many of the cities on the route of the bus pass; cities such as Amsterdam, Brussels and Paris. If the bus pass had been introduced three months earlier I could have saved a considerable amount of money on my travel expenses. However all was not lost. There were Eastern European cities included on the route of the bus pass; cities such as Berlin, Munich and Vienna. Perhaps I could still save some money. A purchase of the bus pass might still prove worthwhile.
I was now in Berlin. I had travelled to the Czech Republic and Poland. As these countries were not included on the bus pass itinerary the opportunity to use the pass I had purchased in London had not as yet presented itself.
My next destination was Munich, 700 kilometres south of Berlin. Munich was included on the bus pass itinerary. I boarded the bus in Berlin, headed toward Munich. Unfortunately the bus would be travelling Europe in an anticlockwise circular direction. There would be a detour along the way.
From Berlin the bus travelled north-west to Hamburg. Here it stopped for the night to enable the drivers to recoup before leaving early the next day. I originally had no intention of visiting Hamburg. But since I was there, with a few hours before darkness to spare, I decided I might as well take a condensed walk of the city.
I did not have much time. I would have to be selective in my choice of the sights of the city I could see. I knew Hamburg was famous for the Beatles developing their craft in the city's red light district. I therefore decided to concentrate my sight seeing there. I walked down the Herbertstrasse, an alley where I was molested by prostitutes eager for my business. I kept walking while hands stretched out trying to touch my covered body. It was a bizarre experience, not entirely pleasant.
But if you walk down one alley once and survive you might as well walk down it again and again ...
The bus left early the next day and continued west away from my intended destination. It continued west for close to 1,000 kilometres passing through Amsterdam, Brussels and Paris. I was getting a bit far away from where I wanted to be. Fortunately for me, Paris was as far west as the bus travelled before it finally turned eastward towards Munich, still another 800 kilometres of bus travel away.
You may complain about all this time spent on buses but let me inform you travelling involves more than just walking around big cities or small towns. It is about trying to sleep in a bus while the scenery passes you by or looking at the scenery while you think about mundane thoughts.
Thoughts about the colour of cabbages, the testing of time, the long and winding road ...
Touring
Eventually I arrived in Munich. It was time to complete the walking around the big cities part of the touring experience. As you have heard most of it before there is no need to go into much detail. There was a town square with a town hall, a garden with manicured lawns and a beer hall. A beer hall you say! Well I had not been to one of those before.
It was an impressive structure, a shell carved out for the acoustic pleasure of listening to an oompah band while supping beer. It was a vision of what may be heaven. Alas it was empty.
The people were outside, cleansing their souls in a nearby beer garten. This comprised of wooden tables planted on a cobblestone floor; overhanging trees of greenery bringing the meaning of garden into an otherwise urban setting.
I sat down on the edge of the garten. It was crowded with middle aged locals supping from their steins under the midday, overcast sky. I was salivating with the prospect of a beer. My throat was dry, my heart was beating loud and my hands were shaking.
They just would not stop shaking. There was now no chance of prising my wallet open to pay for a stein. It was probably just as well. The steins were huge and were comparable to the cost of a night's cheap accommodation. Besides I knew enough about myself to realise that if I bought one stein, after a few mouthfuls, there would be enough encouragement within my mind to buy another. Then perhaps there would be another and by that time I would have lost my senses.
Where would I be then?
Back home, I'd had the experience of losing my senses and somehow rediscovering them while standing in the middle of a cow paddock wondering how I got there.
There was no way I was going to do that now.
Just then an oompah band dressed in their regal outfit appeared. They played a quick lunch time tune.
Listening to them with a stein in hand and sitting in a beer garten would have been the ultimate tourist experience.
But it was not meant to be.
"Just like love with the woman of your dreams" she told me in my sleep.