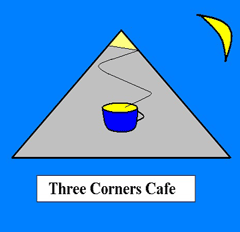 EASTERN EUROPE & ASIA - THE "OVERLAND EXPEDITION" TOUR
GEORGETOWN
"RELIGIOUS ARTEFACTS; TOURIST DOLLARS"
Down, down, down from Thailand into Malaysia I travelled. I stopped off in the old British settlement of Georgetown, on the island of Penang. The settlement was now a tourist destination filled with religious temples and the occasional mosque.
It was the time of talk about the Asian Tiger economies. East Asia was growling and their gross domestic product was growing. Penang offered a microscopic view. In a town where religion was once paramount the energy of the locals was now focused towards securing the spending power of the tourist dollar.
Who could blame them?
In both the western and eastern worlds 'How to Become a Millionaire' or 'Be a Billionaire' were at the top of the book selling list. I decided I would help spread the gospel.
Ten Tips to Becoming a Millionaire
Ever spent $54.95 on a book from some self professed guru who wrote they knew all there was to know about making money.
All they knew was talking cheap in an expensive book would reap them royalties and set you one step further away from your path to financial security.
Ever spent your days dreaming of been a millionaire. Well I don't dream. I will be a millionaire.
Let me open the veil of secrecy and shed with you my successful ten tips to becoming financially secure:
1. Live at home with your parents. Do this for as long as it does not affect their health. Your sex life will suffer but like me you probably never had a sex life worth discussing anyway. Remember money is better than sex. Just think of the romantic payback when you have $1 million in your back pocket. You will be the sexiest person living in your parent's retirement village.
2. If, for whatever reason, you need to eat a restaurant meal always go during the day and buy take-away.
Most restaurants offer a lunch special; that is where you enter. While living in Wellington I fell into the routine of visiting a centrally located Indian restaurant at 12:15 every Monday and purchasing a curry with Nan bread for a minimal amount of money.
Monday lunch: Nan bread and four spoons of curry;
Tuesday lunch: Sandwich bread and three spoons of curry;
Wednesday lunch: Sandwich bread and the remainder of the curry.
The secret to this successful recipe is having a good office fridge and spreading the curry evenly over the first three working days of the week. Always remember, only the very fortunate can afford the luxury of so many restaurant meals in such a short span of time. It is therefore best to remain humble.
You will be left with the decision of what to do with the remaining four days of the week and the left over loaf of bread. My recommendation is pie sandwiches for two of these days and for the remainder of the week I will leave that up to your creativity. Just remember two fundament rules: loaf of bread and cheap.
3. Drink your alcohol at home. If you are the sociable type then join a sports / social club with the proviso it provides cheap alcohol. I actually suggest not consuming any alcohol at all. But alcohol appears to be a necessity of life and I will still be a millionaire.
4. Do not buy a car. Cars are the scourge of a good budgeter. Costs include petrol, repairs, registration, insurance, fines. Think like an accountant and view a car as nothing more than a depreciating asset; decreasing your net worth and never increasing in value.
Make sure the social club with the cheap alcohol is within stumbling distance of home (taxis are another excluded expense). If you have a job that requires a car then demand from your employer they pay for its running expense. As a go-getting future millionaire you must be in an excellent position to bargain and nothing must stand in your way.
5. Do not gamble. Gambling involves emotion and this detracts from the cold hard reality of been a good budgeter. If you must gamble then keep a record of all your bets, winners and losers. Your decisions will there after become more informed and you can be classified as an investor, not a gambler. Only investors, not gamblers, become millionaires.
6. Avoid the law. Ask any bankrupt and they will tell you the purpose of the legal system is to stifle enterprise. Deal only with the law if you are a lawyer.
7. Invest wisely. My advice does not extend to what horse or colour of the roulette wheel to invest on. I apologise but I read in a law book I borrowed from the library I may be held liable for any adverse investment advice I may give.
8. Prayer is good – your prayers may not be answered but at least they help you sleep at night.
9. Do not have children. Refer to tip one. Your parents may show less courtesy to you living in their house if you have children in tow.
10. Do not fall in love. Love causes pain, both emotional and financial. If you must fall in love (seriously discouraged) than make sure s / he has money. A net financial worth of $2 million is a minimum: one million for your partner and one million for you. Do not be overly greedy. Just ensure you protect your $1 million net financial worth by keeping in the forefront of your mind that s /he still has another $1 million to spend.