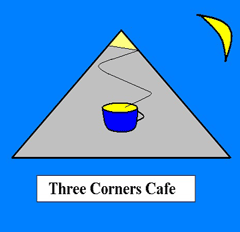 EASTERN EUROPE & ASIA - THE "OVERLAND EXPEDITION" TOUR
CALCUTTA
"BEGGAR ON MY DOORSTEP"
Foreign Culture
The train station at Calcutta was an old, English colonial building. From there I directed the taxi, of the engine driven, yellow cab variety to take me to the tourist region. This was a quieter part of town filled with cheap hotels and cafes which served English breakfasts.
Settled into my hotel I set out to see the nearby tourist sites. Close by was the Victoria Gardens. This was a huge expanse of grass and the occasional building or statue left over from the Queen Victoria reign. Sitting next to the Victoria Gardens was Eden Gardens, the famous Calcutta test match cricket venue.
I'd passed a few stadiums in my travels but nothing compared to this. It was unique. It was a colossal round venue surrounded by bamboo scaffolding. Its structure looked incredibly unstable. Add in a few tens of thousand cricket mad Indian supporters and you could say watching a game here may indeed be a life or death experience. Fireworks, passion, zealots, maniacs all in an enclosed area; it would be an attack on the senses which would be out of this world.
On the way back to my hotel I passed a group of people loitering, watching something with a fixated interest at the level of their feet. I moved closer to the group for a more in depth inspection and became slightly shocked. A colony of more than 50 rats was running around in a small open area. They were running free, uninhibited; with the group of locals looking on fascinated. I felt slightly sick; bewildered.
Where was the fascination beyond the feeling of revulsion?
In New Delhi I'd walked behind sacred cows casually shitting in a busy street. Outside my current hotel in Calcutta I had been harassed by beggars and harangued by a dealer trying to sell me hashish. But watching a colony of rats roam about, without the locals wanting to extinguish them to oblivion, just seemed senseless.
Home Culture
I didn't hang around. Instead I made my way back to my hotel to close a chapter on another tourist day. Tomorrow was going to be an incredibly important occasion in the history of my country. It was eight years since New Zealand last won the rugby world cup. Tomorrow the New Zealand All Blacks would play the host nation South Africa in the final for the right to hold aloft the trophy for the following four years.
Due to my travels I'd only watched one of the All Blacks' games during the 1995 tournament. This game was the quarter final against Scotland. I was in Lahore at the time. I virtually had to beg the hotel staff to switch the channel over from the Asia movie channel to enable me to watch the game.
Now in Calcutta I made it my mission to find a television to watch the final. I asked the receptionist of the hotel for assistance but received only grudging advice. I then went to a nearby public bar but they told me they did not have the necessary form for such a request.
To say I was disappointed with the help from the local people was an understatement. I thought they might be more receptive to my pleas since they were so passionate about their own national sport - had I not recently visited the outside of Eden Gardens. But my queries fell on deaf ears and I gave up. I'd had enough experience of Indian bureaucracy and general unfriendliness to keep me from banging my head against a brick wall.
Given that back then the internet was in its infancy I had to resign myself to reading the result in an English written newspaper the next day. In an English café, over a plate of sausages, I saw the history of my country unfold into turmoil.
Obstacles In-Between
There was nothing left for me to do but fly away, escape the memory, leave Calcutta and India far behind.
My original plan of travelling overland from London to Singapore faced a huge obstacle in the form of Burma. Burma was run by a military which did not allow tourists to cross its frontiers via an overland route. Tourists could only fly into and out of the country. Circumventing this object and heading north could mean I faced the no less insurmountable Himalayas. Perhaps there was another route to get me overland to Singapore but if there was I didn't want to know about it. My masochistic attitude towards myself had reached its fill potential and it was time for me to be heading home.
I bought the cheapest airline ticket that was available. I would be flying into Bangkok with the national carrier of Bhutan. It was a country I had never heard of. I completed some research and discovered it sat next to Nepal.
Well that puts my mind at ease.
An Aside – A Monsoon Flash Flood
It was the night before I was due to fly out of Calcutta. Sitting inside my hotel I looked out my window to witness a monsoon flash flood. It subsided as quickly as it had started; a torrential down pouring of rain which left knee deep water in its wake.
I put on my shoes and waded through the water towards the nearest café for tea. Upon returning to my hotel I gave my feet and my shoes a quick wash in the shower, before storing my shoes in a plastic bag at the bottom of my backpack. With the addition of a spare pair of footwear purchased during the course of my current travels they should now not be required through the rest of my journey.
There was now nothing left for me to do but pass time till tomorrow when my flight was due to leave.
Overcoming Obstacles
There I was on a small plane taking off from the subcontinent. Next stop would be East Asia.
I looked back over my experiences. I thought the less I said about Iran the better off I would be. Pakistan had been from a different world; a world where lawlessness and anarchy had not seemed too far from the surface. As for India, it appeared less anarchical but more bureaucratic.
Take you pick of what you prefer!
But it was all behind me. My internal operating systems were once again functional. A weight was lifting from my mind.
For the next few hours all I had to worry about was the sensibility of been on a flight with an airline which could have a reputation for anything but safety.
Who would know?
Could you tell me please as I am already airborne and may be running out of time?