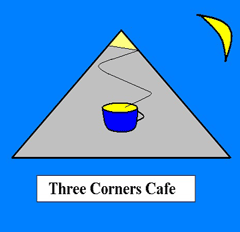 EASTERN EUROPE & ASIA - THE "OVERLAND EXPEDITION" TOUR
GOREME
"LIVING IN THE CAVE WITHIN"
Organising a Visa – A Taste of India
From Canakkale I caught a bus to Ankara, the modern day capital of Turkey. There was not much to see here beyond bland, grey buildings. But I was not there for the tourist experience. Instead I was in Ankara for the sole purpose of visiting the Indian Embassy.
Back in London I had left my attempts to get all the necessary visas a bit too late. But this was only because I had not accounted for the fact the paperwork for the India visa would take a week to process.
Why it would take a week to obtain a visa for India and only take a matter of minutes for a similar visa for Slovakia was beyond me.
Upon reaching Ankara I visited the Indian Embassy and started the visa paperwork process in motion. I asked if there was any way this process could be speeded up but was told it was standard practice to wait a week.
"Why?" I asked.
"Because that is how long it took in 1947", came the reply.
Bemused, there was nothing more I could do but make my way south-east to Goreme to fill in my week as best I could.
Goreme – A Taste of Australia
Goreme was an amazing small town with a population of 2,000 people. Descending into the township from a slight decline down a small hill was a historic landscape of natural beauty and amazement. Volcanic rock had been eroded into tall mushroom like structures which sat in clusters, protruding into the air as if residing in fertile soil.
It was early spring and the tourist season in Goreme was still a couple of months away. Business turnover in the town was slow. The craftspeople were building up their stocks of rugs rather than selling them and restaurateurs were touting their trade even to the tight fisted tourist. It was a case of the local people patiently waiting for the arrival of the hordes of tourists which would enable them to earn their profits which would see them through the subsequent winter months.
I found accommodation at an aptly named pension called Flintstones. While relaxing upon my bed, an Australian woman who was also staying at the pension started taking great pride in giving her rendition of Waltzing Matilda to the owners of the pension.
"What the …"
All the positive feelings I felt towards ANZAC relations after my visit to Gallipoli were been quickly consumed within her high pitched wail. I thought travelling was meant to be a relaxing experience.
The owners asked her to do a second rendition. She needed little further encouragement.
Bells were ringing; a fire alarm sounding inside my mind. I needed to escape before my thoughts became tunnelled by walls that were closing inside my head.
The owners of the pension looked at me with suspicion.
Look! I am a tourist not a terrorist, unlike your Australian friend over there!
So what if I don't talk much, keep to myself and have an expression of blue murder upon my face…
Goreme – A Taste of Turkey
I walked past a small restaurant, sucking in the fresh air, trying to cool my boiling blood. The owner, sitting outside, asked me what country I was from.
"New Zealand" I proudly replied.
"Yes, near Australia" he stated in excellent English. "Can you sing Waltzing Matilda?"
"No!!!"
"That is too bad. Come into my restaurant" he proffered.
I told him I had already eaten and that I couldn't afford to buy a beer. But he was persuasive and convinced me to join him anyway.
Two bored waiters were standing nearby. After a while they picked up their Turkish musical instruments and started to play a tune at the request of the restaurant owner.
With the sound of the music the mortal memory of Waltzing Matilda began receding; peace and balance were been restored within the world.
I asked the owner of the restaurant a couple of questions about his country before thanking him for his hospitality and apologising for not been able to offer a tip.
I then walked up a nearby hill which overlooked the picturesque town. The surrounding landscape featured the white mushroom shaped rocks shinning brightly under the fading light of day. It was amazing to think people had once dwelled in the top of these mushrooms; you could still see the entranceway into their splendid and unique abode. Surrounding them were the red and yellow colours of the resting sun; the pale green of the sparse vegetation.
'If the sky fell down upon us; drowned the world in its sorrow, the surrounding landscape would be the floor for the new sea.'
On the way back to town a local introduced himself. It did not take us long till we started talking about inflation, sheep and how the local terrain could not possibly support their hunger for Turkish kebabs.
He thought New Zealand must be a great country with so many sheep walking about. He even began quoting me the number of sheep in New Zealand per head of human population.
I was astounded at his knowledge and thankful he did not request I sing that song I was trying hard to forget.
The next day I took a bus to nearby Derinkuyu. This town was known for an underground maze of tunnels. In historic times the locals used to retreat into this maze and hide from any aggressors who upon following them would subsequently become lost. I did not delve to deep underground for fear of suffering the same fate.
Above ground some young children wanted me to take their photo. I obliged. It was a great opportunity to take a cultural photo of some of the local people with their permission; posing and laughing.
I was finding the Turkish people to be extremely friendly. To illustrate this point I was even invited to a local bachelor party along with some of the other tourists. It was an opportunity to drink some local alcoholic beverage, reluctantly partake in the Turkish equivalent of line dancing and prove I wasn't a terrorist.
But I was still receiving suspicious glances from the owners of the hostel I was staying in. Well within a couple of days I should be back on my way to Ankara, endeavouring to pick up my passport with its recently acquired Indian visa.
Once that chore is completed then we can all sleep easier at night.