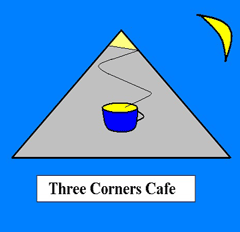 CENTRAL AMERICA - "MY OWN REVOLUTION" TOUR
PANAMA CITY
"SEND ME THROUGH THE CANAL TO YOUR HEART"
Back in Flores I caught a night bus to Guatemala City. In darkness I travelled through the countryside with sleep an uncomfortable companion. As darkness faded with the onset of day the bus approached the pollutant fuelled capital city of Guatemala.
Ramshackle cars, trucks and buses rumbled on through the busy city streets, dumping diesel fumes into the thick, grey tinged air.
I had already decided to make my way from Guatemala City as expeditiously as possible. From my previous day's research I had discovered a bus company catering mainly for tourists was located in an upper class suburb of the city. Unfortunately this suburb was some distance from the derelict central district where I was now inconveniently located.
I asked a nearby taxi driver what his fee would be to take me to this upper class suburb. As I was a western tourist travelling to the wealthy part of town he replied that he would do me no favours and would charge me an amount that left me staggered. There seemed no chance of bartering him down.
I did not feel up to the alternative of spending the rest of the day trying to figure out the local metropolitan bus system.
I stepped back from the taxi to breathe some polluted air to muddle my brain even further. Just then two middle aged males from the United States, standing nearby, saw my predicament and asked me where I was headed. Fortunately they were heading to the same bus company's depot as me. They invited me to share a taxi to the upper side of the city.
The Americans had been on the bus from Flores and had been staying at a camping ground near Tikal. While I had spent the last few weeks travelling around on buses they had apparently been doing the odd trip of another kind.
Well I was going to take a trip of my own: arriving at the bus depot I booked a three day excursion to Panama City. The bus was due to leave in four hours time.
Both of the Americans were booked on the same bus. Fred, complete with his surf board, was heading to El Salvador and Bill's destination was further south to Costa Rica.
Bill told me he had retired from the United States corporate world at an early age and settled in Costa Rica. He had recently found his wife in bed with another man and had been travelling around Guatemala to clear his mind. He was now returning to his home town, unsure about his future plans.
With four hours to spare I followed the Americans around while they did some chores. Bill said he had been having some difficulty with his bank statements and wanted to make some enquires at the nearby United States embassy.
The three of us got something to eat. Fred and I then waited outside the United States embassy while Bill did his 'chores'. Then slowly, very slowly, it began to dawn upon me how stupid I had been.
What on earth was I doing sitting outside the United States embassy. Their surveillance cameras would be focused on me right now. I mustn't panic. I must act as naturally stupid as before.
They had traced my whereabouts and tagged me. Bill was an undercover agent working for the 'others'. They had latched upon me at the bus terminal when I was in need of assistance and had used this to build up my sense of trust.
I was now sitting outside the United States embassy because of this trust. They were thinking I would never suspect a spy to be so stupid as to lead me to the obvious conclusion he was a spy. What type of operative would take me to the United States embassy so I might suspect him as an agent? It was the classic double bluff.
I admit I had been stupid but I can assure you I was now becoming very smart. Bill was in there reporting his success and strategizing his progress. When they had tried to torture me with the bureaucracy of the Los Angeles International Airport customs they must have discovered I would be slow to reveal the secrets of my expedition. Now they were been more cunning. Well I shall now reply with a cunning triple bluff of my own.
I will play along with their game. On the outside I will suspect nothing. Inside I will be as aware as the rare sacred jaguar of Guatemala. Inwardly I shall seethe suspicion of all the actions of this brazen United States spy.
******
When Bill returned from the secured confines of the United States embassy I greeted him with my usual aloofness. Then the three of us returned to the bus depot and climbed onto the bus headed south to El Salvador.
Down through Guatemala we travelled till we reached the border with El Salvador. The border was a narrow, steep gorge. The bus climbed half way down this gorge till it reached the one bridge which enabled access over the winding river below. With the steep banks of the gorge and limited access it was the perfect setting to protect one's frontier in the advent of guerrilla warfare.
I climbed out of the bus, wetting my lips as I surveyed my surroundings. I then tried to take notes of the border's vantage, vulnerable and protected points without Bill noticing. Fortunately he appeared distracted with customs.
I am sure Bill's superiors would have surveyed this border with their satellites but our revolutionary organization was still in its infancy. Any knowledge I could gather on the fortification, natural or otherwise, of borders was invaluable. Happy with my day's endeavours I quickly finished my rough notes and returned to customs where Bill was at the front of the queue.
******
The bus was due to arrive in El Salvador's capital city San Salvador at 19:15 pm. From there we were meant to find accommodation and take the same bus to Nicaragua the next morning. The bus arrived in San Salvador within time, amid personal chaos. What was I to do? Bill quickly got a group of us together and found accommodation at a cheap hotel around the corner from the bus depot. We then all went into town.
Bill led us along a series of streets till we reached his favourite restaurant. Here we ate a cheap meal and drank even cheaper beer. The brand of the beer's label was a pack of cards. I found the label slightly amusing in the sense the gamble of a game of cards was how I felt my life was spanning out at the present moment.
Here I was at a restaurant eating food that could be anything. Should I lose the group I was with, I would have no chance of finding my way back to the hotel and would stand a good chance of having my throat slit.
Add to this I had lost my revolutionary contacts and was now having to trust a United States operative. Then there were my money worries which I shall go into later.
My guidebook described San Salvador as a 'surprisingly pleasant city' but with a 'dilapidated downtown'. Well we must have been smack bang in the middle of downtown for the area we were in could certainly be described as dilapidated.
Walking back to the hotel, trusting Bill had not drunk too much beer and lost his sense of direction, we passed a group of stragglers lying on the street covered in the shelter of their cardboard boxes. They did not appear too friendly. Unfortunately for us their appearances weren't deceiving, as they hurled abuse at us as we passed. It was time for the group to act staunch and walk forward at a steady pace. This was partially achieved as the group diverged in different directions ready to make a quick break should the verbal abuse become physical.
Fortunately the abusers were far too incapacitated to take their anger beyond an outcry of inebriated frustration and the group reformed once more. Now it was just up to Bill to sober up enough to stop leading us down dark, dead-end alleys and get us safely back to our hotel. He was well trained, street wise. He knew his way around and through the mist within his mind. We all followed; faithful. He did not let us down.
The Next Day
The space of the next day was filled with the bus trip to Managua, the capital city of Nicaragua. As we had left Fred at San Salvador I now sat with Bill for the rest of his trip. To avoid been too friendly and enabling him to catch me off guard I concentrated on reading a book, keeping conversation to a minimum.
But reading was difficult. Parts of the road had gaping pot holes from the recent rains that had flooded and washed through the region. Besides I had other things on my mind.
Preoccupied with the thought of been tagged by the United States embassy in Guatemala City I had missed the opportunity to cash some of my travellers cheques. Now I only had enough hard currency to afford a bit of food and a night's accommodation in a very cheap hotel.
The bus stopped for the night at Managua. Unfortunately as this was Bill's last night before he returned home he wanted to spend it in relative comfort. He therefore found a one and a half star hotel close to the bus depot and I had no money left for food.
That night all that still stood of the original group from San Salvador was Bill, two girls from the United States and I. We went for a meal at the local mall. I hoped and then prayed I would be able to exchange some of my traveller's cheques there. However it was a Friday evening and this option was closed. I then tried my New Zealand bank card in one of the local machines but this simply spat out void receipts with no cash.
I promptly decided that when I got back to New Zealand I would put through the following motion - the possibility of me obtaining a credit card. I currently did not possess one as it was against revolutionary party policy for fear of appearing on commercial company's databases every time we made a purchase. However this was a price we would have to pay if, in the future, I wanted to avoid my current situation of been unable to eat while been on the other side of the world.
But back to the present!
No food, not having eaten that day, in a mall, with three United States citizens from a country which could possibility exist for the purpose of inventing fast food. I was in a bland, neon light setting. They were in their second home, filling their bulging stomachs in a commercialized environment which their mother country had provided through its conquest of the minds of the new world.
I was on the other side of the world and felt distinctively like it. The only way to get closer to home was to return to the hotel and get some sleep. This is precisely what I did.
The Day after the Next Day
I awoke in Managua to the alarm bells of my rumbling stomach and caught the bus with Bill to the capital city of Costa Rica, San Jose. At the Costa Rican border I was able to exchange some of my traveller's cheques. Strangely enough I had second thoughts about this task as I still thought I could get a better rate if I waited till I was in San Jose. But sense prevailed and at last I was able to eat.
We arrived in San Jose at 16:12 pm. Bill departed and made his separate way to some village situated in the Costa Rican cloud forest. I thanked him for his assistance and then sighed with a sense of relief.
He wasn't going to some isolated cloud forest at all. He would be reporting back to the United States embassy a failure. He had whole heartedly failed in his quest to ascertain sensitive revolutionary information from me.
I was free, I had money in my pocket and it was a Saturday night.
I walked into the main entertainment district of San Jose and bought a couple of coffees and something to eat. The streets were alive with relatively well heeled people building up for the night ahead.
Unfortunately, my night was going to entail getting some sleep on the bus which was due to depart for Panama City in three hours. This was the only part of the journey from Guatemala City where the bus was allowed to travel at night for the fear of been boarded by bandits.
I spent the next three hours wandering around San Jose, going into a small church for some quiet thought and then I started people watching along the city's main avenues.
Returning to the bus depot I lumbered onto the bus destined for Panama City. This was the target of my expedition. The original, high level goal was to travel down to Panama City and back again. Once I reached Panama City I was to visit the Panama Canal.
Beyond these goals I had no idea of what I was supposed to achieve. This is what I was meant to be told by my contact at the Los Angeles International Airport. Beyond swimming with mermaids and spending up to 40 hours at a time on a bus I did not feel like I was achieving much at all. I needed some guidance.
Just then an aged English woman sat down in the seat beside me and introduced herself. Well you just have to admire the cunning of these operatives. On the other side of the world they would have realised I probably needed some reassuring mother figure to lean upon; someone upon whom I could trust and confide in.
We all know the operatives of both the United States and Britain work together on items of national importance. Bill had left a disgrace and was now been replaced by Aunty Anne.
In fact Anne was the complete opposite of Bill. Whereas Bill knew his way around Central America like it was his backyard, I had no idea how Anne made her way from her supposed home in Wimbledon, London to Heathrow Airport without getting lost or ripped off.
Shrewd; but with a continuation of my triple bluff I could be smarter still.
Destination Panama
Wearily, the next day, we reached the bus terminal of Panama City whereby Anne and I shared a taxi to a hotel which the Brazilian guy I had met in Palenque had recommended. The hotel was rough but the warnings we received from the taxi driver said we were in a rough town.
Rough hotel or not, while the sun was keeping darkness at bay, it was in a pleasant part of the city. Located in the original settlement of Panama City, historic plazas and cathedrals lay close to the shore. In the distance, across the harbour, one could see the tall buildings of the central business district. Turn one's head for another view and a line of ships lay in the bay waiting their turn to make use of the Panama Canal.
I had reached my destination. I gorged myself on a meal of cheap meat of any description and ice cream. A huge weight was been lifted off my shoulders.
The next day Anne and I made our way to the Panama Canal. We walked through the bustling shopping district. Stopping at one shop, Anne managed to drop her purse, spilling all her change over the floor. While she endeavoured to pick up most of her currency I shook my head in awe at her convincing display. The shop assistants, without the benefit of my training, would never have picked her for been a spy. But I knew better.
We caught one of the local buses the short distance to the Panama Canal. These buses were covered in artwork, which added colour to the city. It was like we were on a magical mystery tour; if magical could be replaced with mundane and mystery replaced by monotonous. But that was the life of a revolutionary. I well knew it was not all the glamour and glitz that one read about in Hollywood lifestyle magazines.
At the Panama Canal we watched a huge ship filled to the gunnels with containers, pass through the narrow channel. Gates were opened and closed to allow the water levels to rise and fall, carrying the container ship over the uneven terrain in a well rehearsed process that had been repeated many times before.
It was an interesting and educational experience. I discovered the Panama Canal was of huge economic importance to Panama, with commercial ships charged roughly US$30,000 to pass through. If a foreign country was to attack Panama's heart then the canal would be the obvious point of attack.
I wrote in my mental notebook that it is important to protect any asset upon which your country depends. I reasoned the canal's importance was equivalent to sheep in New Zealand. Just as Panama must secure its canal, New Zealand must somehow protect its sheep from foreign interference. Hey, I'm serious. If mad cow disease was to infiltrate its way onto New Zealand's shores the economy would fall into an abyss. A weak economy would lead to internal disharmony which any foreign country could prey upon.
With these thoughts running through my mind we caught a bus back towards our hotel. A few days later we took a bus north to some small city, the name of which I now don't remember. From the small city I took a day trip to an anonymous town which was situated near some coffee fields. The coffee fields were on a series of hills rising above the main street of the community. It was an opportunity to get out of the cities, into the open, rural air and away from Anne. I walked in a big loop, where I passed a waterfall and a local school where children, eager to have their photo taken, came out to greet me.
I made a written note to put these photos aside when it inevitably came time for me to give my presentation to my superiors back in New Zealand. On that line of thinking, I hoped they would not ask too many difficult questions when I would have to face them during my debriefing. Questions such as how come you did not get to know any of the Danish women while you were on Caye Caulker.
Because I was dedicated to the revolutionary cause shall be my well rehearsed answer!
After returning to some small city whose name I don't remember I departed early the next morning, making my way back to Costa Rica and leaving Anne to her sleep.
Her dreams told me to tell her: 'Say goodbye to yesterday. If not spent productively then yesterday is the anchor that drags down the future from today'.