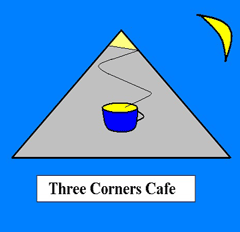 CENTRAL AMERICA - "MY OWN REVOLUTION" TOUR
PALENQUE
"MAYA RUINS; WATERFALLS TO WISH FOR"
It was time to leave Mexico City. It was time to board another bus. It was time to head south to Palenque, a 12 hour overnight journey away. Compared to my previous bus trip, 12 hours was a relatively short space of time. It was a time I hoped to fill with sleep.
I arrived in Palenque in the early morning and walked down the town's dusty main street. I was alone. There was not much sign of life; a small town setting in the middle of nowhere. I noticed a couple of mechanical repair shops, restaurants, chickens and children as I walked wearily in my search for a cheap hotel where I could catch up on the sleep which had not been forthcoming the night before. Once more I had exhausted my mental reserves.
The cheap hotel my guidebook recommended was easy enough to find. It was at the end of the dusty main street. I entered the foyer expecting to be led straight to a spare bed. Instead I was sold a day long sight seeing trip that was leaving in quarter of an hour.
I lumbered into a van that took a group of us to nearby Maya ruins. These ruins were one of three sites in Central America renowned for displaying the history of the Maya period. It was a period in the history of Central America when civilizations comparable to the European empires had arisen and subsequently fallen away into decay.
The ruins were in a clearing within dense jungle. Green grass lawns surrounded well preserved structures of stone from an age which had disappeared or been left abandoned.
The archaeologists did not know why.
Pyramid shaped temples with steps leading up to some sort of chamber stood tall, holding the thoughts of their past. But still the archaeologists dug deeper, dusting off the dirt, the burial ground of our sins.
We were left to our own devices. I used my espionage skills to tag behind different sets of tour groups to achieve an undetected, free commentary of the ruins. I discovered the structures were surrounded by a history of children killing their parents, parents killing their children and the pursuit of absolute power. Not too different from the history of European civilisation I thought.
With time up we climbed back on the bus to complete the second half of the tour. We were off to explore a couple of waterfalls.
Whoopee!!!
I was not in the right frame of mind. If nothing else a waterfall could usually guarantee a photo opportunity. Now I was just been sarcastic. I needed sleep. But I still had to witness a couple of waterfalls in the middle of nowhere.
Well what can I tell you about them? One was tall with the water falling directly over a cliff edge and the other had water flowing over a series of rocks; pleasant without been startling. Seven out of ten on the photo opportunity scale.
A photo opportunity you say. Some of the locals, dressed in their traditional outfits, stood at the base of the second waterfall. For a small fee you could take their picture. I bought a cheaper postcard instead; always willing to contribute to the local economy.
Waterfalls witnessed, photos shot and postcards bought it was now just a matter of passing time till the van took us back to our small town lodgings. At my cheap hotel, where I had hoped to find sleep 10 hours earlier, I now began talking to a Brazilian. He had flown into Panama City from Brazil and then travelled north to our present location. It was the opportune time to gather some first hand information on Central America.
I thought back to the plan I had conceived in San Diego which was to head directly south from Mexico City to Guatemala. However I was unsure how safe or otherwise Central America would be and had subsequently decided to delay my entry into the revolutionary centre until I became more acquainted with my surroundings.
That was why I was now in Palenque, delaying sleep while I gathered more information. It proved a worthwhile exercise. I discovered the Brazilian had already been mugged once, on a Guatemala City bus, trying to keep his balance in the aisle rather than been preoccupied with the protection of his wallet.
I had much to look forward to.