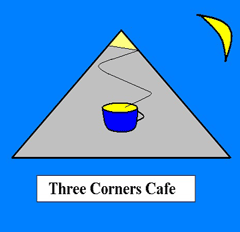 CENTRAL AMERICA - "MY OWN REVOLUTION" TOUR
TIJUANA
"DECADENT CITY, DESTROYER OF MY SOUL"
The Past Tense
At 17:12 I caught the tram from downtown San Diego to the Mexican border. I had plenty to think about during the 27 minute journey. Thoughts about what I was doing on the other side of the world, thoughts about turning back, thoughts about God and praying he had plans to look after me. I had to think about my mission to enter the revolutionary heart of the world and about been followed by those on the other side of freedom.
I looked out the tram window and took a mental note of the rapid decline in the alluvial quality of the land the closer we travelled towards Mexico. The rich, irrigated fields around San Diego were rapidly giving way to the barren, the sun dried and the empty.
The tram stopped at the border and I joined the horde of Mexicans who streamed across the invisible line that separated countries, ideologies and cultures. There was no bureaucracy, no interrogations and no passport checks. The masses ruled. The multitudes were returning from a days work in San Diego and I was carried into Mexico on a rapid current of personal confusion and bewilderment.
As the crowd dispersed I was left by myself in another country with no authenticity for been there. To justify my presence I figured it might be a good idea to get a stamp in my passport. But I could not find any Mexican border guards. I asked for directions but was sent from here to there without much success.
Eventually I found them, feet up on the desk in some dark, dingy office watching the cartoons on television. I was interrupting the routine of their day. To compensate they decided to make me the butt of their light hearted jokes. I was happy to oblige just so long as I received my passport stamp in compensation. This was the informal agreement.
Stamp received, passport in hand, it was a short walk from the border to the centre of the tourist part of Tijuana where I had to find accommodation. After been turned away from the first couple of places I tried it was getting dark and I was becoming desperate. I eventually found an agreeable owner who didn't speak any English but we somehow managed to negotiate an acceptable price, paid in US dollars.
Settled in, I walked along the main entertainment strip of Tijuana. Decadent, it was filled with half empty bars and shops selling tourist garb.
One of the bar bouncers invited me into his bar to drink beer and look at half naked women. I politely refused though apparently not politely enough. The bouncer yelled obscenities at me about my masculinity. I kept on walking. Deeply offended I had refused his hospitality the bouncer then followed me for the next 112 meters continuing his barrage of assaults.
I had recently been on a long flight, been accosted by United States customs and now I was been abused by a bouncer who looked like he'd never had a decent meal in his life. I didn't really need this. I kept on walking. He stopped before he caught up with me, yelled more abuse, realised he had left a bar full of half naked women behind and returned back to his post.
Having had enough of Tijuana for one night I returned back to my hotel. I needed a good nights sleep. Tomorrow I was due to make the long arduous journey to Mexico City.
******
Let me inform you, I do not use the terms long and arduous lightly. Tijuana to Mexico City didn't look that far on a small pocket sized map. Unfortunately, after a struggle finding a bus station, I discovered a decent sized map on its wall with an attached timetable. I looked at the time and the distances – 46 hours to travel over 2,000 kilometres.
I was staggered. Surely it would have been easier to fly direct to Mexico City from Los Angeles. Perhaps this is what the person who shall remain nameless was supposed to organise for me.
But perhaps the journey to Mexico City was a test my superiors had set me; a test of my endurance and strength. This training would prepare me for future covert operations when we have to engage the enemy long distances from our home base in the West Coast of the South Island of New Zealand.
From the West Coast we will have to travel many miles to spread the revolutionary word in the country's major metropolitan cities such as Dunedin and Christchurch. When New Zealand is over run by the importers of political correctness and foreign food you will be appreciative of our foresight.
However, at the present time I had to prepare myself for a 46 hour bus journey. I quickly realised the cost of the bus trip was going to destroy my original budget. Travelling in Mexico was going to be more expensive than I had planned. I had to somehow get my money back.
I paid for my exorbitantly priced ticket, boarded the bus and settled in. Shortly after leaving Tijuana the bus rolled down a steep hill. The landscape was amazing. It was like travelling along a moonscape. The bus came to the bottom of the hill and then … dry, barren fields for the next 45 hours.
I looked at my watch to discover that on a 46 bus trip time can pass relatively slowly. With my training in noticing things, I began to noticed I was been watched more and more by the locals on the bus. They appeared a bit concerned; as though they had noticed I had only eaten two cups of noodles during our time together on the trip. If they could speak English I would have told them they had nothing to worry about, that all the best armies fight on an empty stomach. Then they probably would have understood.
The bus stopped. 40 odd hours after leaving Tijuana we arrived at the major Mexican city of Guadalajara. Some of my fellow passengers disembarked. I was the last of the originals left; the last remaining passenger from those who had boarded the bus at Tijuana. Even the bus drivers had been replaced. I had out lasted them all.
It was now just about a few hundred kilometres to Mexico City. I had completed two nights training on the bus. I just had the final stretch of my journey to complete. I was nearly there. The test was nearly complete. In half a day I would be in one of the world's most populous cities.
If I had been identified and tracked in Los Angeles or San Diego they would have no hope of finding me in Mexico City. I would be able to plan the next part of my journal into the revolutionary heart of Central America in secrecy. Time was moving on.