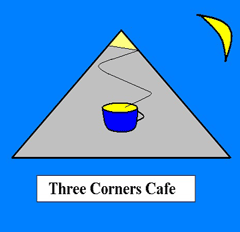 CENTRAL AMERICA - "MY OWN REVOLUTION" TOUR
CREEL
"CANYON OF THE HEART AND MIND"
From Lago de Atitlan I caught a series of buses north to the Mexican border, onwards to Mexico City and then further northwards to my intended destination, some small town that was the starting point for a tourist train through a Mexican canyon.
It was a steaming hot Sunday. The dry stifling air gave me the feeling the local's tempers would be relatively thin. I therefore did not venture to far from my hotel nor wander into a thirst quenching bar to reminisce on the uncountable kilometres I had just travelled. I rested, prepared; tomorrow would be another day spent at another tourist trap.
I awoke early. A few hours later I found myself standing at a dilapidated train station that stood on the edge of the town. The train eventually approached, coming closer I was thankful it was not in a comparative need of repair or demolition.
I looked around and noticed a couple, aged in their early thirties, sharing a long, deep, passionate kiss. Their lips were entwined in unison, rhythmic, a flow of current, like waves crushing upon the shore in a storm. He appeared to be some carnivore which was in the process of swallowing his helpless prey. Perhaps they were a couple on honeymoon? Perhaps she couldn't bear the thought of him leaving, been away from her lips for lonely days on end? Perhaps …
I regained my diverted attention, boarded the train, settled into a seat and stared out the window trying to find the lovers couple. They had disappeared. Then to my surprise, she of the entwined couple entered the carriage where I was seated and sat down in the spare seat beside me. She wore no wedding ring, nor apparently any regrets about leaving her estranged lover. Perhaps my imaginations had been too vivid.
We began talking. She was an architect from Argentina who was working in Mexico due to the collapse of the Argentine economy. She showed me pictures of the room she would be spending the next couple of nights but didn't seem too impressed when I told her I would be staying in a US$5 dorm with five others.
In the meantime the train travelled north through the Mexican grand canyon, stopping at a viewing outlook along the way. Eventually the train reluctantly reached Creel where I said farewell to the Argentine architect, who was continuing north. Our farewell was nowhere as poignant as the one I had witnessed earlier that day but then I regrettably realised there could be no room in us revolutionaries for emotions. We had to be hard and focused.
Creel was a very small town in the middle of nowhere. At the hostel I booked a 4WD tour around the nearby canyon. On the tour the local guide drove us around the region's paved roads through the spectacular rock formations. I was the only one on the tour who appeared to be enjoying the experience. Perhaps the others thought the guide went a bit over board when he drove back and forth sixteen times over a snake that had been lying on the road. But, from the driver's point of view, it appeared that snakes were a menace, to be extinguished with hatred.
I did have one complaint with the 4WD tour. Or perhaps regret is a more fitting word. The regret was that I was spending another day travelling around in a vehicle. A bus, a train or a four wheel drive it was all basically the same. After travelling all the way from Guatemala City I could have done with a day of not travelling at all. However there was not far to go. In a few days and approximately 1,400 kilometres later I would be back in Los Angeles to catch an airplane.
From Creel I caught a bus north to Ciudad Juarez, on the United States border. From there I travelled the long distance, along the border, towards the Pacific Ocean and Tijuana. Let me assure you it was a long distance. Every kilometre travelled felt like two as I was coming to the edge of my tether. This was the area of the world where Michael Douglas was abandoned in the movie 'The Game'. If you ever see the movie and witness the state of his mind you will get an idea of the claustrophobia that was beginning to boil within the base of my stomach.
I needed freedom. I needed escape from the dry, dead scenery that rolled on without end. How can one live without colour? Luckily I was not bold enough to ask this question to some of the dodgy, rough looking characters that now rode on the bus. Better to keep silent and observe the collapse of my own fragile mind from a distance.
Praise the Lord. The bus arrived in Tijuana. I headed direct to the border. Along the way I stopped for a moment of quiet reflection. Six weeks ago, close to the same point where I was now standing, I had been fill of trepidation of what the near future may hold. I had now arrived back safe and sound if more than slightly weary. Making sure no one was watching I knelt down and kissed the ground in thanks, in the mood for quiet reflection.
I then proceeded onto the border, walked through USA customs and then caught the tram to San Diego. I was back on relatively familiar ground. Once again I was walking along the streets within the push and shove culture of the United States. I was determined not to take a backward step. It wasn't long before I was warned by a street bum that if I kept up with my current attitude I would end up a death statistic. He told me life had little worth in the moneyed world of North America.
After spending the night in San Diego I caught the Greyhound bus back to Los Angeles. I then had to catch a municipal bus into the Los Angeles central business district and another bus to the airport. While waiting outside the Greyhound bus depot, within a particularly run down section of Los Angeles, I had been accosted by a couple of the local youths. They wore baggy trousers and tattoos. I was not impressed.
What happens if your country is invaded and you are subsequently caught and imprisoned? A tattoo will make an easily identifiable mark, kept on the invader's databases making your attempts to escape futile. What are your chances of passing through the foreign invaders network of spies if you have a tattoo implanted upon your body?
As a revolutionary I felt their tattoos were a sign of weakness; something left to renegades with no desire to protect their country. They could disappear for all I cared. I was not even going to deem them strong enough to warrant my time spent offering a verbal reply to their baiting. I began to look upon them as worthless; to be ignored.
I was developing an attitude of my own.
Perhaps it is best I get back to the snow capped mountains and the frigid winter of New Zealand as soon as possible. Back to the land of relative personal safety and the place I can call home.