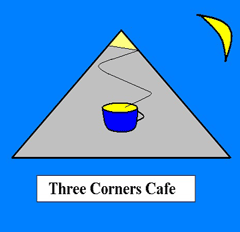 CENTRAL AMERICA - "MY OWN REVOLUTION" TOUR
LAGO DE ATITLAN
"VOLCANOES BY THE LAKE"
I was enjoying myself in Antigua, taking advantage of the modern conveniences and a quiet, laid back atmosphere. It was therefore with regret I left for my next assignment - taking a bus to Lago de Atitlan, a nearby lake surrounded by volcanoes and possible revolutionary activity.
On the way to my destination it appeared my lack of understanding of the local language was going to become a problem. Not an insurmountable obstacle, such as manoeuvring around the side of an exploding, erupting volcano but a problem nonetheless. I climbed onto a bus, unsure what direction it would be travelling, placing total faith in the confident smile of the burly driver.
Given the speed with which he subsequently started hurtling the bus around the hilly landscape, whatever direction we were travelling, we were going to get there with plenty of time to spare. I looked around and tried to ask one of my fellow passengers where we were heading. He patted me on the shoulder, assuring me everything was as usual, that everything would work out fine.
There was not much more I could do. I settled back into my seat and hoped there hadn't been a communication error without words; that somehow I was on the correct bus. To keep my mind off more urgent matters I listened more intently to the music played on the bus tape recorder. It was the 1980s. The George Michael ballad 'Careless Whisper' was playing, if I was not mistaken, for the third time.
It appeared a favourite. I tried to concentrate on the lyrics:
'So I'm never gonna dance again the way I danced with you'.
What are the chances of me walking again? What are the chances of escaping from inside a bus soon to be flying at breath taking speeds over a 300 metre high cliff into the dense scrub below?
The bus suddenly came to an abrupt stop, an hour ahead of schedule, at a bus depot in a small town. This must be the final destination as everybody except me appeared to be departing. The driver walked down the aisle to where I was still sitting, telling me in some incoherent language that the trip was terminar.
I showed him a piece of paper with my planned final destination written upon it. He pointed in several different directions and I nodded as though I understood. In actual fact, all I knew was that thanks to the driver's mad escapades the circulation of blood had stopped flowing to my legs. It would still be several minutes before I could stand up again.
I asked him about the weather, about the local beer, about his escape from the mad asylum but he did not appear to understand. That was fine. I was only endeavouring to buy time to enable me to walk off his bus with my manly pride still intact. Eventually my legs stabilised to the point I could walk without his assistance.
I walked from the depot, around the town until I discovered I was a distance of about eight kilometres from my intended destination. I was on top of a cliff and I needed to get to another small town which lay at the level of the lake shore.
Rather than risk the chance of catching a wrong bus, or even another bus for that matter, I decided to take a leisurely walk down the hill.
The scenery was superb. There was a steep bank to my left and the lake, complete with volcanoes, to my right. Below were a series of small towns which lay at varying distances along the shore. The scenery was everything you appreciate when you have recently been put in the position to appreciate living at all.
Living in New Zealand
As I lumbered down the hill I was reminded of my tramping experiences in New Zealand. Seven years earlier, after travelling through Eastern Europe and Asia, I had decided I would get closer to the rural backdrop of my own country by completing a number of two or three day walks.
Tongariro Northern Circuit
My foray into scenic walking coincided with my foray into a career. At the age of 26 I completed my first walk, the Tongariro Northern Circuit in the central North Island. This was a couple of weeks before I began my first full time job at a corporate accounting firm in Auckland.
My experiences with walking and a career ran parallel paths, both downhill. The Tongariro Northern Circuit, which wound its way around one of New Zealand's more renowned volcanoes, began with my newly purchased car breaking down even before I had reached the starting point of the walk. This was a warning sign that tramping was not for me. It was a sign I did not see.
Mount Taranaki Round the Mountain Track
My next walk was along the Mount Taranaki Round the Mountain Track. Nearing the end of this three day walk, as happens when you are high up in the mountain, it started snowing with a harsh sleet pounding into my face. At this stage I was close to physical exhaustion, literally crawling the last three hundred metres to the car park and my waiting vehicle. Can someone please write the sign in larger, more explicit letters?
Great Barrier Island
You might think at this stage I would give scenic walking a wide detour. Instead I compromised. For my third walk I chose a course that didn't necessitate the use of a car to get me to its starting point or a climb around any mountains. My choice was Great Barrier Island, a short boat ride from Auckland.
I was living in New Zealand's major metropolitan city. My family was stationed at the other end of the country. It was Christmas Day 1998. It was time for a break and lunch. In the relative wilderness of Great Barrier Island I sat down to a scrumptious meal of raw, baked beans straight from the can. I could have been down in Dunedin, seated in front of a Christmas turkey but as I had to work over the New Year period I had not wanted to pay for the prevailing excessively priced airfares.
As my finger hit the bottom of the empty baked beans can I realized how purposeless my life was becoming. Crunching numbers in a corporate was not the bottom line. There had to be some meaning; an end goal or target.
Fate plays its hand in many a strange way; the light that suddenly flickers into life. I realised I was discovering the relative wilderness of New Zealand, with the sacrifice of been away from my family, for the purpose of preparing for the onset of the foreign invasion.
That was why I was living and working in Auckland, the likely centre of any future foreign power trying to establish its control. The surrounding islands, where I was currently seated, would be an ideal location for the revolutionaries to launch counter offensive manoeuvres. I was learning to survive on small rations. There was a purpose in all this madness after all.
Mt Holdsworth Circuit / Totara Flats Track
By the time of my fourth walk I was living in Wellington, New Zealand's capital city located in the geographical centre of the country. It was a city and a region which had been identified by the revolutionaries as a strategic key in the defence of our shores.
I was working within the corporate banking industry, an important sector of any country's infrastructure. The consumers were spending, financed by borrowings from off shore. It was the early stages of a sinister plan by some foreign power. A country that is in debt can be easily manipulated and then eventually controlled. This control is not as recognizable as foreign troops standing on another country's shores but let me warn you it is one of the first steps leading to such an eventuality.
Once again I had to work over the New Year period. As most people would be away with their families the revolutionary party thought it would be an ideal opportunity; an opportunity for me to spend the Christmas holidays researching the possibility of the revolutionary party establishing outlying strategic bases near the capital city.
As an ambitious revolutionary I decided to complete two walks within the space of a few days. The walks were the Mt Holdsworth Circuit and the Totara Flats Track, located to the north of Wellington, near Masterton. I achieved my objective, worn and weary, by Christmas Eve. On Christmas Day I hitched my way back to Wellington, buying a mince pie at a service station for my lunch. Back at my residence, taking advantage of my flat mates been away with their families having a decent meal, I got closer to nature by spending the day naked in front of the lounge television. I was one with the natural world after all.
Queen Charlotte Walk
The Queen Charlotte Walk sits at the top of the South Island, another key strategic target. It was an assignment that was reward for my recent dedication to the revolutionary cause. We were progressing well with our plans, organising our defences, strategising our counter offences.
The Queen Charlotte Walk took me through coastal forests, over agricultural lands and around the edge of the beckoning sea. Spa pools and pubs stood at irregular intervals along my path. It was a part of the treasure chest of New Zealand, definitely worth protecting. I finished the walk, slightly inebriated at a pub in Picton, filled with even more vigour for the cause and my country.
Heapy Track
The Heapy Track was a pathway from the top of the South Island towards its West Coast. The West Coast had been identified as the likely centre of the future revolutionary cause should we have to retreat to the wilderness.
It was a part of the country renowned for its rain. Towards the end of the walk, surrounded by bush and the sea on either side, a torrential downfall appeared from the distance. I should have remembered to bring a waterproof jacket but it was too late.
I was drenched as I finally reached the end of the track. I met my contacts and then once again ended up in a pub congratulating myself on having completed another scenic walk without capturing hypothermia or any other condition which might suggest ill health. The revolution was in safe hands.
Ninety Mile Beach-Cape Reinga Walkway
My luck began to run out on our next walk, the Ninety Mile Beach-Cape Reinga Walkway, situated at the top tip of the North Island. It started off fine, in pleasant conditions. That was until night descended and I had to pitch a tent. After the tent fell over a couple of times I eventually gave up and slept simply, using the collapsed tent as cover like a well worn blanket. The next morning, with minimal sleep, I could not find the peg that signalled the start of the next phase of the walk. It was apparently hidden behind winter undergrowth that had not been trimmed during the off season. Frustrated that I had failed in my objective I returned to the northern town of Kaitaia, determined to do better in my next assignment.
Routeburn Track
Unfortunately or maybe fortunately my next walk was also only partially completed. It was the Routeburn Track, near the southern lakes of the South Island. I started the walk in early spring not expecting the mountainous parts of the walk would still be covered in knee deep snow. Surprised at this setback I tried to plough on. That was until I realised that if I trudged on much further I would have no chance of retracing my steps. I was starting to lose the feeling in my toes. But I was stubborn. That was until I realised the decisions I was making could have life and death consequences. I eventually searched around, found my senses and turned back towards a hut that sat at a gradient below the level of the snow.
Luckily a French male was staying at the hut and he had warm provisions for the seasonal weather, including cups of tea. The next day I turned back and returned to the town of Queenstown, another scenic walk incomplete with questions unanswered.
Foul Food
It could be safe to say my current walk down to the small town alongside the Lago de Atitlan was a relatively easy stroll. The next day I strolled even further along the shore of the lake, through a couple of small towns, with the ever present volcanoes in my sight.
That night I went looking for an inexpensive meal at a coincidentally cheap restaurant. For dinner I settled on a filling plate of spaghetti. Happy with the service I had received I decided to return my plate to the kitchen.
What a mistake that was.
Often it is best to be in one's own world and not view the stark detail of what we have just eaten. The pot of spaghetti, from which they had obviously taken my meal, was hidden under a mass of fat flies. I nearly dry retched. If I had vomited it would have sprayed all over the kitchen, with the pot of spaghetti sitting in the centre.
Then I would not have had to worry about catching a bus back to Antigua. Instead I would have been running, for my life, with a chasing pack in fast pursuit.