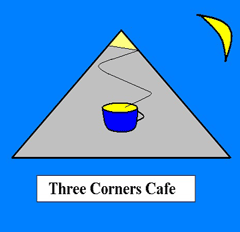 CENTRAL AMERICA - "MY OWN REVOLUTION" TOUR
ANTIGUA
"VOLCANO STANDING UNDER THE FALLING SKY"
Early the next morning I made my way to the bus depot. A crowd of disparate locals stood around its fenced perimeter and made way as I walked inside. They were there as part of their daily routine, trying to pick up any loose change the tourists might throw their way. The tourists for their part chose to ignore them.
As the tourists gathered inside the fence waiting to board the bus a high pitched wail rose into the air. Spoken in English with a Spanish American accent the wail was impossible to ignore.
A young male was declaring his undying love for three attractive British female tourists.
"I love you."
This first declaration was relatively quiet at first, as though he had been taken aback by the sudden emotional strength of his new found feelings towards the tourists.
"I lovvvvve you."
This declaration was louder as though he had more confidence, belief and trust to declare the emotions deep within his heart.
"I really, really lovvvvve you."
This declaration was like that of a chained up dog.
The three females were stunned. That was until they realised the young man was harmless and was simply been amusing. What more can one have than a sense of humour if day after day one sees another untouchable side of the world on the wrong side of a fenced off perimeter?
I certainly found this small incident amusing. I certainly didn't have much else to occupy my mind as I boarded the bus headed back to San Salvador. Through the upper reaches of Nicaragua and the lower south-east corner of Honduras I travelled mindless distances until the bus arrived at the familiar bus depot in the capital city of El Salvador.
It was close to dusk. I now had the task of trying to find the hotel I had stayed at when I was last in this part of the world. This time around I did not have Bill and his horde of travellers to accompany me. Luckily I managed to find the hotel and negotiate a cheap room rate with the added benefit I had a room to myself. Last time Bill had the proprietors set up temporary beds in all the rooms to enable everyone to fit in and bring the average cost of each bed down.
Bill had told me he used to work in high rise corporate America. He decided it wasn't for him and gave it away at an early age to subside in Costa Rica. I had asked him if he regretted leaving his career so early. After all, if he had worked a couple more years he could afford more of the luxuries of life such as a two star hotel room in Central America.
He replied he had no regrets; if he stayed in two star hotels there would be no chance of meeting an equally tight fisted tourist like me.
I took it as a compliment.
******
After my previous experience of a night out on the town in San Salvador I locked my bedroom door and settled in for the night. The next morning was another early rise and a half day of travel back to Guatemala City.
Upon reaching this destination I caught a taxi from the tourist bus company's depot into the central part of the city. Compared to my previous visit I was now Central American savvy and able to negotiate an acceptable taxi price. I then caught a bus to the nearby tourist destination of Antigua.
Antigua was another Central American colonial town. This one came with cobblestone streets, pastel coloured buildings, a central plaza and a picturesque volcano that stood ever present over its citizens.
The town was relaxed, clean, safe and even catered to the westernised tourist with the occasional fast food outlet housed in one of the pastel coloured colonial buildings. After travelling for more than a month it was an ideal stop.
I went to a fast food outlet for a cheap coffee and began thinking about the impending end of my trip. It would not be long before I would be back at my corporate desk in New Zealand; back working in the banking industry.
This was another sacrifice for the cause.
Those with the power of knowledge within the revolutionary party feared for my country's financial systems, especially as all of New Zealand's major banks were overseas owned. These banks were enticing the majority of households into debt, burdening them with the weight of repayments, sapping their strength and manipulating their minds with consumerism.
'You cannot go on a revolutionary crusade if you have monthly mortgage payments to consider' our conscience was told.
When I returned to New Zealand I would once again be charged with responsibility. Sitting inside the banking industry it will be my duty to identify the warning signals for the imminent collapse of the New Zealand financial systems. This will bring the country to its knees; dependent upon the grace of the overseas banks.
'THIS IS WHEN THE INVASION WILL OCCUR' said those with the revolutionary power of knowledge.
In the interval I was told that when I returned to my banking industry desk I would once again have to control my outrageous, flamboyant, generous personality; fit into the blue suited culture of my fellow work colleagues.
What a disguise.
******
In the meantime I had to disguise myself as a tourist. I awoke early the next morning to take advantage of the prevailing clear skies. I knew I would have to be quick with my photos as it was not going to be long before the cloud cover began to obscure the volcano, standing proud over the town.
My camera's batteries were beginning to fade. Previously I had worked around this small problem by swapping their relative position. This seemed to give them more life.
Unfortunately I had gotten up too early that morning and I was still half asleep. I opened the compartment of the film, rather than the batteries, exposing the film to the sunlight.
Fortunately I had just started a new film and did not lose my photos of Granada. Unfortunately my photos for that morning were ruined and the volcano was now obscured by cloud cover.
This scenario wouldn't have been a problem if I had owned a digital camera. But in 2002 I did not even own a cell phone or even a credit card so at that time it didn't really present itself as a possibility.
Oh well. Such is the life of a photo snapping tourist, albeit in disguise, in Central America.