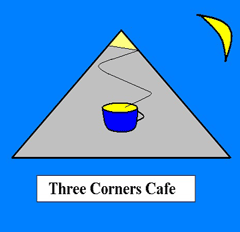 AUSTRALIA - THE "LIFE OF A LAWN BOWLER" TOUR
COFFS HARBOUR
"THE BIG BANANA"
I decided to play it safe and book accommodation at a hostel in Coffs Harbour before I left Sydney. I then proceeded to make the long journey north by bus.
I'd travelled bigger distances before. But this journey was particularly long due to an annoying female backpacker who was sitting in the bus a couple of seats behind me. She was having a one sided conversation with her companion, well within hearing distance of my flapping ears. I was faced with the misfortune of spending the next eight hours listening to her continual drivel. No matter how hard I tried I could not switch my listening devices off.
Some people must think that to be alive they must talk, as if their mouth is somehow connected to their heart beat. Blah, blah, blah she continued.
Surely at some stage she must simply get tired of talking or even better, lose her voice altogether.
Alas no!
I thought of shock treatment.
Perhaps if I jumped out of my seat, walked up to her and said,
"Can you please shut the (swearword) up!?! You are driving me insane!!!"
But no; that would just create an ugly scene.
Instead I slumped even further into my seat and tried to concentrate my thoughts towards the scenery passing by on the outside of the bus.
I must admit I had been pleasantly surprised by the scenery of the local landscape during my time in Australia. I originally thought it would be nothing more than barren, bland, bare, dry fields stretching for miles on end.
In fact much of the Australian landscape was barren, dry fields stretching as far as the eye could see. But it still held an unmistakable beauty.
Pale colours of green and gold stretched into the distance; lazy sunsets settling over the horizon. You could sense this was a land as huge as it was old.
Life and living is fragile but Australia was a hard land.
I arrived into Coffs Harbour, part of a banana growing region which had been converted into a tourist town. I had only one thing on my tourist to do list: head direct to The Big Banana, a tourist themed restaurant and park based around the banana.
A huge signpost of a banana signalled I had arrived at the correct place. This was weird. There was not much to see beyond the signpost and a gift store selling banana memorabilia. Still I was not disappointed. If nothing else I was currently a realist and had not raised my expectations too high.
I returned to the beautiful Coffs Harbour waterfront complete with a small harbour, beaches and Mutton Island. My guidebook told me that 12,000 pairs of birds migrated to the island every year. It sat a short distance off the shore but had a walkway to the mainland. From the top of the island's hill you had a view out to the ocean.
Once again I began thinking how fragile was life and living. I hope the following poem, written many years earlier, illustrates that fact.