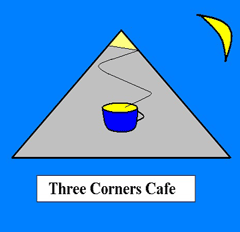 AUSTRALIA - THE "LIFE OF A LAWN BOWLER" TOUR
PORT ARTHUR
"ESCAPE"
Escape From the Penitentiary
After a night at Lake St Clair I returned to Hobart. From there I wanted to travel a couple of hours back up the eastern coast to Wineglass Bay. This scenic beach was showcased on many Tasmanian tourist brochures but the public transport to the destination was spasmodic. With limited time available I eventually decided I would have to give Wineglass Bay a miss. I was disappointed but I consoled myself with the prospect of visiting the former Tasmanian penitentiary, Port Arthur, the next day.
The public transport to Port Arthur was more comprehensive than that to Wineglass Bay. It was a school bus taking children from Hobart to the outlying regions. During the journey it did not take the driver long to become frustrated with his passengers. They were primarily school children. It appeared he was following the well worn routine of his blood pressure reaching boiling point, followed by his threats to drop the juvenile passengers off in the middle of the road if they did not behave. After a few hours, surrounded by a cacophony of noise, the bus arrived at Port Arthur. No children had been left stranded on the side of a paddock to suffer for their insolence.
Port Arthur housed a former penitentiary. The peninsula provided a perfect prison settling as it was connected to the mainland by a short strip of land surrounded by the sea. The prison had since been turned into an informative tourist attraction detailing some of Australia's convict past. Partially restored prisons, churches and officer's quarters were dotted around a wide sweeping lawn that flowed down to the peninsula whose waters lapped the shore.
Potentially the peninsula could stand unnoticed behind the stark history of the penitentiary. But I thought she was the star, the leading lady confident enough to stand in the background. I went for a walk along her white sandy beaches and inlets. For a short space in time I had the world to myself. I could look to the horizon, see no answer and just wonder.
Catch the time she has something to say
The sands under my feet are holding my sway
I lean upon you as I have much still to learn
As I swim in the current you hold my love firm
After two nights in Port Arthur I had to catch the early morning school bus back to Hobart. Early morning, on a bus filled with hyperactive children, this was going to be my personal penitentiary experience. But the journey passed with only a couple of threats to the children from the bus driver and I managed to escape into Hobart on time as planned.
Escape From a Profession
My three month contract with a Funds Management firm had come to a close over two months ago. For various reasons I had been unsuccessful in securing another contract:
1. I lacked enthusiasm when interviewed by the employment agencies.
I thought of these agencies as blood-sucking leeches; part of the human resources industry renowned for their false smiles and textbook understanding of the human psyche. But they were a powerful force, standing between myself and meaningful employment; unfortunately they could not be avoided.
One had to keep the chip on ones shoulders in check and shake their hand with vitality. It was like shaking the hand of a snake.
2. I lacked enthusiasm when interviewed by potential employers.
I had worked in the banking / finance industry for the past five years. It was time for a change. I had moved to Melbourne with the intention of expanding my career horizon beyond the mundane, moneyed world but I had gotten nowhere. This was because the banking / finance industry was where my experience lay and where the employment agencies could achieve their commissions. I was back to where I started even before I left.
3. I showed enthusiasm for been outside in my first Australian summer.
Winter had finished, the sun was shinning and the days were getting longer. It was a glorious time of the year. It was a time of the year to be spent productively, outside, practicing and playing lawn bowls.
Before my decision to concentrate on lawn bowls became final I had one last interview with one last finance company. During the interview they wanted to know if I would be committed to their firm. Of course I would, just as long as the work did not interfere with my burgeoning through financially unrewarding lawn bowls career.
What?
You're not going to offer me the job.
Well, where to next?
You Escape Only If You Don't End Up Back Where You Started
Since my contract had come to a close I had spent my spare time practicing / playing lawn bowls and planning grandiose schemes. Unfortunately after two months of planning the best scheme I could come up with was operating a potato farm.
Perhaps it was time to grab a handful of soil and plant a few seeds for my future. No one is going to grow tired of the faithful potato after all. There must be untapped potential in this commodity somewhere; potential such as home made potato soup or potatoes becoming an alternative fuel to oil.
But then there was the old problem of commitment.
Perhaps I should become an artist and write a book instead. Then when people ask me what I do for a living I shall have the opportunity to reply with some pompous answer dependant upon my mood at the time.
Besides been an accountant was over rated. It was time for me to turn a fresh page and start a new chapter in my life.
With my course of (in)action decided, I began to write about my travels during a few spare days I had in Hobart, waiting for my flight back to Melbourne.
During a break in my writing, I walked down to Hobart's famous Salamanca Market, held every Saturday. Situated in the city's historic wharf district, stalls offered a range of expensive fast food and tourist type products to a crowd who were there to enjoy the relaxed, fun, local atmosphere.
During another break in my writing I visited a few of the nearby pubs. As a travel writer it was now all part of my research. Perhaps to emphasise this point I should have found some of the locals to drink with. But it would only have been a matter of time before they started telling sheep jokes. Then, no doubt, they would have wanted everyone to buy rounds of beer and I would have subsequently ended out of pocket.
After all, I only had one mouth attached to my one head. The locals had a bit of an unfair advantage having two heads to drink beer with I thought.