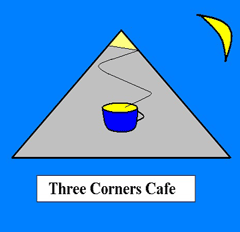 AUSTRALIA - THE "LIFE OF A LAWN BOWLER" TOUR
CRADLE MOUNTAIN
"CRADLED BY THE LAKE I SAW MY CLEAR REFLECTION"
I walked around the centre of Launceston before heading westward for the three hour journey to Cradle Mountain. I reached my intended destination mid afternoon, quickly found a cheap room and dropped off my backpack.
Spare time was short. I rushed to the tourist office and caught a shuttle bus to the start of a three hour walk to the base of Cradle Mountain. Taking into account the remaining daylight and the last returning shuttle bus service I would have to hurry. I needed to knock an hour off the recommended time.
The walk made its way through low level scrub and bog. Fortunately for the most part the path was set upon wooden trellises which enabled smooth progress. Within half an hour Cradle Mountain came into sight. It was good company in the wide isolated spaces of which I was the only companion. As I approached she began to stand larger, more bold and dominant. She was an immoveable object, roughcast.
I reached a small incline. Coming into my view at the base of the mountain sat Dove Lake. It appeared a cold body of water, impossible to warm, even in the season of late spring. I continued my walk around the lake's circumference on a cleared path through thin bush.
Exhausted, but not beyond repair, I safely found my way around Dove Lake towards the bus shelter in time for the last ride back to the tourist office and that night's accommodation. The next day I caught a bus to Lake St Clair. I had come as close to nature as I wanted to get during my stay in Tasmania. One hurried, late afternoon / early evening walk would suit me fine. I had enough experience of walking in New Zealand to warn me off trying anything more challenging.
The challenge would have been a five day, highly recommended, overland walk from Cradle Mountain to Lake St Clair. Thousands upon thousands of tourists completed this walk every year. But for once in my life I considered myself smart. I was taking the longer but quicker route by bus.
The bus passed through various small towns and the occasional scared landscape. Some hillsides had been stripped bare, down to clay soil, their soul destroyed with minimal hope of renewal.
The scenes out my window were both stunning and startling. The environmentalists within Tasmania were growing more powerful and it seemed with good reason. However I could see the creation of rural jobs within the modern economy was still necessary. It was a local argument. As a tourist I felt one would not be equipped to firmly argue any point of view and safely left the scene without any facial scars or a broken nose.
That still did not stop me creating a couple of platitudes, which I kept to myself, to pass the time:
As we fall off our pedestal do we call destruction of our past progress?
I saw a signpost showing the way forward but pointing to the past.
I reached Lake St Clair. Accompanying this lake were various short walks and a tourist complex which catered to both the high and low end tourist. I was a low end tourist but was still welcome into the restaurant to order the cheapest meal, a plate of chips.
Over my plate of sauce with chips I was able to reminiscence back to the days just before I had left on my first overseas trip. I had worked in a hotel cleaning rooms and received free lunches as part of the deal. I never used to make my own bed back then and I still didn't now. I thought it funny that I should then have a job making other people's beds.
I thought back to the reaction on people faces, when working in a corporate I told them of my philosophy on changing my own bed sheets:
Sheets are clean until they become too itchy to sleep in!
Wiping the last of the sauce from my lips I looked back on the platitudes I had created that day. I suppose everybody needs rules, boundaries and platitudes to life by. Just ask the developers and the environmentalists of Tasmania.