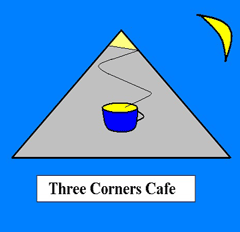 AUSTRALIA - THE "LIFE OF A LAWN BOWLER" TOUR
LAUNCESTON
"BY GORGE THIS IS A PLEASANT TOWN"
I left Hobart and headed northward to Tasmania's other major town, Launceston. It wasn't long before the bus passed through the historic town of Richmond. This town, complete with 19th century buildings, was a tourist attraction in itself. Everything in the town felt like it was in miniature form; a model which had been assembled with refined care.
At the edge of this world what could be waiting?
What was hidden behind the dark curtain of despair?
There must be pain and suffering in the world. I read of it in the newspaper every day. But as far as the eye of my horizon I could only see nature at work in harmony. It was a pocket of the world seemingly at peace. Maybe it was just a facade or a dream. Perhaps I shall be awoken as I sit down for my dinner to digest the evening news.
But it was still early afternoon as the bus arrived in Launceston and dropped me off at a conveniently located hostel. I was promptly told of the best local tourist attraction and headed towards the town's small inlet harbour.
To the side of this harbour was the Cataract Gorge. There were walkways on both banks of this valley and from the harbour I walked upstream towards a recreational park which signalled a pleasant walk well done. Peacocks strutted or were chased by children around the lawns which had a restaurant, gardens and a chairlift nearby. The chairlift carried tourists from one side of the gorge to the other. As this service included a charge I walked down to a lower level bridge which enabled me to cross the stream for free. I then walked back towards the harbour, back to my hostel in time for my evening meal and some time in front of the television.
This would be the first time in over half a year I could spend some quality time in front of the square box as my flat in Melbourne had not come with many amenities. Additionally I had not spent any money on the luxuries of life such as a television, a fridge or a vacuum cleaner. Instead I survived, on a daily basis, on a diet of takeaways, noodles, canned fish and broccoli.
It was therefore imperative I fill my mind with as much free television as opportunity within the Tasmanian hostels would allow. That evening I achieved my quota. But somehow I missed the evening news.
Perhaps there was peace within the outside world after all.