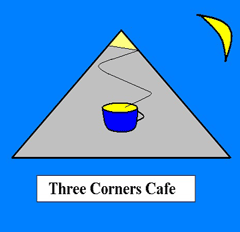 AUSTRALIA - THE "LIFE OF A LAWN BOWLER" TOUR
HOBART
"MY ASPIRATIONS ARE MOUNTAINS FOR ME TO CLIMB"
I assume most people have heard what the mainland Australians say about the people from Tasmania. They say people from Tasmania have two heads. They say Tasmanians are simpletons. They say they are only one rung above the evolutionary ladder from New Zealanders.
During my time in Melbourne I had to put up with similar disparate remarks. They were wearing a little thin. The theme of these remarks was based around New Zealand's propensity to breed sheep.
I therefore felt I had much in common with the people from Tasmania. These put downs meant there was the potential for us to share our suffering and to get along. I assumed I could go to a pub in Tasmania, buy a beer and sit down in the comfort I was drinking with my brothers.
In fact that is what I was going to do. Taking a break from bowls and sheep jokes I flew to Hobart from Melbourne early on a Sunday in November 2004. Later that day I went for a walk around Hobart's peaceful town harbour, brimming with old warehouses converted into pubs and restaurants.
It was the start of my holiday with its associated, unavoidable budgets. I was not yet ready to buy a beer and drink with my new found Tasmanian brothers. I was tired, still had to see the sights of Hobart and the next day could be a potentially exhausting experience.
Early in the morning I caught a local bus which travelled pass the historic Cascade Brewery to the base of Mt Wellington. This large and high hill stood over the city, sheltering the harbour, dominating the city's surrounds.
From the bus stop I started the long walk along the paved road towards the top of Mt Wellington, sticking my thumb out for a ride as I made slow progress. A couple from the Blue Mountains near Sydney saw my furlong figure, stopped and I jumped into the back of their car riding the rest of the journey in relative luxury.
We reached the top and I caught a glimpse of the city below. The harbour snaked its way through the lower level hills. Its outstretched tentacles searched for a boundary to the sea. She could drown us all in her love or her anger.
The top of Mt Wellington was scarred from bush fires. The vegetation struggled for growth and renewal. As the cloud cover began to descend, obscuring my sight, I succumbed to the prevailing cold temperature and walked my way back to the base of the hill alone.
After catching a local bus back into town I walked to the city's botanical gardens. They were as good as any I had ever seen, complete with an authentic Japanese Garden. I read that in Japan the purpose of these types of gardens was to have a place to reflect and rest. The miniature waterfalls and ponds of these gardens all have significance and meaning, just like the wider world.