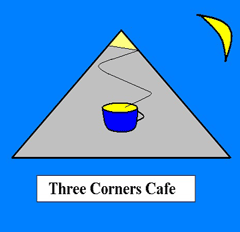 ASIA & CHINA - THE "KEEP ON SMILING" TOUR
ANGKOR
"TAKEN FOR A RIDE"
I was in a Bangkok hotel with two options - buy a bus ticket to the Cambodian border or let the hotel organise my trip all the way to the Cambodian tourist destination of Siem Reap.
I let the hotel organise my trip and early the next morning I was picked up outside the hotel by a guy on a motor-bike. He told me his was the transport all the way to Cambodia, 135 kilometres away.
Then he burst into laughter.
Ha Ha - if only it was so unlikely to be true.
The comedian took me to a nearby minivan filled with other Western tourists and the minivan occupants travelled the 133 kilometres to a restaurant, close to the Cambodian border, in relative comfort. While disembarking from the minivan we were all encouraged to purchase a meal and told that by the time we finished eating, our Cambodian visas would be finalised and we could then enter Cambodia with a full stomach; with not a worry in the world.
I was swallowing my fried noodles, trying to figure out why I was overpaying for both my meal and my visa, when I was interrupted by someone introducing himself as the new minivan driver. He told everyone he would be taking the group the rest of the way to Siem Reap.
Back aboard the minivan, before starting the engine, the new driver turned to face us.
In summary this is what he said:
1. There are no ATMs in Cambodia;
2. Cambodia is an expensive country with excellent roads;
3. We will all lose our money if we exchange USD within Cambodia;
4. It is much better to purchase all our Cambodian currency on the Thai side of the border.
It was all too much information. The journey from the restaurant to the border only took ten minutes and twenty five minutes ago I had been told I would not have a worry in the world.
I asked the minivan driver how much money I should withdraw when he dropped us off at the ATM close to the border.
"10,000 Thai baht should do" he replied.
That was equivalent to about US$300. It was plenty of money to spend on transport, food and accommodation; but perhaps not enough for that all important ingredient, beer.
"Are you sure that is enough?" I queried.
"Like I said, Cambodia is an expensive country" came the response.
My mind was spinning, still recovering from a week in Thailand, and now feeling squeezed by the pressure of the speeding time till I had to make a decision.
I decided to hinge my bets and tentatively withdrew 2,000 Thai baht.
Then it was onto the next decision.
"You can convert your currency into Cambodian riel over here" shouted the minivan driver, standing beside a manned currency converter booth. "It offers the best rate in all of Thailand."
I duly converted my newly withdrawn currency and with Cambodian riel in hand I went across…the border…without incident.
******
It was then I noticed, having just passed through customs, an ATM stationed on the Cambodian side of the border. Not only was it an ATM but it was an ATM from a bank where I had previously been employed for six years; one of a plethora of ATMs I would notice over the next week.
I was beginning to figure it out...slowly…
I looked around for the minivan driver but he had duly vanished into thin air, in a puff of smoke and dust.
Boarded upon a new minivan, but not quite yet figuring our how much I had been duped by the currency conversion, I asked the new minivan driver what was the state of the roads in Cambodia.
Driving away from the border, he replied "Much better than six years ago."
Four hours later, having covered a mere distance of 120 kilometres, we arrived. The roads, more potholes than tar seal, had left us all jaded.
It was darkness.
The minivan driver had disappeared and now we were all standing outside some nondescript hotel, miles away from everyone's intended destination and the Siem Reap tourist district.
Forlorn. Frustrated.
Personally I was resigned.
Greater, non-bendable forces were at work.
While most of the other tourists ordered a taxi and departed, I booked a room at the aforementioned nondescript hotel and settled in to rest my weary head upon my bed.
Voodoo magic had caught me within its web.
******
I awoke the next morning alert, with purpose, spending the morning calculating how much I had been duped. Figures completed, I then walked the six kilometres into the tourist part of Siem Reap, passing five ATMs along the way.
Everything in Siem Reap was incredibly cheap, multiplying the US$30 loss within my mind.
$30 became a relative $60 to become a figurative $75 and by four o'clock in the afternoon I noticed, for the first time, a price quoted in the Cambodian riel. It meant I basically could have travelled through the entire country of Cambodia living on my accumulated USD, not having to exchange any currency at the border at all.
The multiplication was bringing me down.
I tried to do the math and calculate if it was going to be possible for me to spend my accumulated Cambodian riel in the days ahead. Then I remembered – it was incredibly likely I would be ripped off, again.
My mind was full, with multiplication. There was nothing left to do but return to my hotel room, six kilometres away, to reflect and to read my guidebook; delayed research on the Thailand - Cambodian border con.
The only bright spot was the border into Cambodia from Southern Laos, which I had miraculously avoided, was apparently worse.
******
It was my second morning at the hotel and I asked the young male hotel reception staff what happened to the American male from the tourist minivan. He was the only one, besides me, who had signed on to stay at the hotel two nights previous.
While I had resigned myself to voodoo magic, he had been ropeable; determined to make his way back to Bangkok to confront those who had sold him his ticket.
"He leave; he not seem happy; rude" the young men replied, caustic looks upon their faces.
"Perhaps he was annoyed he was told lies by the minivan driver and had lost money" I responded, hoping they also remembered I had been promised warm water that morning and had now just completed another cold shower.
"Thailand people, Vietnam people, they lie, they cause the trouble" one of the young men proclaimed. "You buy a motorbike ride to and from Ankor Wat for US$8. You see."
I bargained a ride to Ankor Wat for US$2 and later that day another ride back to the hotel for US$2.50.
Fool me once, shame on you. Fool me 15 times, shame on me.
******
It was a pleasant day. The motorbike ride to Ankor Wat had been a short respite from the city before I once again joined the maddening tourist crowds. While walking around Ankor Wat I had met a young male from North Carolina, USA. He was currently travelling as his potential job as a mortgage broker had fallen through. It was a precursor to the 2008 financial crisis, caused by the collapse of the USA mortgage market.
Shares, Cambodian riel and a backpack...
As for the temples … you can read the guidebook.