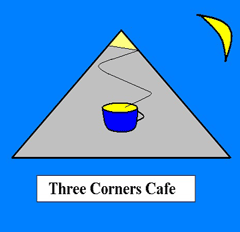 ASIA & CHINA - THE "KEEP ON SMILING" TOUR
KATHMANDU
"BATHS AND BOOKSTORES"
Leave the border. Richard taking photos of the border while going through customs until told not to by guard (charged camera last night). Missing sign not to take photos in front of him.
Taxi van about quarter hour drive criss-crossing river to Nepal border. Joseph bargains for taxi to Kathmandu.
Hard to bargain with Richard carrying all his stuff in a bag as bag is as big as him – 6 foot 3 inches and yelling just pay them what they want. Joseph tells Richard he can pay the difference – jokingly.
Stop for lunch – dodgy looking.
Away from mountains with vegetation and hills and people now looking Indian.
Reach outskirts and driver told to stop by army – gives them the fingers and drives on. Another time told to stop and ignores them. Army stops and barricades everywhere.
Kids hold rope across road and has to pay them? (border taxis – held up by schoolchildren – rope across road /motorbike ride already). In town driver sees guy paying traffic cop to avoid ticket. Find hotel in town.
On the taxi from Tibet / Chinese border the taxi was stopped by a rope and crowd of children on the road extorting money for their school picnic.
Meet for dinner at 7:30pm outside restaurant Joseph said. At 7pm rest of us (in same hotel) meet and go inside and order as hungry. I meet Joseph outside at 7:30pm and entice him in. Apparently he has been banned from the place as threatened to ring the cops when they charged him excessive corkage.
Have to go to another restaurant next night – crap – food one hour late. Joseph starts complaining when others start and refuses to eat and pay for meal. Richard is been harassed by all street sellers. They and rickshaw and taxi drivers all know his name in a few days.
That night for dinner Joseph complained about food (fried not grilled) and next morning as well (yoghurt too acidic).
I go to Duban Square one afternoon and monkey temple and Paton another day by myself. Relaxing – mild temperature. No hiking. Eventually decide to go to Calcutta overland – prices from Kathmandu to Bangkok expensive. Plus finish in Calcutta in 1995.
Go to Indian Embassy. First day meet Richard at 8:30am but he orders breakfast at 8:15 and by time finish 10am too late. I decide to get transit visa. Next day arrive Embassy for 9:30am opening. Breakfast outside embassy.
At 12pm realise / told ticket out of India for transit visa. Come back tomorrow. That afternoon go to travel agency. Told need visa to get ticket??? Start to lose temper. Have a form – hope good enough for Embassy. Why give you a two month visa when you enter Nepal – so time to get an Indian visa.
Richard's grandfather founded his own religion. His father died when he was two months old in a car crash. Richard was meant to be head of the church – OK for him as allowed many wives. He liked pot too much and freedom to be the head of the church. He also studied Tibet Buddhism.
Went to Paton in Kathmandu – didn't go to Budhism or Pashminum. Friday / Saturday relaxing. Watch cricket on television in hotel room. Smoke hashish Richard obtained. Visit English bookshops – a quaint luxury after China. Sunday afternoon Duban Square. Monday up early to go to Indian Embassy. Richard meet me at 8:00. Embassy open at 9:30am.
He arrives early and orders breakfast (I order also) 10am and too late. So I go to Monkey Temple and Paton. Next morning go to Embassy by myself – get there 7:45am. Make head of queue at 11:45am (closes at noon) – need evidence of flight out of India if want 15 day transit visa (get same day and cheaper). Have to get to Embassy at 7:30am next morning and get to the head of the queue at 10:30am. Pick up visa at 5pm (another half an hour wait). Calculated eight hours of waiting at Embassy for visa.