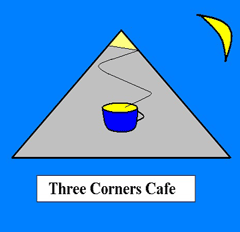 ASIA & CHINA - THE "KEEP ON SMILING" TOUR
LUANG PRABANG
"PROCESSION AT DAWN"
When I originally arrived in Chiang Mai I had not booked any accommodation. Fortunately the bus I was travelling on dropped me and a few of the other backpackers off at a backpackers lodge with many spare beds. Now, a few days later, I had paid the backpackers lodge for three night's accommodation and used their tourism agency to book the wilderness safari, the cooking course and finally a trip to Luang Prabang, Laos.
That is how it works – commission for the operator who dropped me off at the backpackers lodge and convenience for me.
Now I was travelling on the convenient mini-van that took us north-east to the Laos border. I was getting too close for comfort to the other backpackers. A German was vomiting in the seat behind me and then, later that night, I had to share a double bed (head to tail) with a male French Canadian. Neither of us was hugely impressed; the sleeping arrangements having not been explained when I had booked my ticket.
But those were the rules – no complaining.
Why the rules?
Because the agency I had booked the trip with was close to been in another f...en country!
The hotel sat above the Mekong River, the world's twelfth longest. The Mekong River would be a large part of my life for the next month, as I made my way into Cambodia and then Vietnam. The Mekong River was encompassing, fascinating, providing life and sustenance. It held me in its grip, a snake, winding its way southward.
After a restless night's sleep, the French Canadian and I exchanged few words in the morning, except a couple of criticisms. Then it was a case of crossing the river, conjuring a visa, exchanging my currency and boarding a long slow boat, filled with approximately 80 other tourists, heading south.
Life passed us by, slow and languid. Green, lush hills and water buffalo, the river is life. Its seasons were ebbing and flowing, determined by events many miles away, another land, another place, another memory that may be forgotten as it explored its journey to the sea.
In the late afternoon, close to sunset, the day's journey stopped at some decrepit shanty town, built on the mud banks of decay. It was a pit-stop for the night and I found accommodation at the end of a dark passageway that led to the recess of one's mind.
Fortunately I was in a good frame of thinking, still on an adventure. I quickly dumped my bags and found a restaurant situated on the edge of the mud bank. It was not long before some dirty dressed boy proffered some marijuana for sale.
Surprised, I refused and returned to my meal which had to be eaten before the entire town descended into darkness. The town's electricity was powered by a generator, shortly scheduled to be switched off. We were in the jungle, cut off from civilisation and must find our corner of darkness to sleep in before it becomes complete.
Next morning; another day in the long slow boat. Too slow for some, as the two female blond Eastern Europeans with their huge fake tits and mobster boyfriends, left to take a speedier boat for the final leg of the journey. Life in the fast lane was said to be dangerous, pillars of rock hiding below the surface; an assailant hiding around the corner ready to plunge in his shiny blade, take your money and buy a pair of those huge fake tits for herself.
The rest of the boat's journey to Luang Prabang went much slower, the scenery wearing thin. Relieved to reach dry land, it was then quickly back into the routine of finding accommodation and food.
US$2 for accommodation and US$5 for a restaurant meal of green curry chicken, which was served by some young child, made to look cute. Finishing my meal, I visited the craft market and it was the same. Young children were unpacking the goods, calculating the prices and serving the tourists with their trinkets while their patriarchs slept or fiddled about in some old aged fantasy, probably distracted by some thoughts about fake tits.
******
Luang Prabang, was an isolated French colonial town, with the wooden balconies of its two-storied buildings overhanging the tourist streets below. The Buddhist monks were in a single file procession, collecting sustenance from the locals, who sat close-by, paying their respect and dues.
It was 5:30am. There was no hope of the sleepy demeanour of the city coming alive and at this time of the morning I was already dead.
Later that day I would have to cross the river, get to the other side and begin anew as there was an old deserted temple to explore.
So here we go…
To get to the other side I will need a boat, attached to a boat helmsman - rapidly forthcoming.
I will need to bargain a reasonable price - the helmsman started off wanting 50,000 KIP then reduced his demand to 30,000 KIP. I said I would think about his price, walked off around the corner and while in deep thought about my budget I looked up and surprisingly found him standing beside me.
Since he was so keen I agreed to his price of 30,000 KIP, which was equivalent to my entire three nights Luang Prabang accommodation expense. Once across the river I took a wrong turn and ended up walking towards the temple with two young boys who were either following me or showing me the way.
Then, after taking some photos, it was back down the hill towards the waiting helmsman, who rapidly increased his price to 40,000 KIP. Needless to say I thought about my options. I could swim across the river, drown and pay him nothing. But I had already paid for another tourist excursion, involving villages, Buddha statues, a waterfall, a tiger and children setting tiny birds free from a small bamboo cage. Incidentally they were the same birds they had captured and now required US1 to set free.
Sometimes enterprise and commerce is just too much.