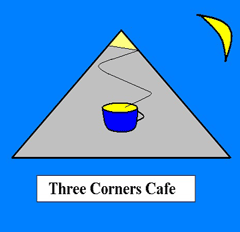 THREE CORNERS CAFE
Three Corners Cafe sought to provide the perfect caffeine experience. The ingredients were to be a top quality espresso machine, quality baristas and coffee beans of exquisite choice.
We were to be located within the heartland of Dunedin, New Zealand. One could have had an unparalleled coffee at Three Corners Cafe, then wandered the walking distance between the historic Otago University and the beautiful Dunedin Botanical Gardens.
What better way to while away the day? was to be our marketing slogan.
We were meant to be the best, unrivalled, known throughout the western (no make that all) world!
But Alas!!!!
The money was not enough.
So read inserts from the book instead ...